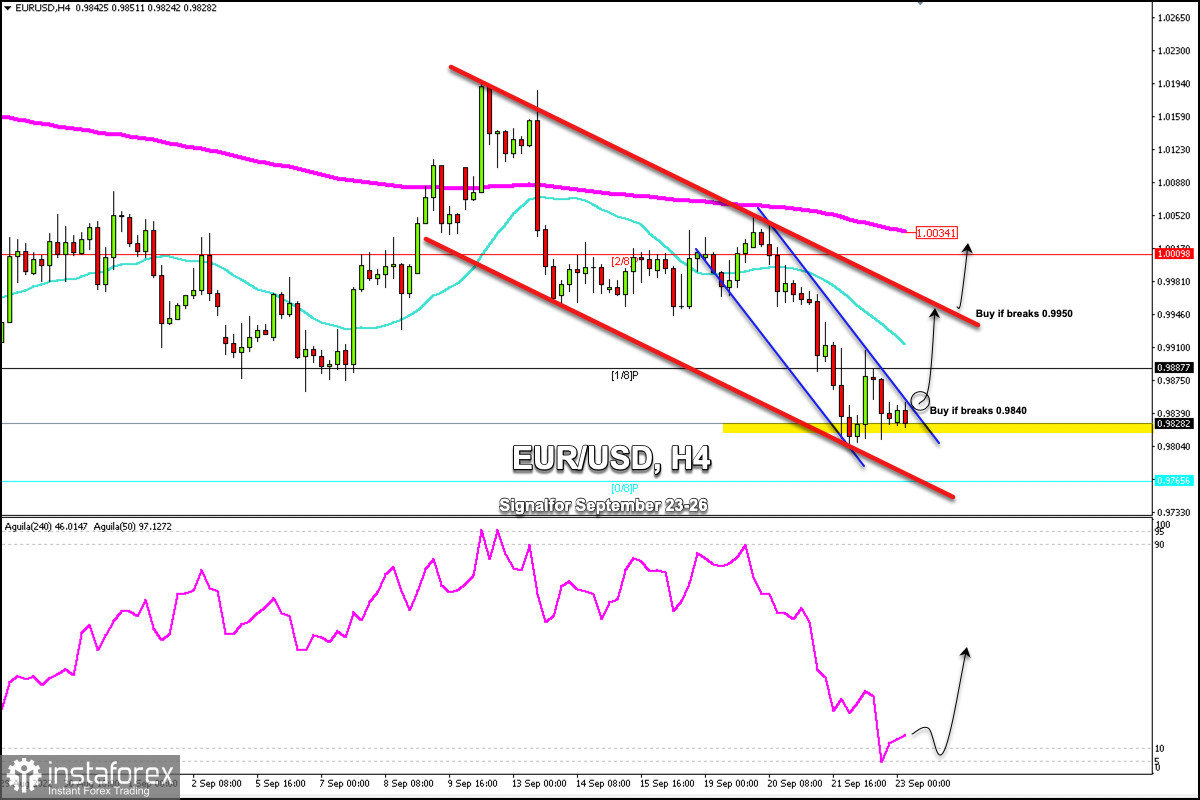 Early in the European session, the Euro is trading around 0.9828, above the low of September 21. EUR/USD is under strong bearish pressure.
According to the 4-hour chart, we can see that the euro is trading within a downtrend channel which has been underway since September 19. In case EUR/USD fails to break this channel, it is likely to find support around 0/8 Murray located at 0.9765.
The eagle indicator has reached the key 5-point zone which represents extremely oversold levels. In case the Euro can recover from this downward pressure, we should expect a daily close above the 21 SMA located at 0.9920. Above this level, the trading instrument could reach parity around 2/8 Murray at 1.009 and could even reach the 200 EMA located at 1.0034.
Risk aversion continues to weaken global market economies, with global indices down, fueled by ongoing tensions between Russia and the EU. This encourages the US dollar and makes government bond yields advance to new highs. In turn, the same factors weaken the Euro, so any short-term rebound will be seen as an opportunity to resume selling.
A close above 0.9840 on the 4-hour chart and a sharp break in the secondary bearish channel could prompt recovery of the EUR/USD pair towards the top of the downtrend channel formed on September 7, located at 0.9950.
In case the Euro fails to gain ground, it could continue its decline and could reach the zone of 0.9780 (bottom of the bearish channel) and even 0.9765 (0/8 Murray).
Our trading plan for the next few hours is to buy the Euro if it consolidates above 0.9840 with targets at 0.9887 (1/8 Murray) and 0.9945. The eagle indicator is showing a positive signal which supports our bullish strategy.