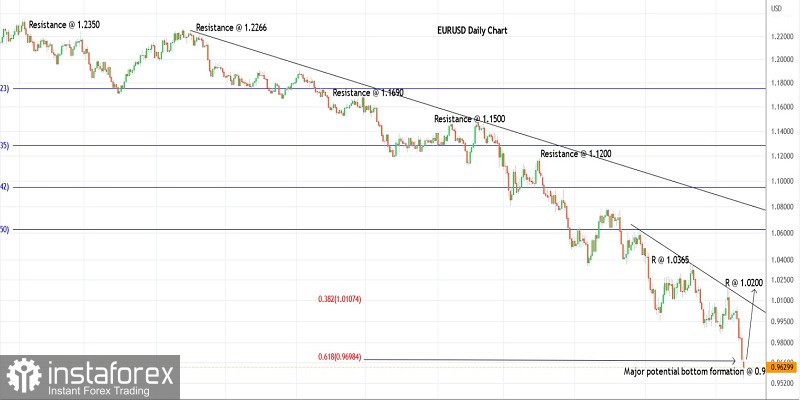 Technical outlook:
EURUSD dropped through fresh swing lows at 0.9552 in the early trading hours on Monday. Prices were quick to bounce back quickly to the 0.9650-60 area thereafter as the daily chart looks to be carving a Doji or Pinbar candlestick pattern. The single currency pair is seen to be trading close to 0.9630 at this point in writing as the bulls prepare to be back in control.
EURUSD might have hit a major Fibonacci support level at 0.9652 during the Asian session. As projected on the chart here, it seems a potential target hit of a larger-degree downswing. Follow-through is required now to confirm a bullish reversal ahead. Immediate price resistance is now seen at about 1.0200 as seen here and a break there is needed to confirm that the bulls are back in control.
EURUSD needs to stay above 0.9552 to relieve short-term selling pressure. The preferable strategy now is to stay aside for a while and wait for price confirmation of a potential bottom in place before committing on the long side again. A strong support zone is seen towards the 0.9500-50 area and the bulls are likely to come back in control soon.
Trading plan:
Preparing for a potential bottom and reversal from the 0.9500-0.9550 zone.
Good luck!