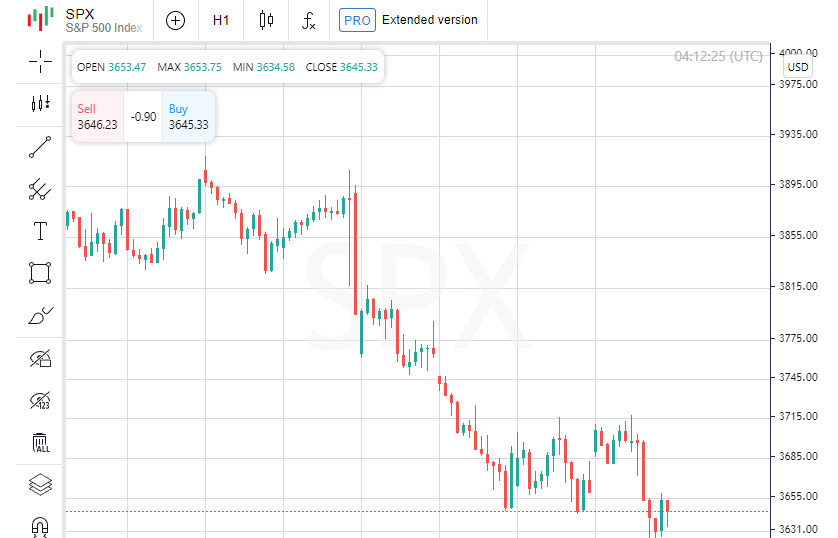 At the close of the New York Stock Exchange, the Dow Jones fell 0.43% to hit a 52-week low, the S&P 500 index fell 0.21%, and the NASDAQ Composite index rose 0.25%.
The leading performer among the Dow Jones index components today was Salesforce Inc, which gained 2.57 points or 1.76% to close at 148.89. Quotes Dow Inc rose by 0.40 points (0.92%), ending trading at 43.79. Home Depot Inc rose 0.79% or 2.11 points to close at 268.69.
The losers were shares of McDonald's Corporation, which lost 7.06 points or 2.90% to end the session at 236.70. Procter & Gamble Company was up 2.75% or 3.73 points to close at 131.98 while Coca-Cola Co was down 2.57% or 1.49 points to close at mark 56.38.
Leading gainers among the S&P 500 index components in today's trading were CF Industries Holdings Inc, which rose 6.10% to hit 95.87, Mosaic Company, which gained 4.15% to close at 48.44, and also shares of Royal Caribbean Cruises Ltd, which rose 3.88% to end the session at 45.75.
The biggest losers were Digital Realty Trust Inc, which shed 3.98% to close at 97.73. Shares of Organon & Co shed 3.54% to end the session at 24.26. Quotes of Global Payments Inc decreased in price by 3.39% to 108.02.
Leading gainers among the components of the NASDAQ Composite in today's trading were Avenue Therapeutics Inc, which rose 106.25% to hit 7.26, Scienjoy Holding Corp, which gained 47.90% to close at 2.47, and also shares of X4 Pharmaceuticals Inc, which rose 40.18% to close the session at 1.25.
The drop leaders were NLS Pharmaceutics AG, which shed 25.07% to close at 0.72. Shares of Midatech Pharma PLC ADR lost 20.77% and ended the session at 2.06. Quotes of Fednat Holding Co decreased in price by 18.22% to 0.18.
On the New York Stock Exchange, the number of securities that fell in price (1634) exceeded the number of those that closed in positive territory (1527), while quotes of 136 shares remained virtually unchanged. On the NASDAQ stock exchange, 2048 companies rose in price, 1751 fell, and 295 remained at the level of the previous close.
The CBOE Volatility Index, which is based on S&P 500 options trading, rose 1.05% to 32.60, hitting a new 3-month high.
Gold Futures for December delivery added 0.18%, or 2.95, to $1.00 a troy ounce. In other commodities, WTI crude for November delivery rose 2.29%, or 1.76, to $78.47 a barrel. Futures for Brent crude for December delivery rose 2.35%, or 1.95, to $84.81 a barrel.
Meanwhile, in the Forex market, the EUR/USD pair remained unchanged 0.14% to 0.96, while USD/JPY rose 0.06% to hit 144.84.
Futures on the USD index rose by 0.09% to 114.12.