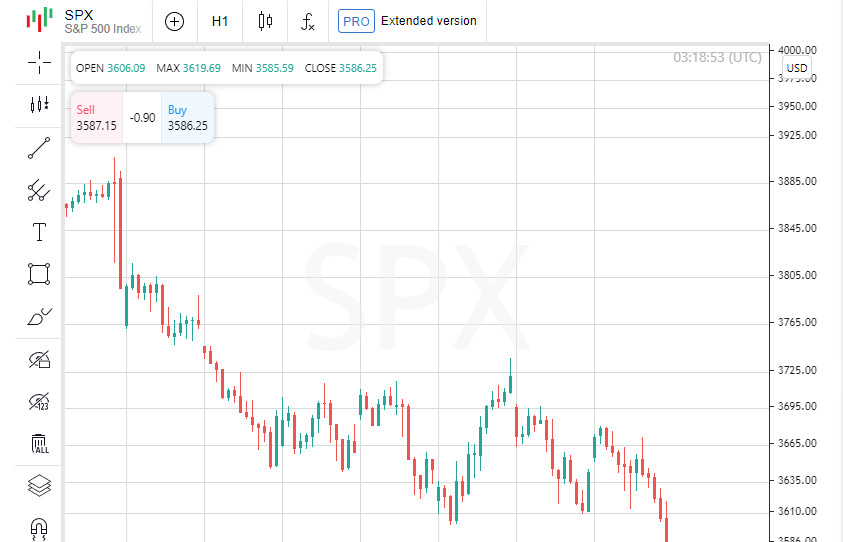 At the close of the New York Stock Exchange, the Dow Jones fell 1.71% to hit a 52-week low, the S&P 500 fell 1.51% and the NASDAQ Composite fell 1.51%.
Shares of UnitedHealth Group Incorporated were among the leaders of gains among the components of the Dow Jones index today, which lost 3.79 points (0.74%) to close at 505.04. Walgreens Boots Alliance Inc fell 0.15 points or 0.48% to close at 31.40. Dow Inc shed 0.23 points or 0.52% to close at 43.93.
The drop leaders were Nike Inc shares, which lost 12.21 points or 12.81% to end the session at 83.12. Boeing Co was up 3.39% or 4.25 points to close at 121.08, while Walt Disney Company was down 3.20% or 3.12 points to close at 94. 33.
Leading gainers among the S&P 500 index components in today's trading were Charles River Laboratories, which rose 3.57% to hit 196.80, Weyerhaeuser Company, which gained 2.92% to close at 28.56, and shares of Twitter Inc, which rose 2.74% to end the session at 43.91.
The losers were shares of Carnival Corporation, which fell 23.31% to close at 7.03. Shares of Norwegian Cruise Line Holdings Ltd lost 18.11% to end the session at 11.35. Quotes of Royal Caribbean Cruises Ltd decreased in price by 13.14% to 37.91.
Leading gainers among the components of the NASDAQ Composite in today's trading were FingerMotion Inc, which rose 82.16% to hit 3.37, SAITECH Global Corp, which gained 43.36% to close at 3.24, and shares of Avenue Therapeutics Inc, which rose 39.03% to end the session at 10.08.
The biggest losers were Atlis Motor Vehicles Inc, which shed 39.91% to close at 20.40. Shares of Aterian Inc lost 37.06% and ended the session at 1.24. Quotes of Edesa Biotech Inc decreased in price by 34.66% to 0.92.
On the New York Stock Exchange, the number of securities that fell in price (1,758) exceeded the number of those that closed in positive territory (1,354), while quotations of 117 shares remained virtually unchanged. On the NASDAQ stock exchange, 2,139 companies fell in price, 1,583 rose, and 228 remained at the level of the previous close.
The CBOE Volatility Index, which is based on S&P 500 options trading, fell 0.69% to 31.62.
Gold futures for December delivery added 0.11%, or 1.80, to $1.00 a troy ounce. In other commodities, WTI crude for November delivery fell 1.87%, or 1.52, to $79.71 a barrel. Futures for Brent crude for December delivery fell 2.13%, or 1.86, to $85.32 a barrel.
Meanwhile, in the Forex market, the EUR/USD pair remained unchanged 0.08% to 0.98, while USD/JPY advanced 0.23% to hit 144.77.
Futures on the USD index fell 0.09% to 112.10.