EUR/USD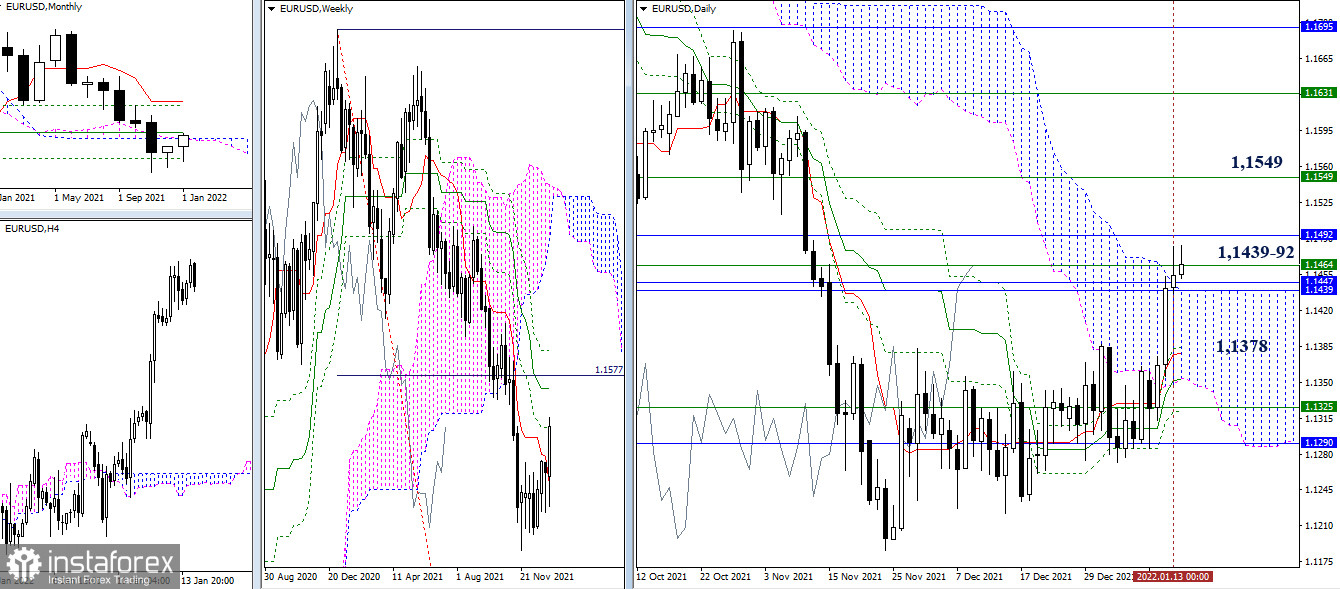 The current week is almost over. The bulls managed to increase to the accumulation of resistance in the area of 1.1439-92. Now, it is important for them to keep their gained positions. The formation of a long upper shadow at the close of a weekly candle can lead to the development of a rebound from the encountered resistance levels of 1.1439-92 (monthly levels + weekly Fibo Kijun + the upper limit of the daily cloud), which may contribute to further recovery of bearish activity. The breakdown of resistances (1.1439-92) will open up new opportunities and prospects.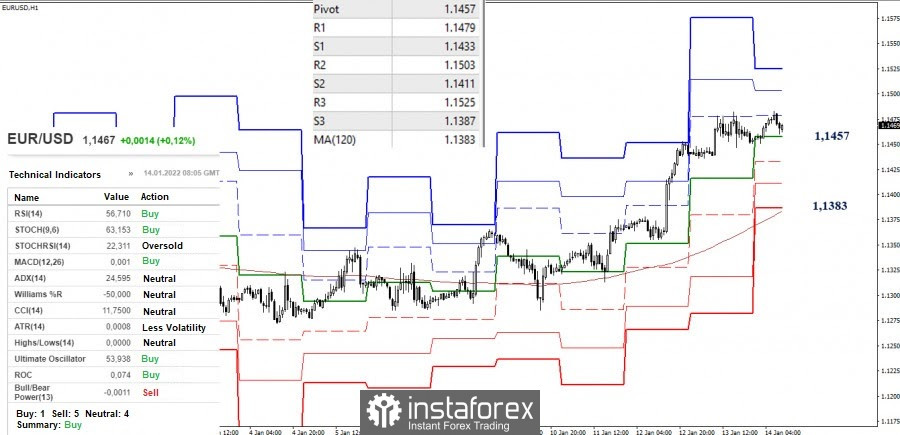 The bulls continue to have the main advantage in the smaller timeframes. However, it should be noted that the upward activity has significantly decreased and deceleration prevails. The first resistance of the classic pivot levels (1.1479) has been tested, and the subsequent pivot points to continue growth are R2 (1.1503) and R3 (1.1525). Meanwhile, if the current support level of 1.1457 (central pivot level) is broken, then the slowdown will most likely develop into a full-fledged correction. The main intraday pivot point here will now be the support of the weekly long-term trend (1.1383). The key level (1.1383) allows us to develop a large-scale correction, and the nearest resistances in this direction can be noted at 1.1433 and 1.1411 (classic pivot levels) today.
GBP/USD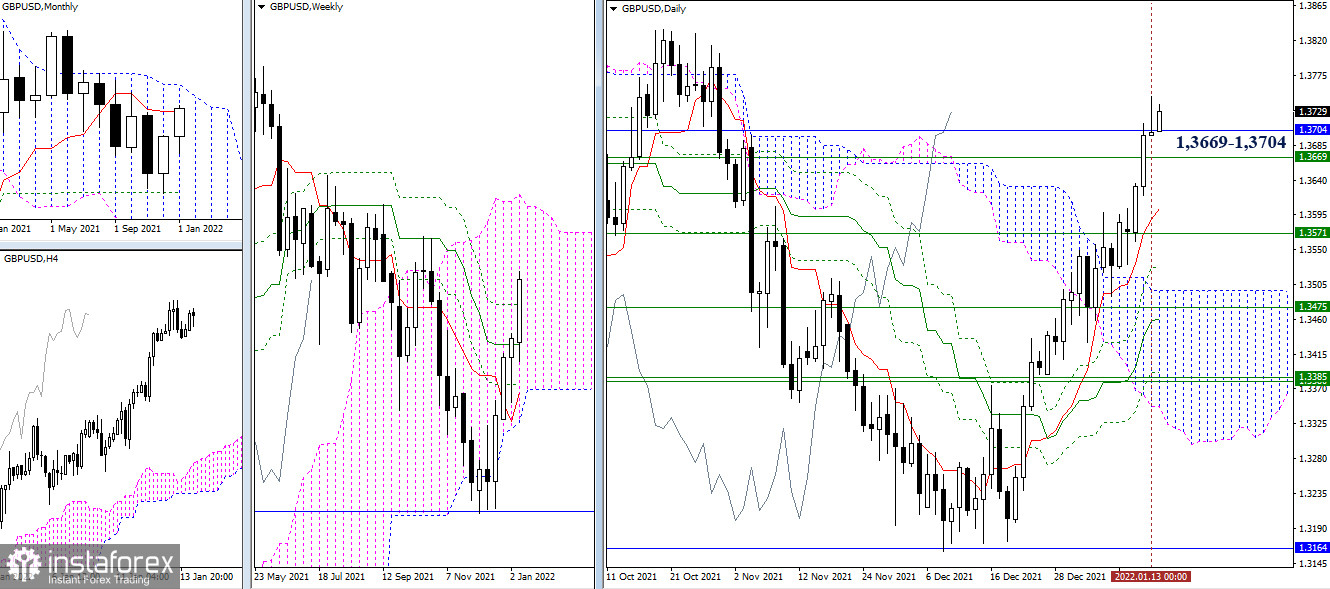 The bears formed a long upper shadow yesterday and returned to the attraction zone of 1.3669 (weekly Fibo Kijun) - 1.3704 (monthly Tenkan) despite the new daily high. It should be considered that when the Chinkou line (currently the daily Chinkou line is being considered) passes the high on the chart, there is a good chance that a slowdown or the development of corrective movements will occur. Today, the current week will be closed, thus the weekly reaction to encountering important resistances 1.3669 (weekly Fibo Kijun) - 1.3704 (monthly Tenkan) on this area will be indicated.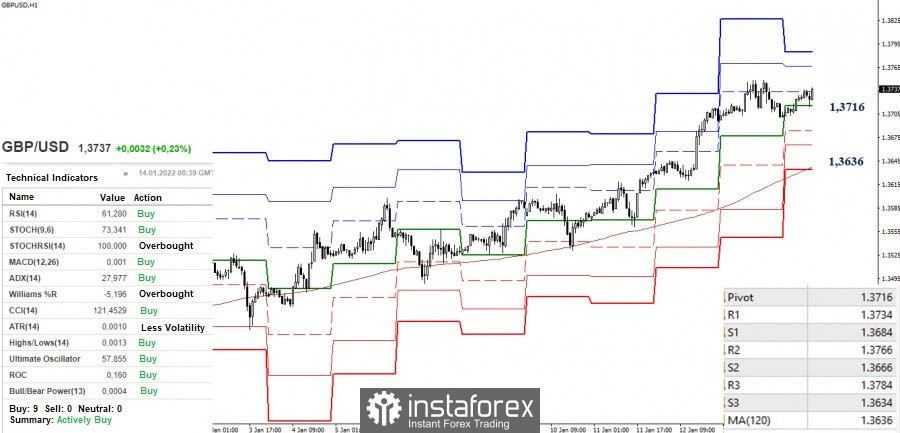 The pair is currently in the correction zone of the smaller timeframes, but at the same time, the bulls retain their main advantage. The support of the central pivot level (1.3716) is now being tested. If the next level of 1.3636 (a weekly long-term trend) is broken, the current distribution of forces on the hourly chart will be affected. The closest supports on this path are set at 1.3684 and 1.3666 (classic pivot levels). Among the intraday upward pivot points, the updated high (1.3748) and the resistance levels of R2 (1.3766) and R3 (1.3784) can be noted.
***
Ichimoku Kinko Hyo (9.26.52) and Kijun-sen levels in the higher time frames, as well as classic Pivot Points and Moving Average (120) on the H1 chart, are used in the technical analysis of the trading instruments.