US stock index futures rose slightly on Wednesday after another sell-off, which was observed on Wall Street yesterday, caused not only by rising bond yields but also weak corporate reports. Dow Jones futures rose 40 points after falling more than 200 points a day earlier. The S&P 500 gained 0.17% and Nasdaq 100 futures declined 0.23%.
Data on the volume of construction permits issued and the number of new foundations laid in the United States are expected today. Economists predict a decline in indicators, but the expected increase in interest rates in the United States may lead to increased demand for real estate at the beginning of this year. The data is released so far for December.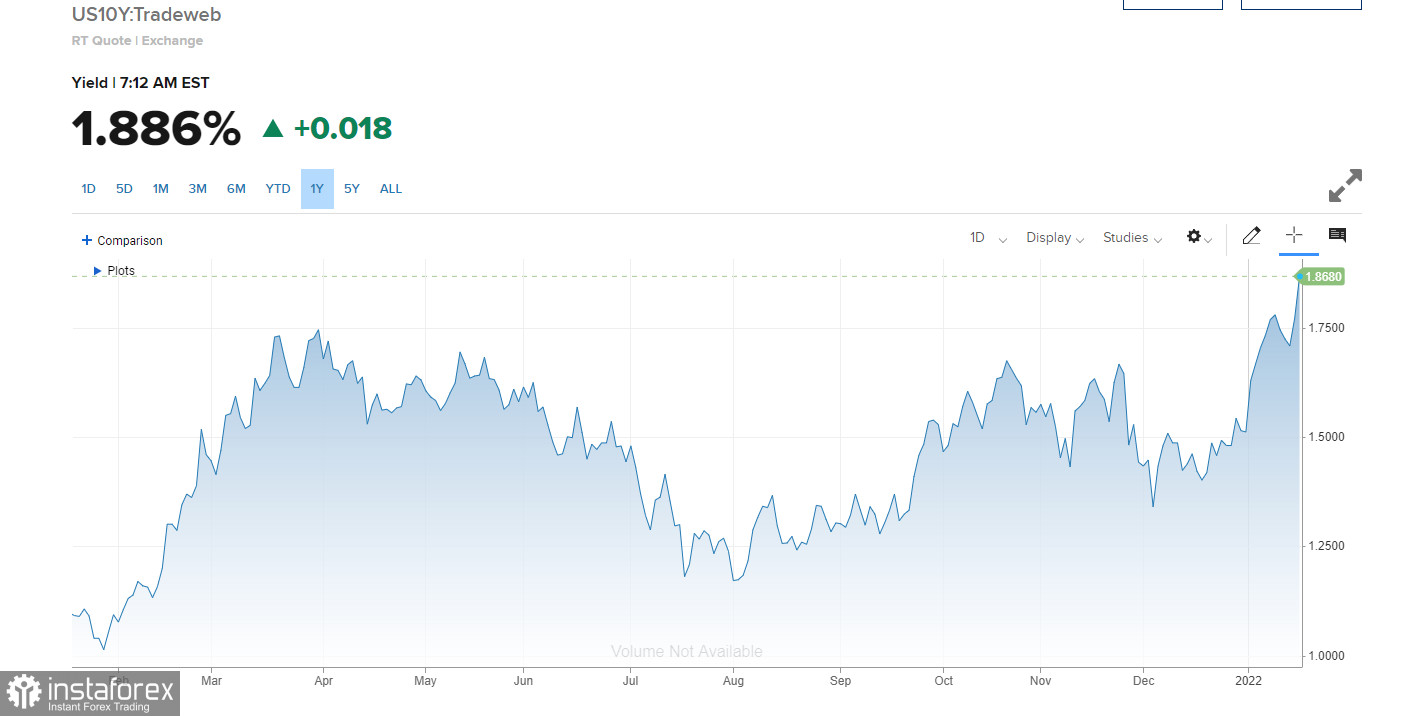 The yield of government bonds has increased slightly at the moment: 2-year bonds have reached the level of 1.06%, and the benchmark 10-year Treasury bonds show a yield of 1.89%.
As noted above, yesterday the Dow Jones industrial average lost more than 540 points due to a sharp decline of 7% in Goldman Sachs shares. The Wall Street bank did not meet analysts' profit expectations, as operating expenses increased by 23%. At the moment, the shares have recovered slightly in the premarket, rising by almost 0.5%. The S&P 500 also declined by 1.8%. The technological Nasdaq Composite dropped 2.6% altogether. The index closed at its lowest level in three months, as investors fear a more active interest rate hike by the Federal Reserve. It is worth noting that the yield of two-year bonds, which now exceeds the 1.0% mark, means that the market agrees with the Fed's position that more aggressive changes in monetary policy are needed.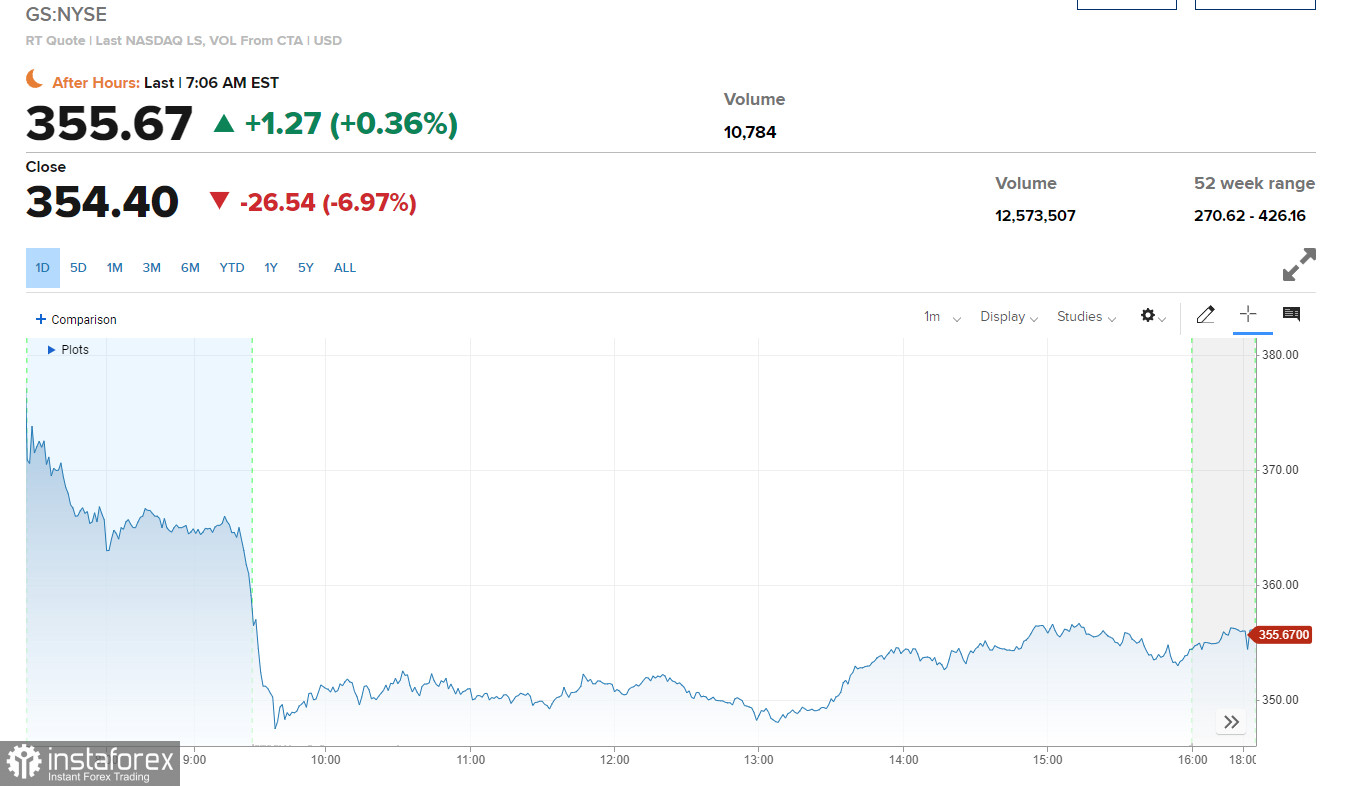 According to Goldman Sachs executives, payroll expenses in the 4th quarter rose sharply by 33% to $ 17.7 billion in 2021, which is $ 4.4 billion more. This has brought the average payout per employee to about $ 404,000 in 2021, up from $ 329,000 in 2020. However, the average salary of employees is distorted due to record millions of payments and bonuses to highly paid employees, while most employees earn significantly less.
Bank of America and Morgan Stanley will report today. No less attention will be paid to Procter reports & Gamble, US Bancorp, UnitedHealth, and United Airlines.
Morgan Stanley - The financial giant is expected to report fourth-quarter earnings before the opening of trading. Economists forecast earnings of $ 1.91 per share, which is 5.4% higher than a year earlier. Revenue is projected at $ 14.6 billion, which is 7% higher than a year earlier.
Bank of America is also due to report fourth-quarter earnings. Earnings of 76 cents per share are expected, which is 29% higher than a year earlier. Revenue should grow to $ 22.2 billion, which is 10% higher than a year earlier.
In the fourth quarter, JPMorgan Chase, Goldman Sachs, and Citigroup announced a sharp increase in costs, which is partly due to an increase in wages. As noted above, Goldman Sachs has already pulled the indices down yesterday. Let's see how other banks will respond.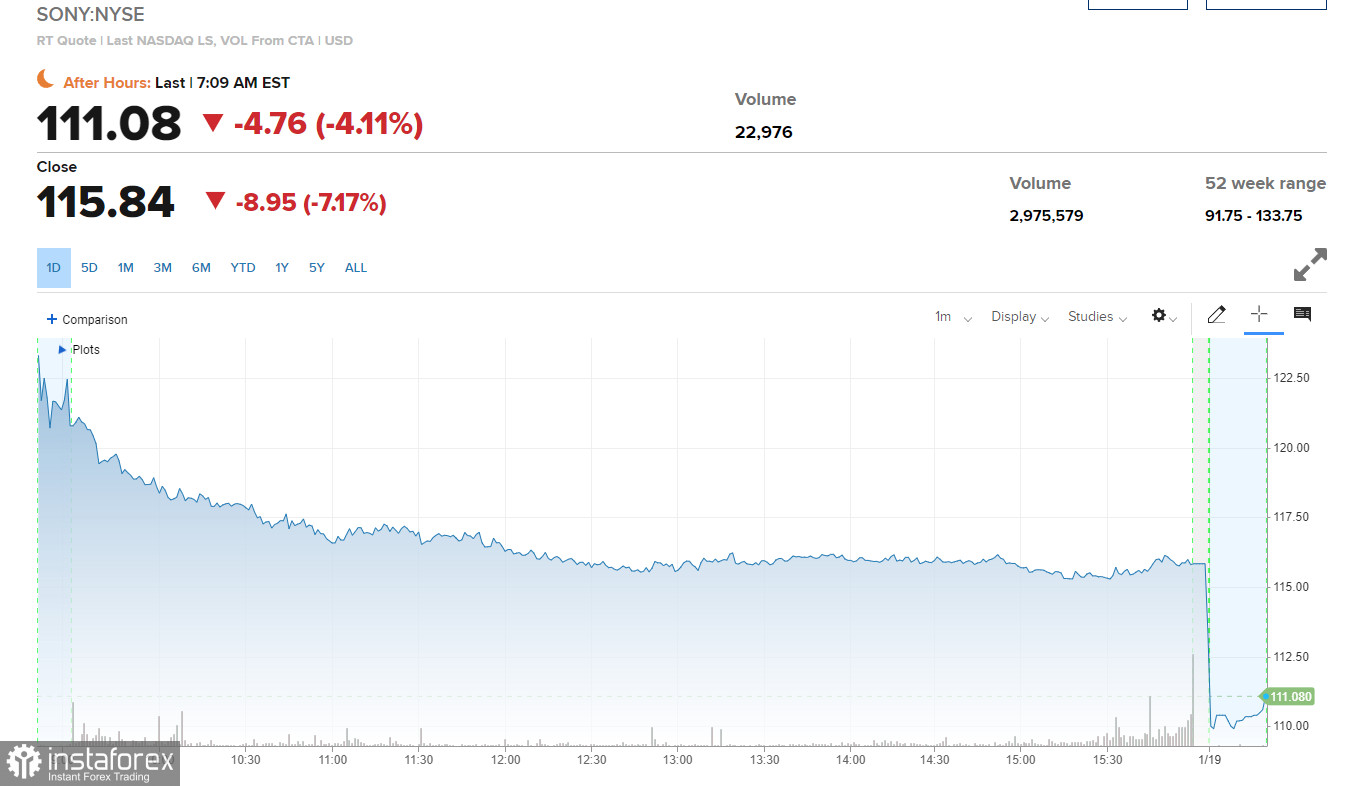 As for the premarket, Sony shares fell especially strongly by 4.7%. It happened the day after Microsoft announced the purchase of video game publisher Activision Blizzard for almost $ 70 billion. PlayStation and Sony compete with game consoles.
As for the technical picture of the S&P 500
Bulls need to try very hard to return to the level of $ 4,598, near which the main trade is currently being conducted. In case of a breakout and consolidation above this range, we can count on bullish momentum and the recovery of the trading instrument to a larger resistance of $ 4,665 - this will open up the possibility of updating the levels of $ 4,722 and $ 4,818 in the near future. If trading remains below $ 4,598, as well as weak reports from Morgan Stanley and Bank of America, it is best to be patient and wait for the index to decline to larger supports: $ 4,536 and $ 4,470.