Yesterday, the euro fell by 61 points at the moment, the day closed with a decrease of 23 points. Technically, this manifested itself in the following: the daily candle pierced the support of the MACD indicator line and closed above it. Now we have two false price exits above resistance and support: the exit above resistance is a movement on January 12-14 above the target level of 1.1415 (and this exit was with consolidation, it is marked with a gray oval), the exit under support occurred yesterday - under the MACD line. Now the price is exactly in the middle between the target levels of 1.1170 and 1.1415. In this neutral state, the price intends to meet the release of today's Federal Reserve meeting. The signal line of the Marlin Oscillator still suggests that the trend is more inclined to continue further downward movement.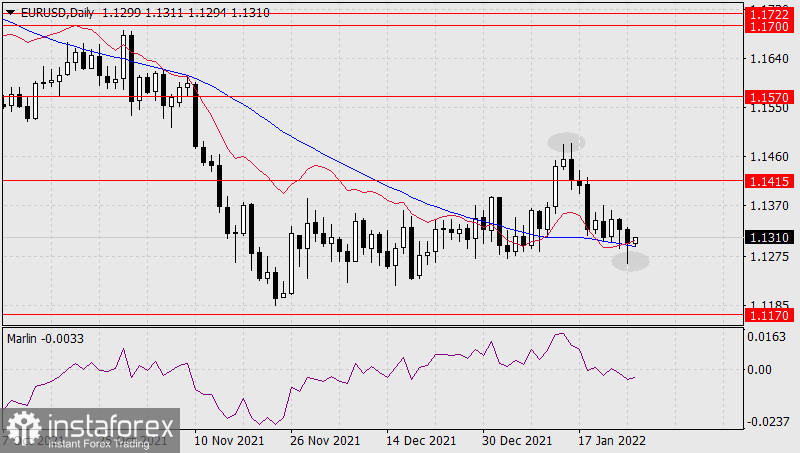 Today we have the following situation on the moods regarding rates: the Federal Reserve is ready to raise the rate four (4) times before the end of the year, consulting agencies, a number of banks, have already announced the need for seven (7) rate hikes, and some participants are waiting for a March increase of 0.50% at once. Hence, a logical expected reaction of the market is created – if the Fed does not show an increased aggressive attitude today, does not confirm at least partially such hawkish expectations, the euro may go up. The first growth target is the 1.1415 level, then the movement may continue to the second target level of 1.1570 - until the January 2019 high.
But at the same time, the markets understand that their desires always go ahead of the Fed's mood, so they can "get into the situation" and push the euro down if the tone of the accompanying statement and press conference of Fed Chairman Jerome Powell is sufficient.
Also, from the point of view of the market, the euro has not yet worked out the flight of investors from risk. Over the past 10 days, the US stock index S&P 500 has lost 6.7%, and the dollar index has grown by only 0.37%. Thus, we estimate the probability of the euro falling after today's Fed meeting at 60%.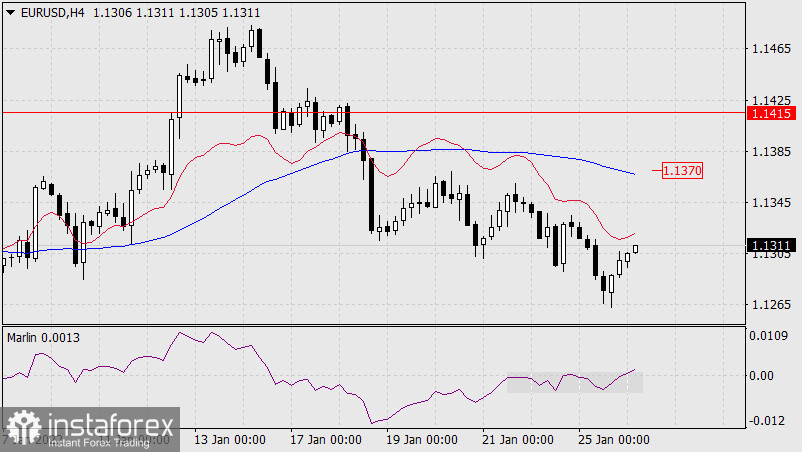 On a four-hour scale, the Marlin Oscillator moves sideways. Here, the subsequent growth and decline of the oscillator are equally likely. The signal for medium-term growth will be the consolidation of the price above the MACD line, above the 1.1370 mark. The departure of the price under yesterday's low of 1.1263 opens the first target of 1.1170. The second target is 1.1050 (resistance of March and December 2015).