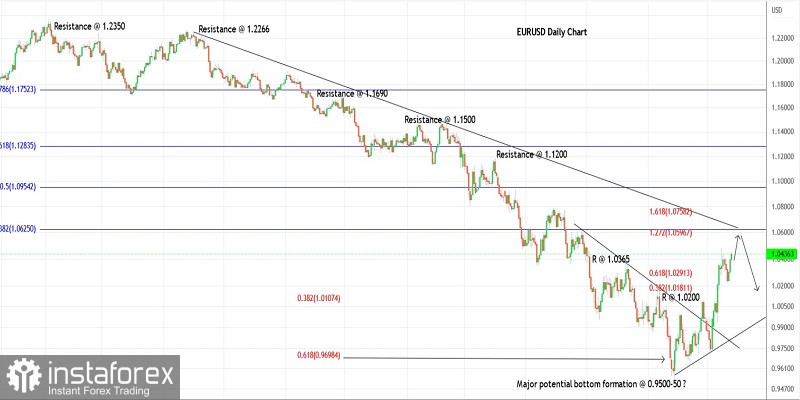 Technical outlook:
EURUSD rallied through 1.0448 during the late Asian session on Thursday before pulling back slightly. The single currency pair is seen to be trading close to 1.0435 at this point in writing as the bulls aim towards 1.0550-600 in the near term. Taking partial profits off the long positions and reducing risk could be a good strategy now.
EURUSD might still be developing its last rally towards 1.0550 to complete the larger-degree corrective wave. It had begun from the 0.9535 lows on September 27 as seen on the daily chart. Now the instrument is about to complete three waves around 1.0550. Please, note that the Fibonacci 0.382 retracement of the drop between 1.2266 and 0.9535 is also seen close to 1.0550.
A high probability remains for a turn lower if prices manage to reach the 1.0550-600 zone going forward. Alternatively, if the price fails to break above the 1.0481 interim resistance, it could reverse lower towards the 1.0050-60 zone before finding support again. The last leg rally might extend above 1.0550-600 if the alternative scenario works out.
Trading idea:
Partial profit might be taken around 1.0435 and stop moving to breakeven. Potential upside towards 1.0550-600
Good luck!