Goldman Sachs Group Inc. analysts warn traders and investors focused on Asian markets that the region is suffering the biggest monthly losses in two years. The main contribution to the current situation of instability is made by China.
Goldman Sachs warns of a global correction in the Asian region
As of March 14, funds betting on the rise and fall of stocks in China have lost almost 14% in half a month. Their counterparts focused on Asian stocks lost 9.8%. Both indicators are the worst result in 10 days after the defeat in March 2020, according to analysts of the largest US investment bank.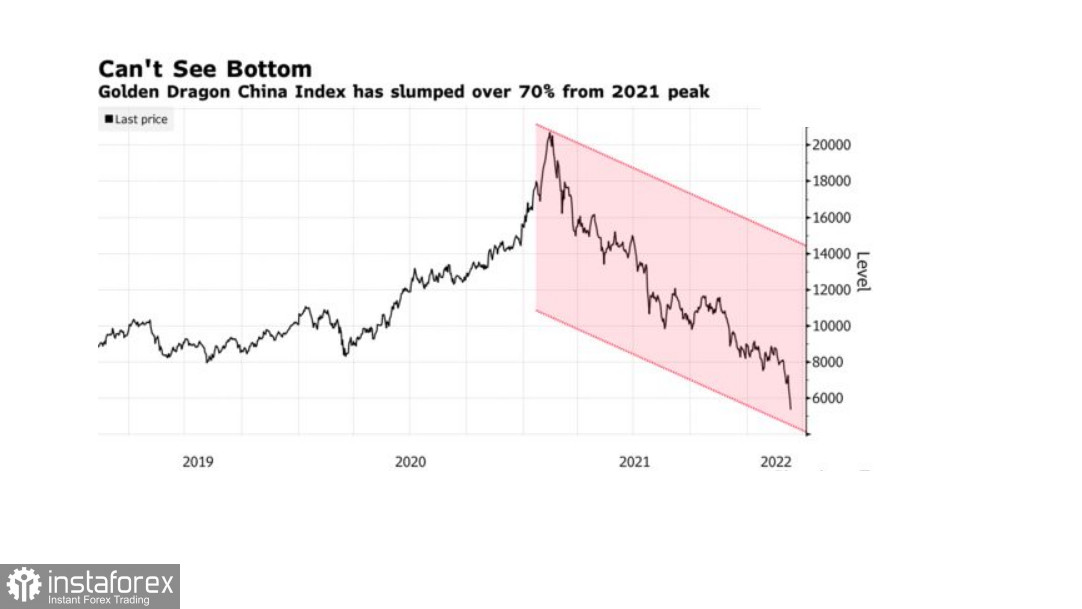 Investors who have recently sought refuge in the Asian sector are fleeing Chinese stocks en masse due to concerns about restrictions related to new Covid-19 outbreaks, new repressive measures by regulatory authorities (in particular, against rich Chinese). Possible sanctions also play a role if China supports Russia in its invasion of Ukraine.
The Nasdaq Golden Dragon China index, which includes technology companies including Alibaba Group Holding Ltd., Baidu Inc. and NetEase Inc., fell almost 12% on Monday, bringing the drop in the last three trading sessions to 29%. The Hang Seng China Enterprises index on Friday showed the biggest decline since the global financial crisis of 2008 in three consecutive sessions.
Goldman Sachs mainly operated with averaged data.
So, the average value of losses of Chinese stock funds this month was 9.2%, which means that larger hedge funds have suffered more in the current market crash. Similarly, their Asian counterparts declined by 5.7%.
According to an asset-weighted basis, the March decline so far has only led to the fact that the average losses of Chinese stock funds this year amounted to almost 22%. Asian equity funds have fallen 16% this year on the same indicator.
Now investment portfolio managers are suspicious of buying Chinese stocks, as the country's close ties with Russia, the extreme restrictions of Covid-19 and the lack of clarity regarding the end of regulatory measures repel them, forcing them to think about a 75% drop compared to their peak.
Most private investors are also hesitant to plunge into regional trading, even though valuations have fallen to their lowest level in more than a decade, which for many is usually a chance to buy on a downturn. Some plan to maintain their existing positions, but few want to expand.
"We are still avoiding Chinese stocks," said John Plassard, "there are too many question marks." He added that last year his company sold its Chinese shares and did not return to them anymore.
Causes of the disaster
The decline occurred after US officials said that Russia had turned to China for military assistance in the war against Ukraine.
And although China has denied the report, traders fear that any sanctions against Beijing could exacerbate supply chain constraints and hit global growth.
According to Jiang Shi Cortesi, a manager of Chinese and Asian equity funds, concerns about the spread of Russian sanctions on China are putting pressure on Chinese stocks. According to her, the turning point will come only when the sales in American depositary receipts will be "exhausted" and the situation with Ukraine will be resolved.
Meanwhile, analysts at JPMorgan Chase & Co. On Monday, the ratings of 28 Chinese stocks listed in the United States and Hong Kong were downgraded, citing regime change, as investors assess geopolitical risks and growing concern about regulatory risks.
Moreover, the mood has also suffered due to the quarantine caused by Covid in Shenzhen, a key technology hub near Hong Kong and the northern province of Jilin.
"Investors will probably require a long period of calm before returning to the country en masse," said Julien Lafargue, chief analyst at Barclays Private Bank. "Given that so many factors are putting new pressure on Chinese stock markets, it's not surprising that local assets are lagging behind many global peers."
Bulls are not asleep
Nasdaq Golden Dragon rarely trades at a discount to the S&P 500 index. At 14 times forward earnings, Chinese stocks now have the sharpest discount to the S&P 500 since 2008. In Hong Kong, the index of Chinese technology stocks fell 18 times from 40 in June 2021.
This makes some optimists look at the market with interest.
According to Peter Kiesler, portfolio manager, now is the time to attract some shares of Chinese technology companies.
"Today we are increasing our position as it seems that we are seeing liquidation," said Kiesler. - I think that the fall of Russian stocks to zero scared many investors, who now see a non-trivial risk that the same thing will happen in China."
Xiadong Bao, an emerging markets fund manager, is also slowly building up positions, but notes that "it seems too early to become positive, given the many topics we have here."
However, most investors are extremely wary, in particular, due to a rare combination of geopolitical, pandemic and domestic economic troubles.
Russia recently announced that it expects to settle some obligations in yuan. The Kremlin's vivid attempts to rely on the PRC are failing the economy of the Celestial Empire, forcing the government to introduce repressive measures against its wealthy fellow citizens in an attempt to fuel the economy at their expense. Individual, but major mistakes of Chinese tycoons also do not add reliability to the country's financial rating. Perhaps in the near future the Chinese will become more restrained in their relations with Russia, although they still count on the reversal of the Russian market in their favor.
In general, the attempt of the Chinese government to sit on two chairs excites economists, not allowing them to speak confidently about the coming day. Apparently, we should agree with Goldman economists that this situation will continue in the near future.