Futures on US stock indices rose on Wednesday after another disastrous day that occurred yesterday against the backdrop of high inflation in the United States, aiming by leaps and bounds to the area of 9.0%. And although Wall Street traders are trying not to pay attention to it, focusing on the beginning of the company's profit and loss reporting season for the first quarter of 2022, the market is lacking optimism. Dow Jones Industrial Average futures rose 152 points or 0.4%. Futures for the S&P 500 and Nasdaq 100 jumped 0.6% and 0.7%, respectively.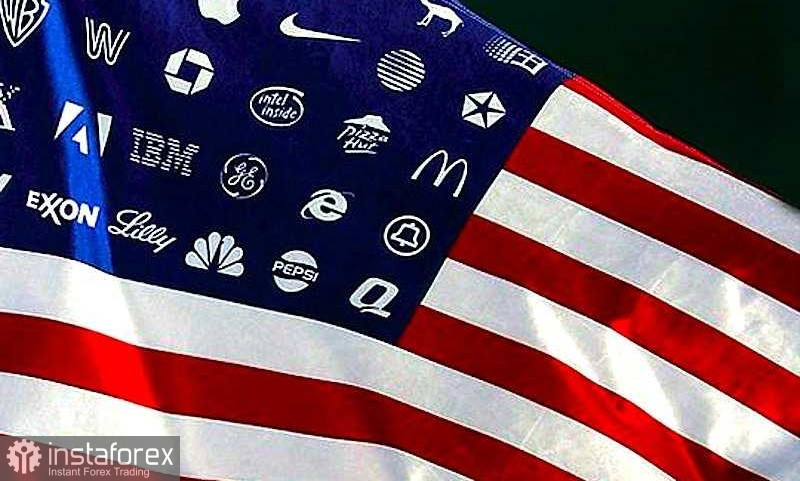 According to the US Department of Labor, the consumer price index rose to 8.5% (compared to last year in March) after jumping to 7.9% in February. The widely used inflation indicator increased by 1.2% compared to the previous month, which was the largest increase since 2005. A report on producer prices for March of this year will be released today. It is unlikely that a sharp jump in producer inflation will lead to a market collapse, as it was yesterday, but some pressure will be formed on it. According to economists, PPI is expected to grow by 1.1% last month.
As for the debt market, 10-year Treasury bonds reached a new three-year high, exceeding 2.82%. Today, the yield on 10-year bonds is at 2.73%.
As noted above, the season of profit and loss reports for the first quarter begins today, and many analysts have already revised their forecasts and expectations due to rising commodity prices, Russia's military special operation in Ukraine, and a new outbreak of the coronavirus pandemic in China.
JPMorgan Chase has already reported, which published mixed results. The bank reported a loss of $524 million for the first quarter due to market turmoil related to sanctions against Russia. This reduced earnings per share by 13 cents. Revenue for this period amounted to $ 31.59 billion, which is slightly more than analysts expected.
Premarket
Delta Air Lines shares rose 6.6% in premarket trading after reporting a smaller-than-expected quarterly loss. The airline also reported that in March, monthly revenue exceeded the pre-pandemic level for the first time.
BlackRock, an asset management company, reported adjusted quarterly earnings of $ 9.52 per share, compared with a forecast of $ 8.75. Revenue was mostly in line with forecasts.
The securities of Antares Pharma, a specialized pharmaceutical company, soared 48.7% in the premarket after Halozyme Therapeutics agreed to buy it for $ 960 million, or $ 5.60 per share.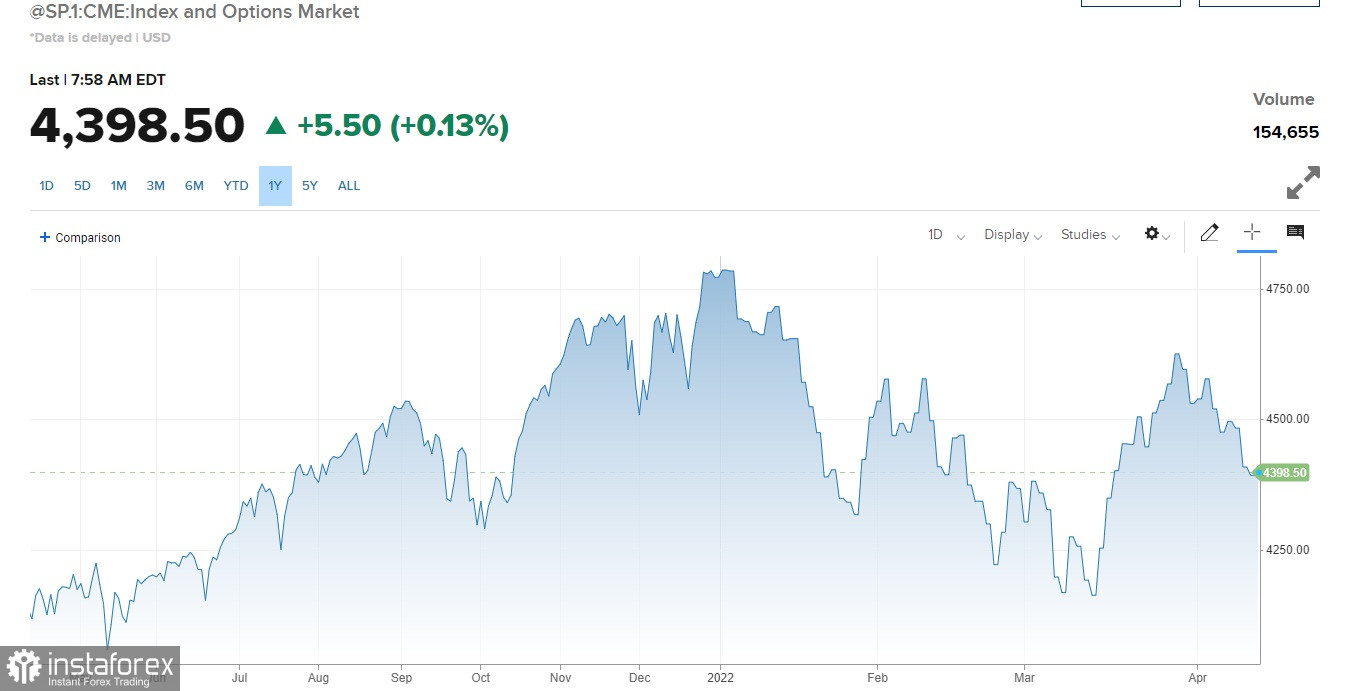 As for the technical picture of the S&P500
The bulls failed to break above the $ 4,433 level yesterday, and now we need to think about how to return to this range. There is a lot of pessimism, and most likely, an unsuccessful attempt to consolidate above $ 4,433 at the beginning of trading after US inflation data will result in another sell-off. In this case, buyers will have to defend the nearest support of $ 4,383. Having missed this range, you can say goodbye to growth, and it is best in this case to postpone the purchase of a trading instrument to the lows of $ 4,319 and $ 4,265. It is possible to talk about the return of the market under the control of buyers only in case of consolidation above $ 4,433, which will allow returning the upward potential - to reach the nearest resistance of $ 4,488 and $ 4,539. A breakdown of these ranges will open the way to the highs of $ 4,589 and $ 4,637.