US stock index futures increased on Wednesday, ignoring the slump of Netflix's stocks and several other disappointing earnings reports by other companies. Dow Jones Industrial Average futures increased by 126 points or 0.3%, S&P 500 futures gained 0.4%, and Nasdaq 100 futures rose by 0.5%.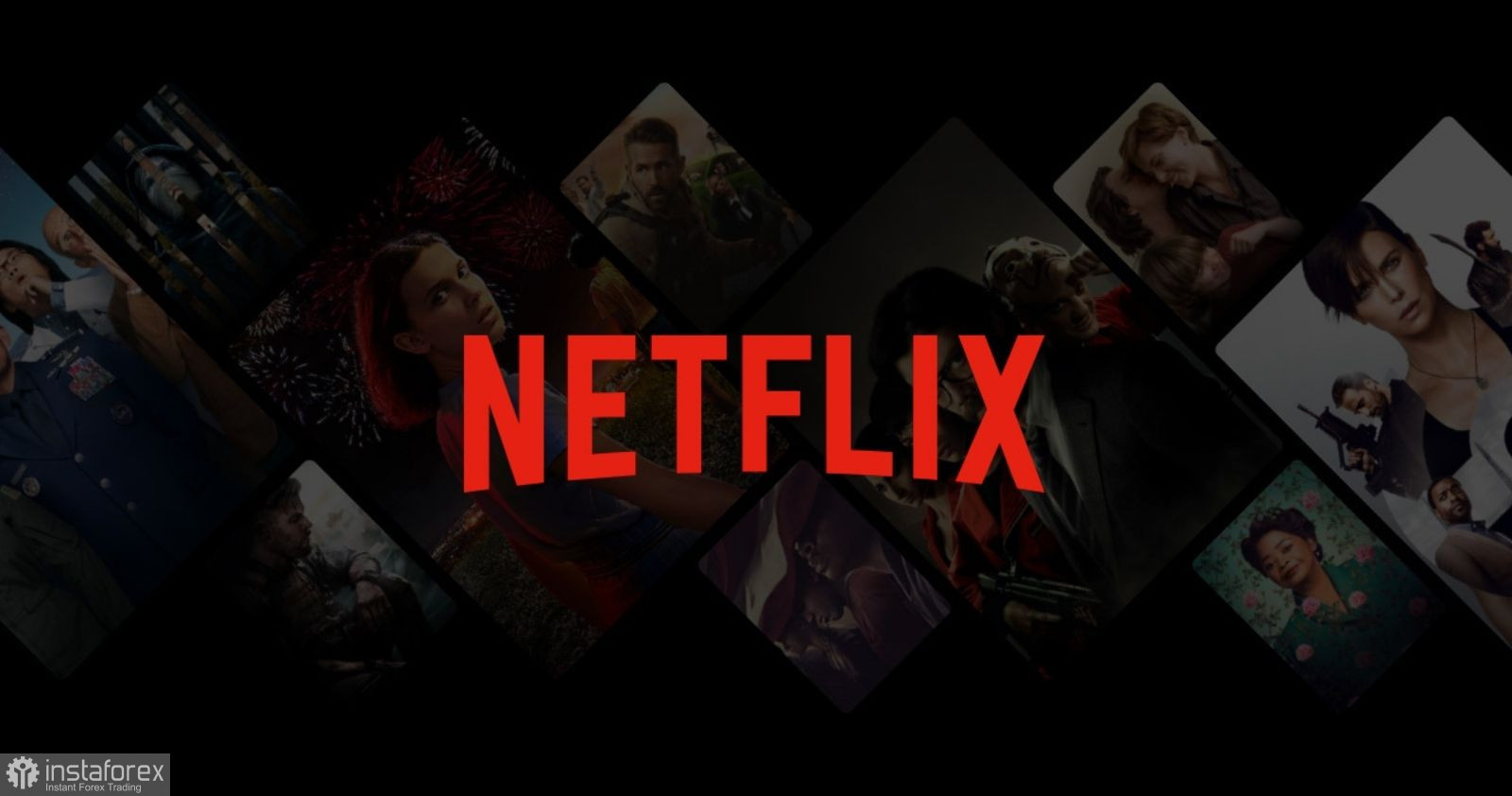 Shares of Netflix crashed by 25% during the premarket after the streaming giant reported a loss of 200,000 subscribers in the first quarter of 2022. Numerous analysts have slashed their ratings on Netflix following its first-quarter results. Other streaming companies, such as Disney, Roku, Warner Bros. Discovery, and Paramount also suffered losses.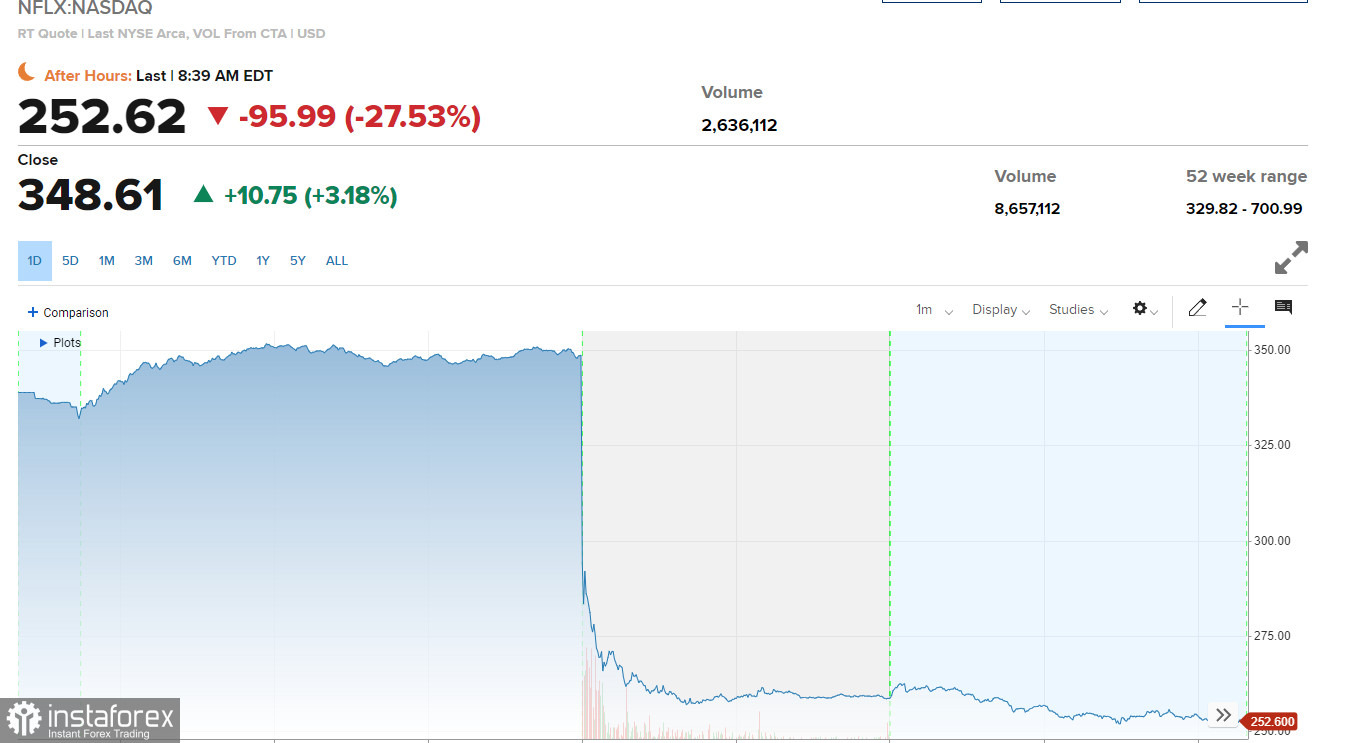 Procter & Gamble gained about 1% after increasing its revenue forecast for fiscal year 2022.
10-year US Treasury yields retreated slightly today after hitting a 3-year high of 2.94% on Tuesday. Major indexes advanced strongly yesterday, posting their best day since March 16. The Nasdaq Composite rose by 2.15%, while the Dow Jones Industrial Average jumped by 499.51 points or 1.45%. The S&P 500 gained 1.61%.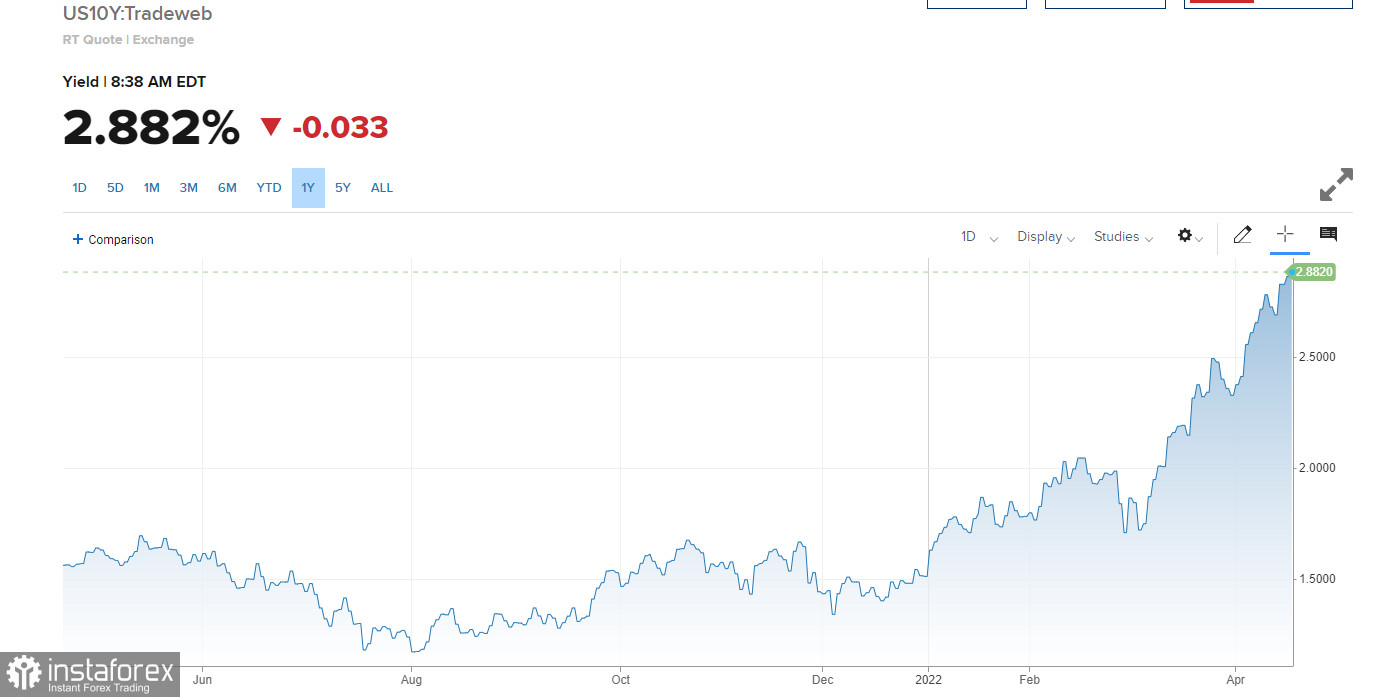 Traders also welcomed falling oil prices. The commodity decreased on average by 5% after the International Monetary Fund lowered its global economic growth outlook and warned about risks related to higher inflation.
Premarket movers
Shares of streaming companies Walt Disney (DIS), Roku (ROKU), and Warner Brothers Discovery (WBD) lost 5%, 6.7%, and 4.3% respectively in premarket trading following the nosedive of Netflix stock.
Baker Hughes fell 5 cents short of earning estimates, with adjusted quarterly earnings of 15 cents per share. Its revenue also missed forecasts. The oil field service company said its results reflected a volatile operating environment. As a result, the stock fell by 2% in premarket action.
IBM has reported an adjusted quarterly profit of $1.40 per share, which is 2 cents above estimates. Revenue has also exceeded analyst forecasts. IBM's results got a boost from strong hybrid cloud platform business. As a result, IBM shares gained 2.7% during the premarket.
Shares of Teva Pharmaceutical fell by 4.8% during the premarket after the FDA rejected the company's new drug application for a schizophrenia treatment. Teva has announced it was studying possible next steps and will work with the FDA to address the agency's concerns.
On the technical side, S&P 500 bulls managed to break above $4,433, fully focusing on the next resistance level of $4,488. If the index breaks through this level, it could quell the bearish trend in the market, which began in early April. It is too early to say that a new uptrend has begun. However, a breakout above $4,488 would allow the index to regain $4,539 and $4,589. On the other hand, if bearish sentiments prevail, the S&P 500 would test $4,433 - there are no positive news at the moment except for corporate earnings reports. A breakout below $4,433 would push the S&P 500 towards $4,376. If bulls fail to hold on to this level, the index would fall towards the lows at $4,319 and $4,265.