On Wednesday, US stock index futures rose ahead of a key US inflation report, which could have a significant impact on the market. If the data coincide with economists' forecasts, US stock indices may show a substantial rebound after a major fall to the yearly lows seen on May 9. Dow Jones Industrial Average futures increased by 330 points, or 1%, today. Futures on the S&P 500 jumped by 1.3% and futures on the Nasdaq 100 soared by 1.6%.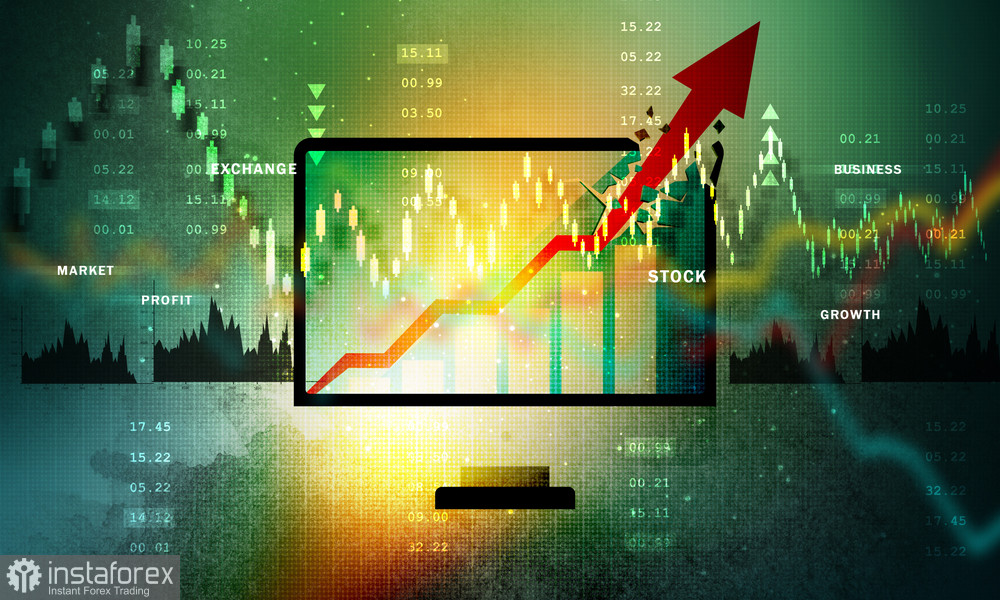 Many traders are waiting for the release of the Consumer Price Index for April, which will give a more clear view of what is now happening with inflation. Rising prices remain the focus of many market participants as the Federal Reserve reacts very sharply to this. The Fed raised interest rates and cut its balance sheet. The most recent increase was last week by 0.5% at once. Obviously, April's data may surprise us, like a month to month we are seeing signs of increasing price pressures, while economists expect it to rise less vigorously. If we see positives and lower prices, it could really move things along, allowing us to find a bottom in the stock market.
Economists expect the consumer price index to rise by 0.2% from the previous month and fall to an annualized rate of 8.1%.In March, annual inflation was 8.5%.
The Dow Jones index dropped for the fourth straight session yesterday. The S&P 500 added 0.25% and the Nasdaq Composite rose by 1%. Large-cap tech companies, which have struggled in recent weeks, rose on Tuesday. Microsoft and Apple showed gains of more than 1%.
Toyota Motors, Walt Disney, and Beyond Meat will report today.
Premarket
Wendy's shares fell after the company reported adjusted earnings of $0.17 per share, $0.01 below estimates, while revenues and sales also fell short of analysts' forecasts. Shares of the restaurant chain fell by 3.4% in the premarket trading.
Perrigo shares fell by 4.1% after reporting mixed results for Q2. Meanwhile, adjusted earnings of $0.33 per share came in below the consensus estimate of $0.42. Nevertheless, the over-the-counter drugmaker reported better-than-expected earnings and raised its yearly forecast.
The gaming company Roblox reported larger-than-expected losses for this quarter, as well as sales that fell short of analysts' forecasts. The company also said it expected more losses for the foreseeable future as costs rise and demand declines due to the pandemic. Roblox was down by 1.1% in the premarket.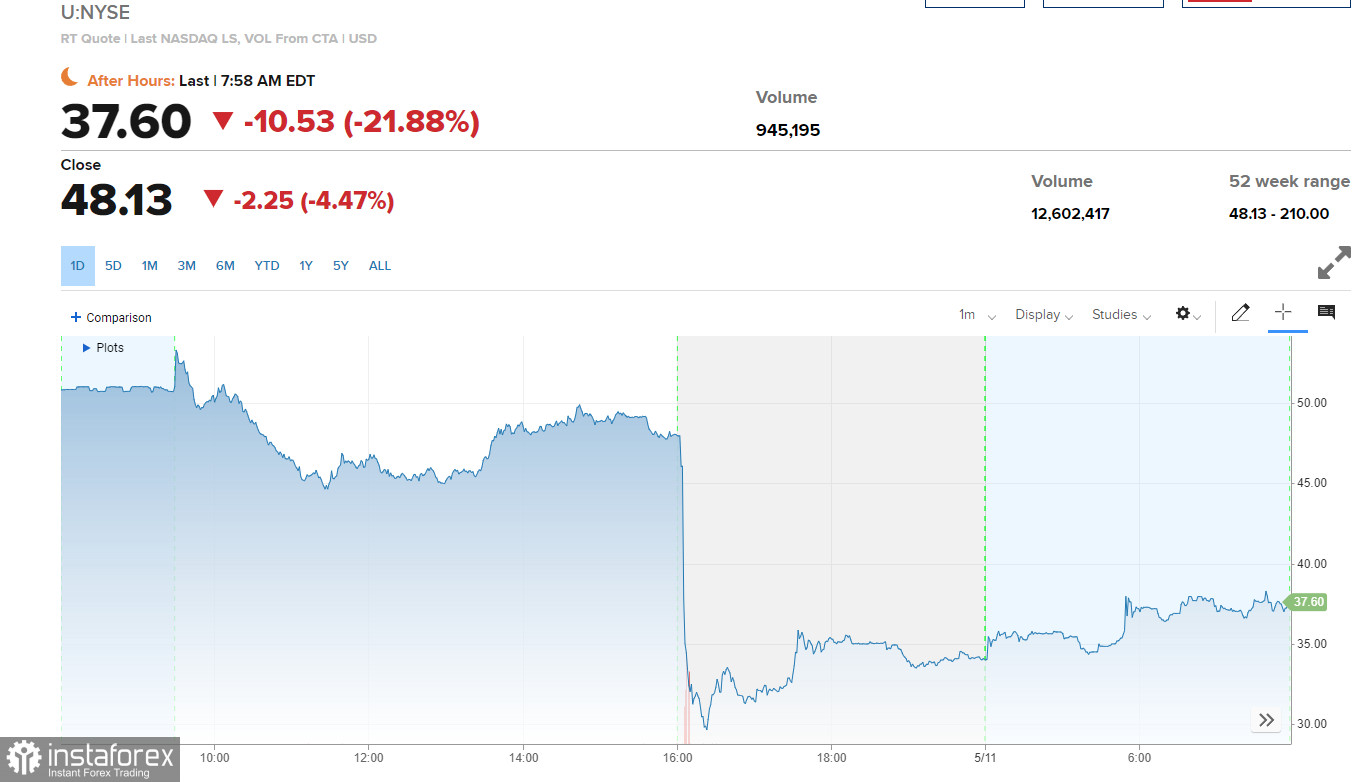 Unity Software is among the top losers. The paper fell by 23% at the premarket after the video game software developer reported weaker-than-expected revenue projections.
The largest cryptocurrency exchange listed on the US stock market also reported losses. Coinbase shares fell by 14.4% in the premarket after the company reported an unexpected quarterly loss. The loss was $1.98 per share for the latest quarter, compared with consensus earnings estimates of $0.18 per share. Coinbase noted a decline in user numbers amid an ongoing downturn in the cryptocurrency market.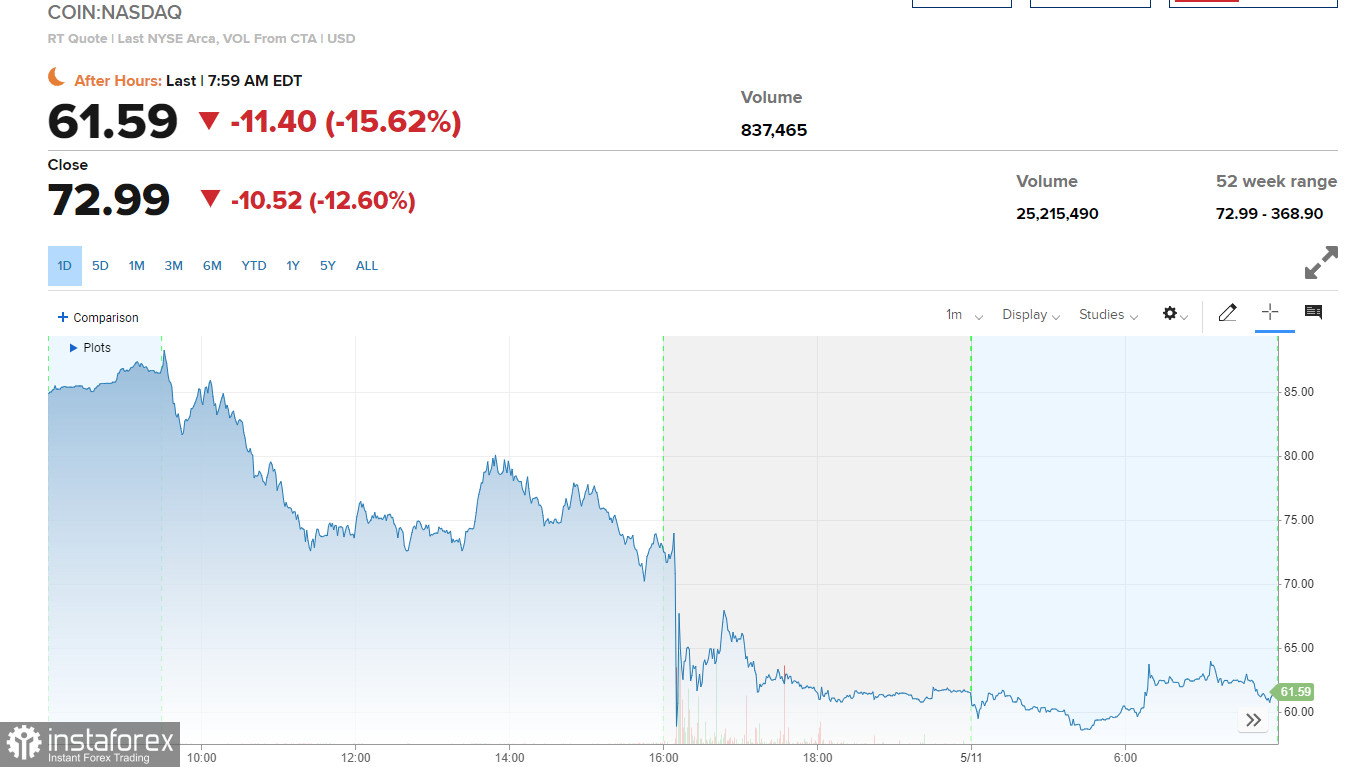 Toyota said today that its profits for the current fiscal year could fall by 20% due to a jump in raw material prices. The automaker said it will work with suppliers to find alternative materials and other ways to cut costs. Shares fell by 2.2% in the premarket.
As for the technical picture of the S&P 500
Everything depends on inflation. A decline in inflation would help the index to fix above $4,037. Therefore, bulls need to think about defending this level, which could be tested immediately after the CPI data release. Defending $4,037 and rising from that level may boost the confidence of traders counting on an upward correction. However, it's too early to speak about hitting the bottom. If the index closes above $4,069, it may return to $4,116 and $4,157. In case of pessimism and another talk about high inflation and the need to fight it, bulls will have to defend $4,005. A decline in the trading instrument below that level would quickly push it to a low of $3,964. If you missed this range, it is better to postpone buying the trading instrument until it reaches the low of $3,914.