EUR/USD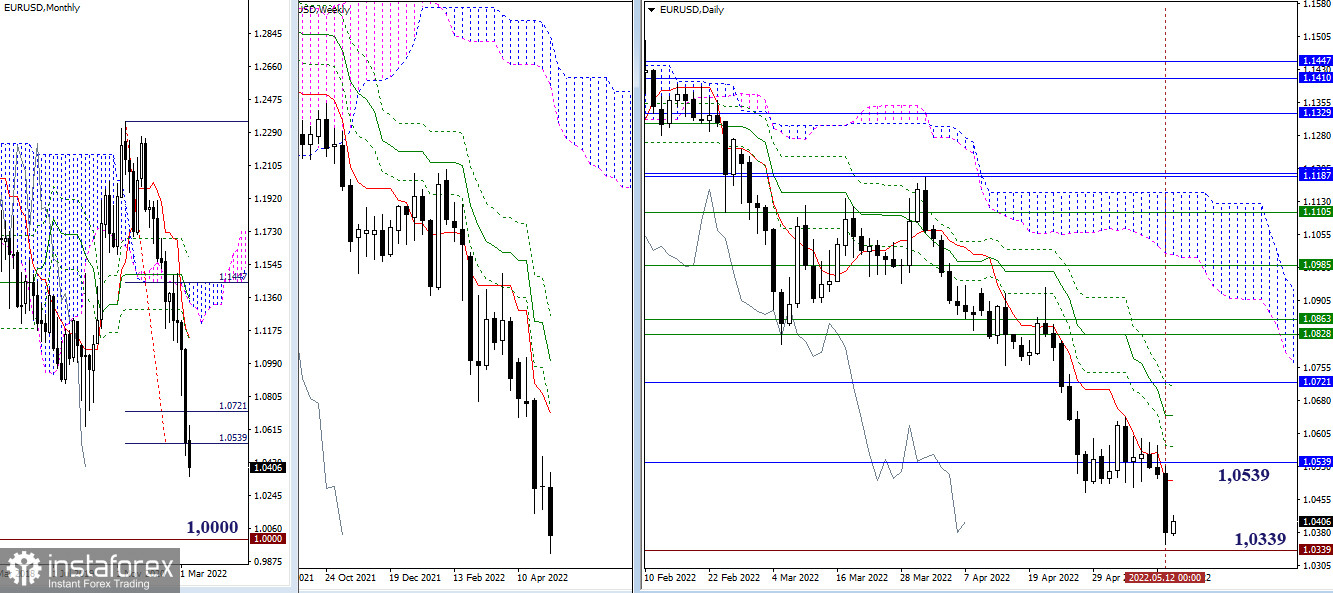 Higher timeframes
Yesterday, bears moved forward and almost reached the support formed by the minimum extremum of 2017 at 1.0339. Today we are closing the week, so the result is especially interesting. The results of interaction with the level will determine the direction of further development of the situation.
The formation of a rebound and the development of an upward correction will return the situation to the zone of recent consolidation, where the monthly target (1.0539) and the daily short-term trend (1.0498) have an attraction and influence. The breakdown will open up tremendous opportunities for bears, since there are no additional reference points from the Ichimoku indicator on a sufficiently long section of the path. We can only note the "round" psychological level of 1.0000 and the minimum extremum of 2000 at 0.8225.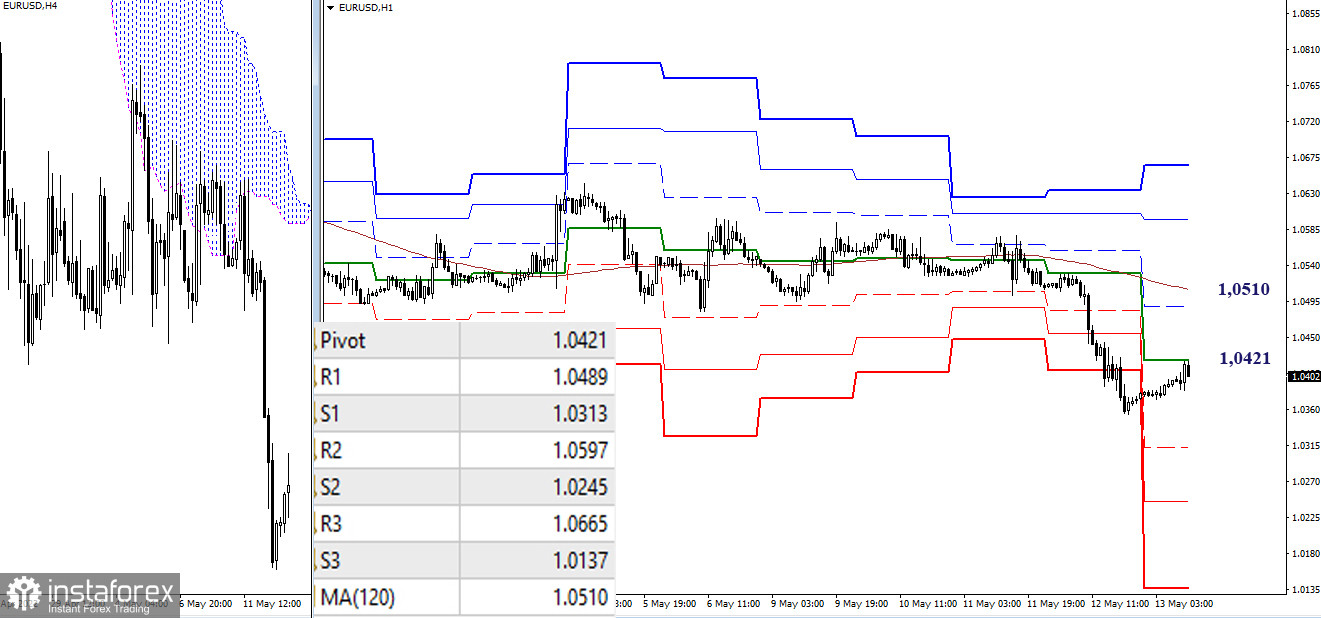 H4 - H1
On the lower timeframes, the main advantage is currently on the side of the bears. Their targets for intraday decline today are at 1.0313 – 1.0245 – 1.0137 (support of the classic pivot points). Nevertheless, it must be said that the market in the current situation is in the zone of upward correction. Bulls are now testing the first most significant level—the central pivot point of the day (1.0421). If it is overcome, bullish interests will rush to the key level—the weekly long-term trend (1.0510). This level is responsible for the balance of power in the lower timeframes.
***
GBP/USD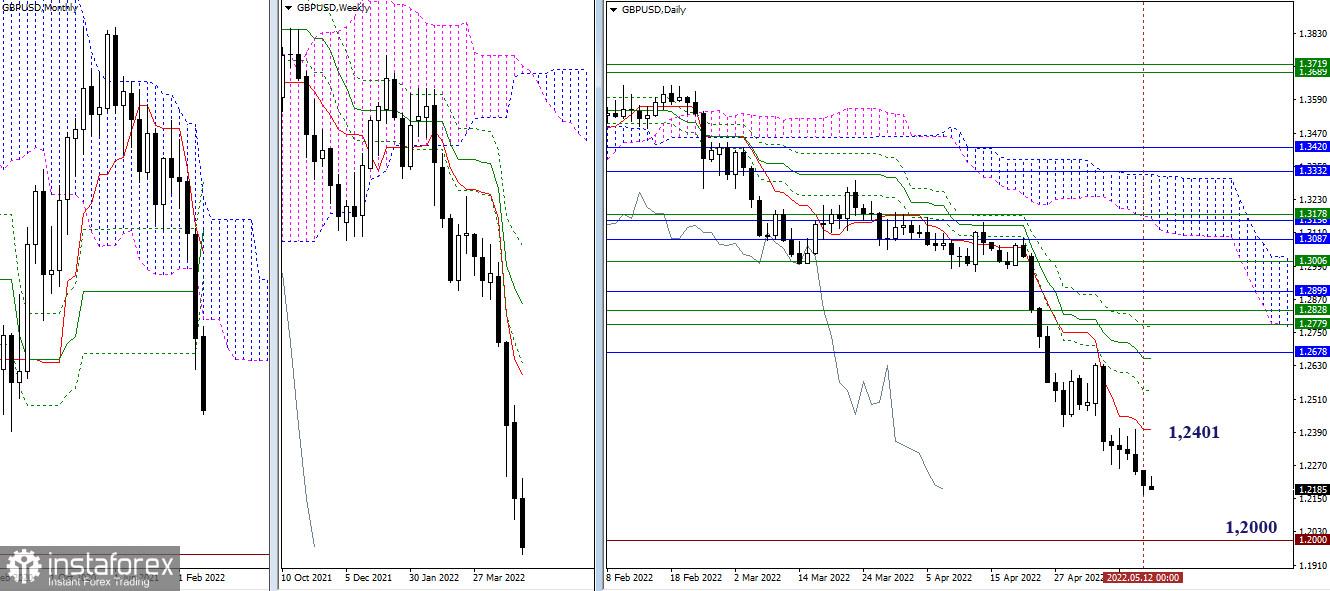 Higher timeframes
Bears retain the initiative and advantage. Yesterday, albeit with low efficiency, they continued to decline and marked a new low. The nearest downward benchmark in the higher timeframes is now the psychological level of 1.2000. In case of a correction, the first upside reference will be the daily short-term trend, which is at 1.2401.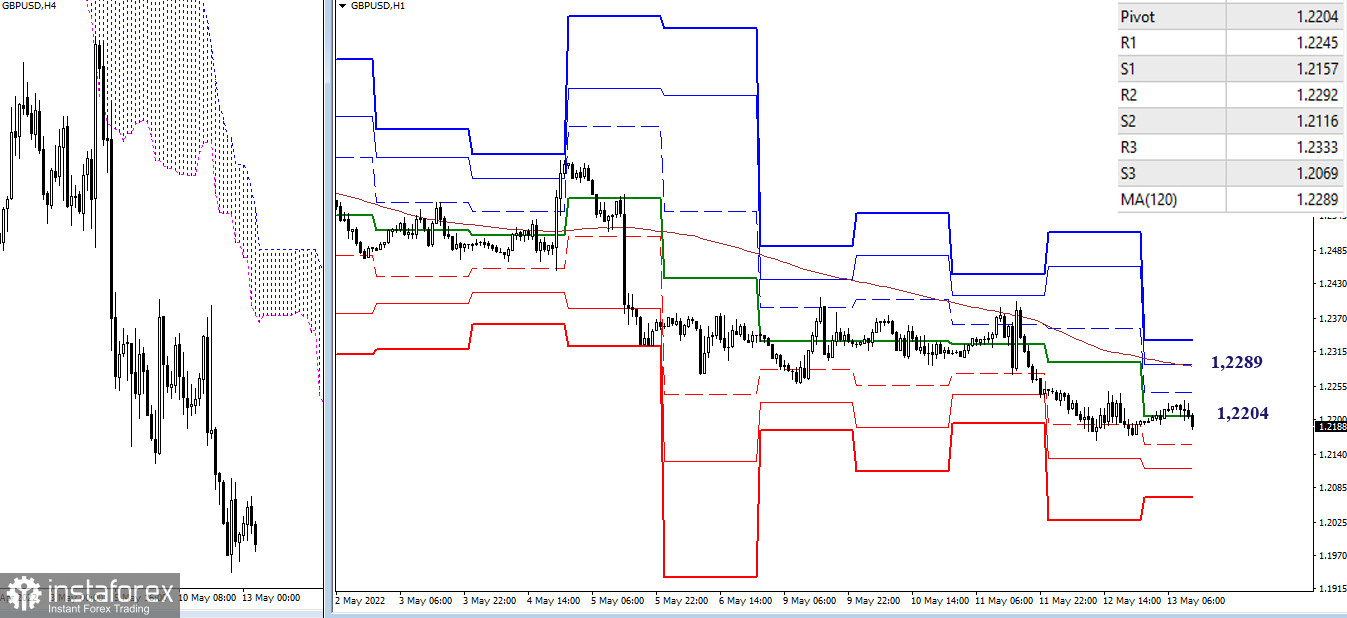 H4 - H1
The correction has been delayed. Renewal of the low (1.2164) will allow further decline. Support for the classic pivot points today can be noted at 1.2157 – 1.2116 – 1.2069. The key reference point for the development of the correction, as well as the level that can help change the balance of power, is the weekly long-term trend. At the moment, the level is at the turn of 1.2289.
***
In the technical analysis of the situation, the following are used:
higher timeframes – Ichimoku Kinko Hyo (9.26.52) + Fibo Kijun levels
H1 - Pivot Points (classic) + Moving Average 120 (weekly long-term trend)