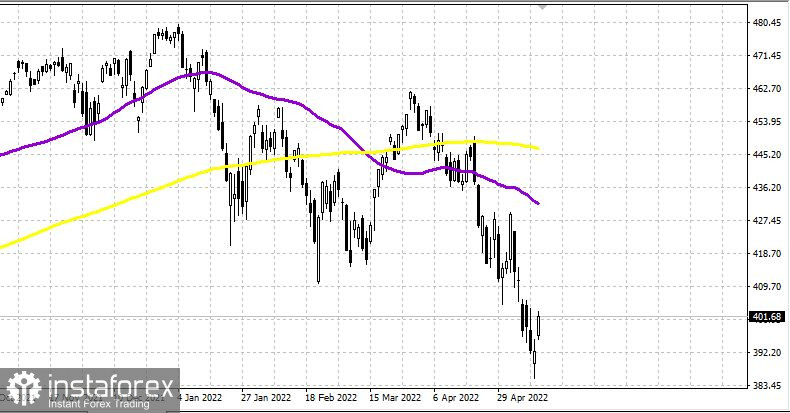 S&P 500
The US market - it is possible to buy.
The main US indices closed the previous trading week with solid gains, forming the bottom of the market: the Dow Jones Industrial Average added 1.5%, the NASDAQ Composite advanced by 3.8%, and the S&P 500 jumped by 2.4%.
S&P 500: 4,023. Trading range: 3,980 - 4,060
S&P 500 futures fell significantly in early trade. However, I believe that this is a good opportunity to start going long.
The US economy remains stable. The April report on employment turned out to be rather upbeat. There are no signs of recession right now. Indeed, the US Federal Reserve is preparing another interest rate hike, but inflation is already showing a slowdown. Therefore, the US economy is likely to experience a strong wave of growth and only then fall into recession.
Oil prices are still high. Brent crude oil is moving at around $110. The quotes continue to trade under pressure from possible restrictions on oil imports from Russia to EU countries. European officials are still in talks with Hungary's government as the country refuses to support the planned oil embargo against Russia. This ban will be included in the EU major package of sanctions against Russia to be imposed as a punishment for its actions in Ukraine.
In general, this trading week in the US market is expected to be calm. Besides, the macroeconomic calendar is bereft of any important releases except for the report on US retail to be released on Tuesday.
Wholesale trade prices in Germany soared by 23.8% year-on-year in April (it should be taken into account that there was a strong recession due to the epidemiological situation a year ago). Inflation in Germany slowed down. Wholesale price inflation in the country rose by 2.3% in April compared to a 6.9% gain a month earlier (due to a jump in fuel and gas prices).
China's industrial production declined by 2% in April, and retail sales slumped by 11%.
USDX: 104.40. Trading range: 104.00 - 104.70
The dollar seems to be tired from growth. Thus, a reversal is possible. The euro exchange rate appears to be ready for an upward rebound.
USD/CAD: 1.2940. Trading range: 1.2800 - 1.3000
The pair halted its rally and posted steep losses at the end of the week.
Conclusion: I believe it is possible to open long positions amid a pullback.