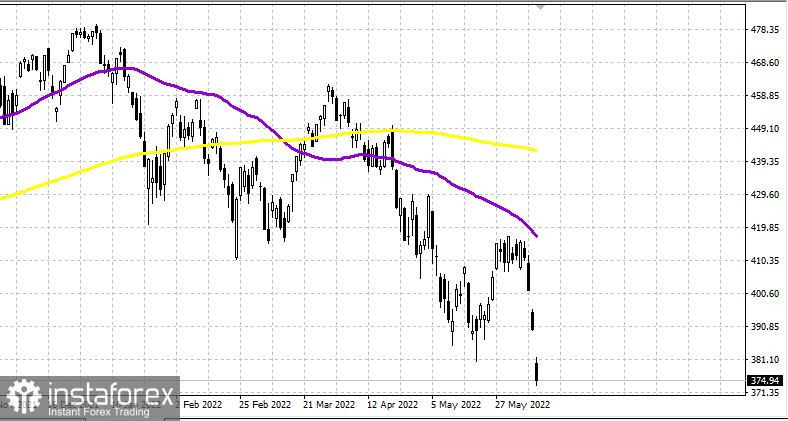 S&P 500
Outlook for June 14th:
The US stock market has been bearish for 3 sessions.
The S&P 500 is bearish. The FOMC meeting will begin tomorrow.
Yesterday, the main US stock indices tumbled, with the Dow losing 2.8%, the NASDAQ plunging by 4.7%, and the S&P500 nosediving by 3.9%.
S&P500: 3,750; 3,700-3,830 range
S&P 500 futures are likely to rebound by about 1.5% at the opening of this trading day after being bearish for 3 sessions. The market showed such a steep fall as if the economic crisis had already started. So far, the American economy is strong enough with employment, industrial production, and the services sector rising. There is a high likelihood of a crisis in a few months but it is the stock market that is now plummeting.
Reasons for the bearish market: record inflation of over 8% y/y in May, soaring fuel prices, growing risks of a food crisis, and the aggressive Fed. Along with the stock market, 2-year bond yields fell sharply yesterday.
On Wednesday, the 2-day FOMC meeting will start. The US regulator is likely to hike rates by 0.5%-0.75% in June and by another 0.5% at the meeting next month.
Energy: Crude trades up by almost 1% today, with Brent at $123. Oil is on the rise despite a plunge in the US stock market.
Food crisis: no progress.
USDX rose to the 20-year high of 105 yesterday. The Japanese yen tumbled to 134 per dollar.
Final thoughts: Ahead of the FOMC meeting, buying US stocks would be extremely risky although prices are very attractive. Prices could retrace up in the short term. In the long term, buying could be considered after the price has paused and retraced.