The only difference between Monday and Tuesday is that markets in the United States will open today after the federal holiday celebration. Meanwhile, the macroeconomic calendar will still be empty. However, it doesn't mean that the market will stay flat. Persistent inflation is turning into a more acute problem, and recession risks in the United States are mounting. In this light, President Biden has made a daunting statement, saying that to tame inflation and avoid a recession, the unemployment rate should soar to 5.0% and stay firm at this level for 5 years. Unemployment in the country is currently at 3.6%. It turns out that in order to stabilize prices, millions of Americans would have to lose their jobs as this is the only way to reduce aggregate consumer demand and lower prices, according to the law of supply and demand. What sound even more alarming is that the labor market should stay this way for 5 years. Does this mean that it could take 5 years to bring inflation under control? Anyway, the possibility of an increase in the unemployment rate bodes no good. Indeed, when such statements are made by the president, all the effort is likely to be concentrated on that. In such a case, investors would clearly lose interest in the American economy and the greenback. Therefore, the dollar is highly likely to be incurring losses today.
EUR/USD slowed its downward move, bounced, and came to a standstill slightly above the 1.0500 mirror level. The pair's further potential is unclear, which could cause an increase in speculative interest.
The Relative Strength Index is hovering around 50 on the 4-hour chart, confirming the flat market. On the daily chart, the RSI is moving in the range between 30 and 50, signaling a downtrend.
The Alligator's MAs are heading up on the 4-hour chart, showing the flat market. The indicator's MAs are moving down on the daily chart. There is no MA crossover.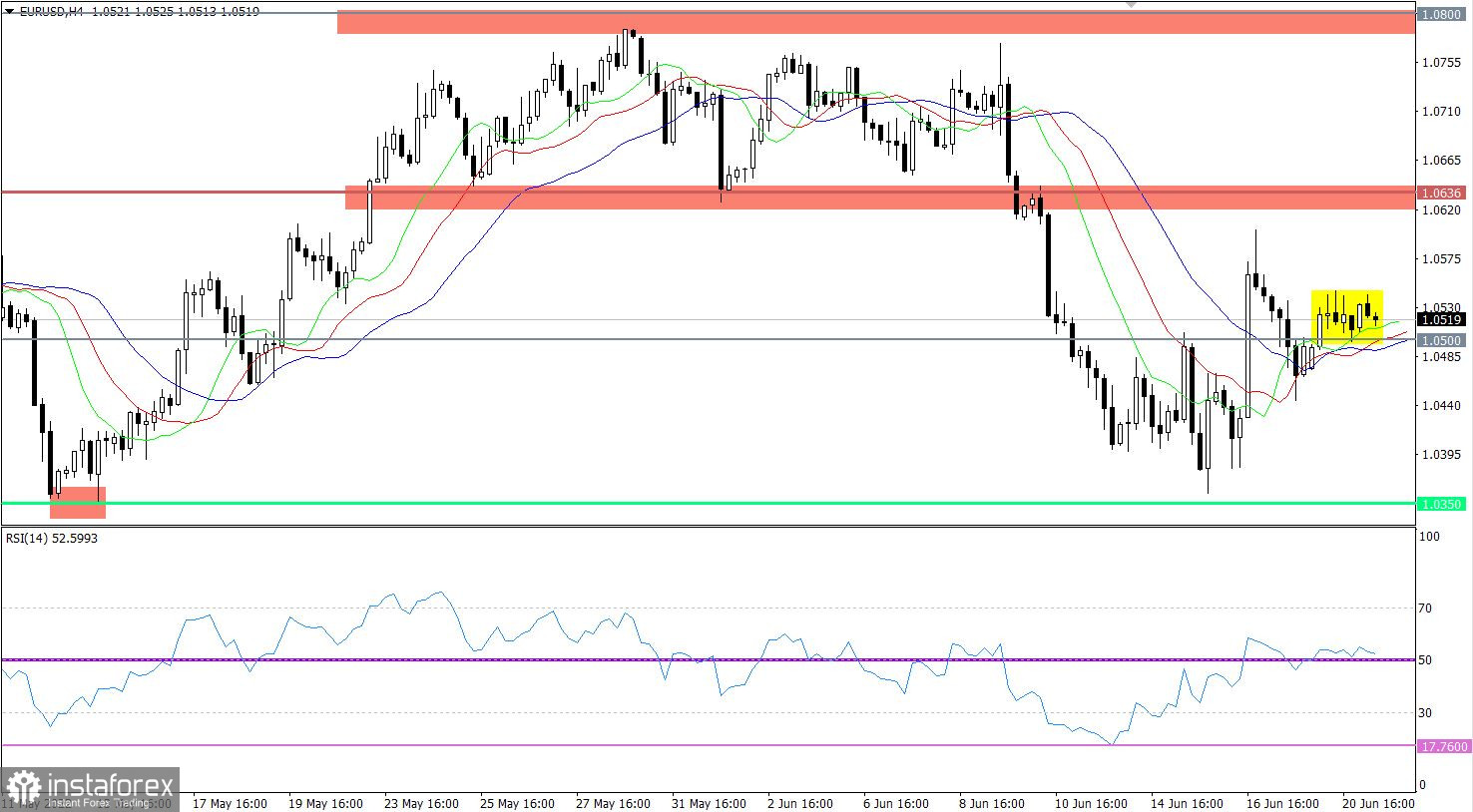 Outlook
The limits of the sideways range stand at 1.0500 and 1.0545. Due to the flat market in the short term, traders will be focusing on an impulse in the range.
Trading signals:
Long positions could be opened after consolidation above 1.0550 on the 4-hour chart.
Short positions could be considered after the price settles below 1.0495 on the 4-hour chart.
In terms of complex indicator analysis, there are mixed short-term and intraday signals. In the medium term, indicators are signaling the downtrend.