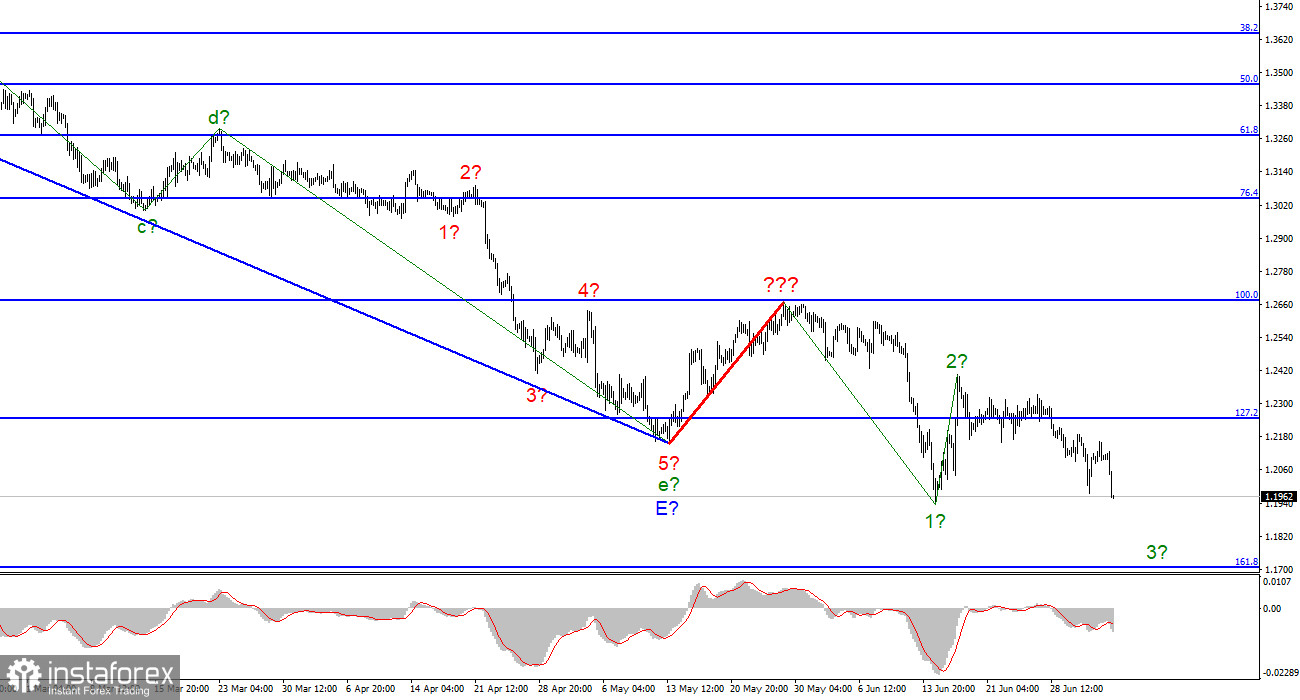 The wave marking for the pound/dollar instrument requires clarity. The last falling wave has already surpassed the minimum of the preceding wave, indicating the continuation of the downward trend section. In addition, today's decrease in the instrument's price has resulted in the current downward wave surpassing the previous one's minimum. Thus, it is certain that the construction of the trend's correction portion has been canceled, and the trend's downward segment will assume a more protracted form. I'm not a big fan of continually complicating the wave marking when dealing with a highly elongating trend zone. I believe it would be far more efficient to recognize rare corrective waves, following which new impulse structures may be constructed. We are currently observing waves 1 and 2. Thus we can assume that the instrument is currently constructing wave 3. If this is the case, the slide may continue with objectives near the Fibonacci level of 161.8%.
Economic activity in the United Kingdom's services sector is declining.
At the time of writing, the exchange rate for the pound/dollar instrument declined by 170 basis points on July 5. A significant fall in demand for the pound could result from a huge event or, as silly as it may sound, nothing at all. The current news background is irrelevant if the market sentiment remains unchanged for an extended period. It does not influence the decisions of market players. For instance, today. Does anyone believe that the index of business activity in the UK services sector caused such a significant decrease in the instrument? Although this metric has deteriorated since the previous month, it has not fallen below the critical 50.0 threshold. Therefore, commercial activity stays at a level at which it is possible to speak of the sector's expansion and not its contraction. However, this does not affect the British sellers. Therefore, I am inclined to believe that the current news environment does not affect market activity.I believe it is prudent to begin with, the wave marking for the most junior order. According to the theory, the construction of the third wave of a new downward impulse has now commenced.
General observations.
The increased complexity of the pound/dollar pair wave structure currently signals a further collapse. For each "down" MACD signal, I recommend selling the instrument with objectives at the estimated mark of 1.1708, corresponding to 161.8% Fibonacci.