US stock futures rose slightly on Friday as traders expect the release of strong corporate reports and key data that will outline the state of the US economy. Dow Jones Industrial Average futures added 79 points, or 0.24%. S&P 500 and Nasdaq 100 futures rose by 0.2% and 0.1% respectively.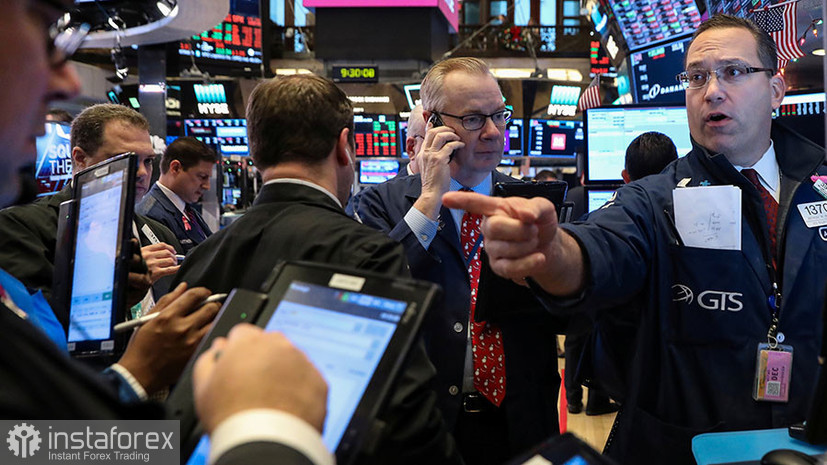 Wells Fargo reported today that second-quarter earnings had dropped by 48% compared to 2021. Earnings per share were 74 cents and revenue was $17.03 billion below economists' estimates of $17.53 billion. The bank managers said that market conditions were the reason to record a $576 million loss related to its venture capital business. Last month, Wells Fargo executives announced that second-quarter mortgage revenues would drop by 50% from the first quarter as a sharp rise in interest rates curbed consumer purchasing power. Citigroup's report is due today.
Yesterday, investors became disappointed after analyzing the data from JPMorgan Chase and Morgan Stanley. The large earnings of the banks did not favor the shares to hold their levels. Further US interest rate hike will lead to even larger bank profits. However, it may reinforce looming fears of economic recession. JPMorgan Chase stocks fell by 3.5% yesterday, while Morgan Stanley shares sank by 0.4% after traders reported weaker-than-expected investment banking earnings.
The latest US inflation data confirmed the risk of the Fed's more aggressive rate hikes. Many Fed executives mentioned that the committee planned to fight further price pressures aggressively after it had been reported that US consumer prices had risen faster than forecasted, i.e. by 9.1% year-on-year. Investors are now betting that the Fed is likely to raise borrowing costs by 100 basis points at its July 26-27 meeting. It would be the biggest increase in history since the Fed began using interest rates to implement monetary policy in the early 1990s.
A significant retail sales report for June as well as preliminary consumer sentiment data for July are due today. On the one hand, strong data will be favorable to US economy, but on the one hand they will hurt it as it will only increase inflationary pressures.
Premarket
Pinterest has already reported its results. Moreover, its stock added 14% on the premarket after it was reported that Elliott Management had bought more than 9% of the company's shares.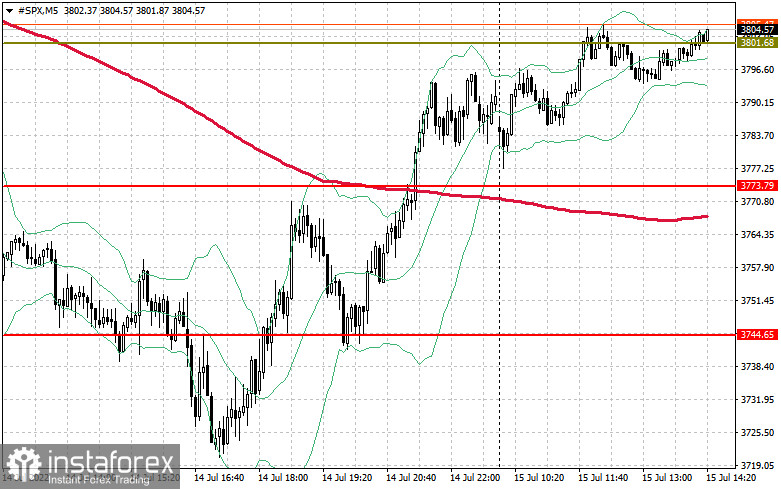 Technical picture of S&P500
The situation stabilized after the major economic reports were released. This fact was the reason for reducing a rather strong drawdown. Currently, the buyers are mainly targeting the level of $3,801. Its break will end the current selling cycle, expecting a recovery to $3,835. The index will rise above this level to the area of $3,872, where major sellers will return to the market. However, some traders will probably try to lock in profit on long positions. The level of $3,975 will be considered a more distant target. In case of weak fundamental data and corporate reports, the buyers will have to defend the nearest support at 3,773. If they lose this level, the index will sink to the area of $3,773 and 3,774. A more stable level of $3,704 is lightly lower, where buyers will act more aggressively again.