EUR/USD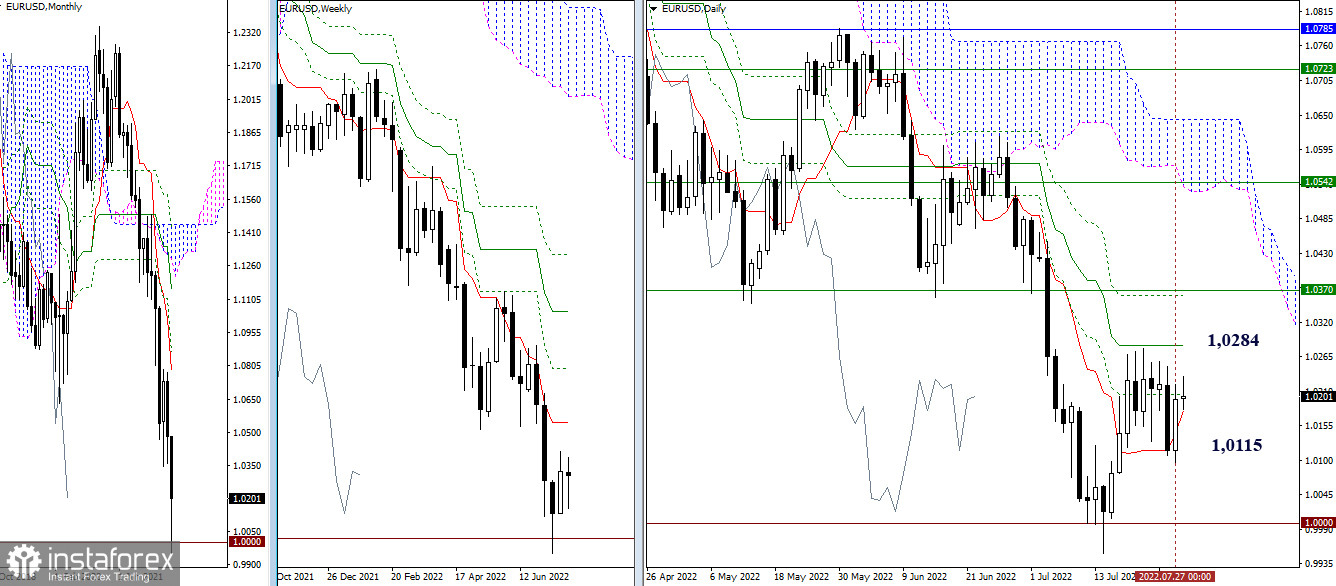 Higher timeframes
The support of the daily short-term trend (1.0115) did not allow the pair to leave the consolidation zone. As a result, the market returned yesterday to the zone of uncertainty, the center of attraction of which is the daily Fibo Kijun (1.0205), and the limitation is the resistance of the daily medium-term trend (1.0284). Going beyond the boundaries (1.0115 – 1.0284) can change the balance of power. The reference points when exiting the consolidation zone are: for bulls—1.0370 (the final line of the daily death cross + a weekly short-term trend), and for bears—1.0000 – 0.9952 (psychological level + local low).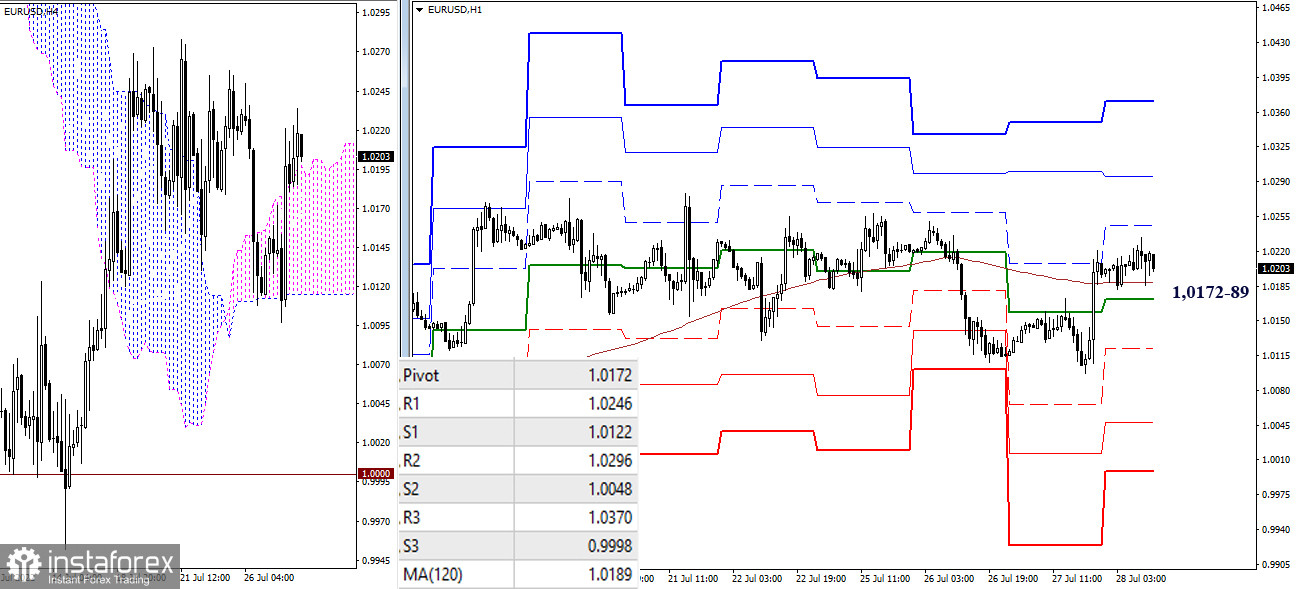 H4 – H1
On the lower timeframes, there is a struggle for key levels, which today combine their efforts in the region of 1.0172–89 (the central pivot point of the day + a weekly long-term trend). Consolidation and work above key levels will lead to a bullish advantage. The reference points for the continued rise today can be noted at 1.0246 – 1.0296 – 1.0370 (resistance of the classic pivot points). If the pair consolidates and works below the key levels, the advantages will go over to the bears, and the actual intraday reference points will be the support of the classic pivot points 1.0122 – 1.0048 – 0.9998.
***
GBP/USD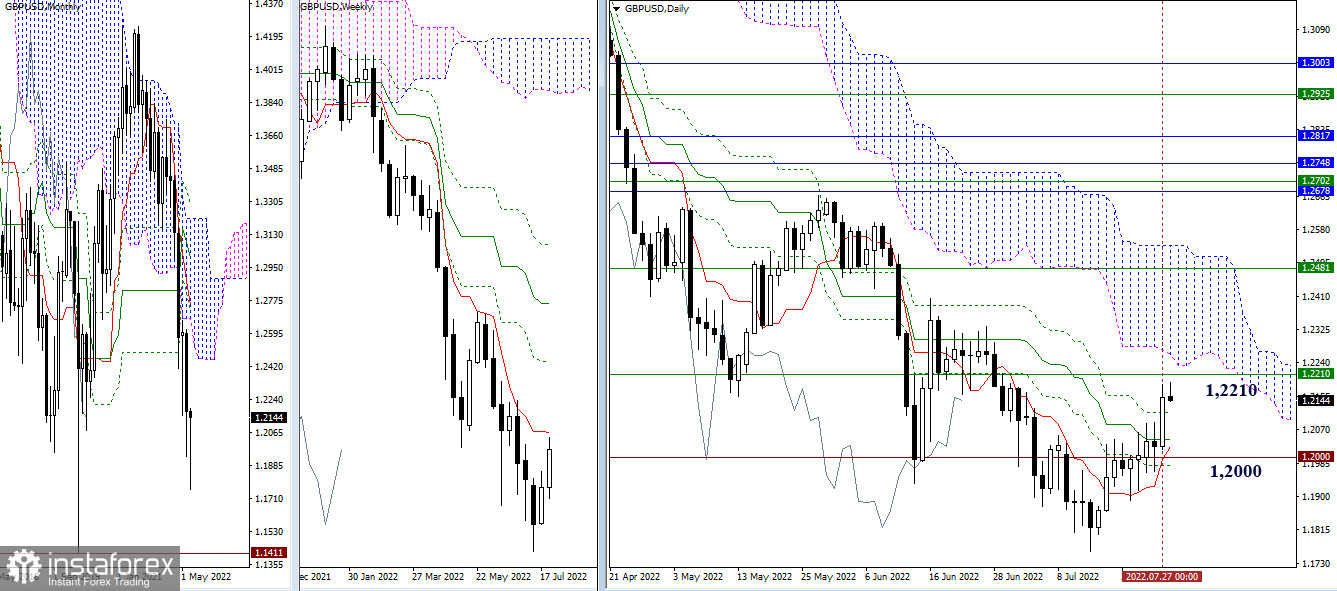 Higher timeframes
Bulls continued to rise yesterday and moved into the resistance area of the weekly short-term trend (1.2210). The result of interaction with this level is able to determine the immediate prospects for movement for higher timeframes. The passed levels of the daily Ichimoku cross, reinforced by a significant psychological level of 1.2000, are now working as support.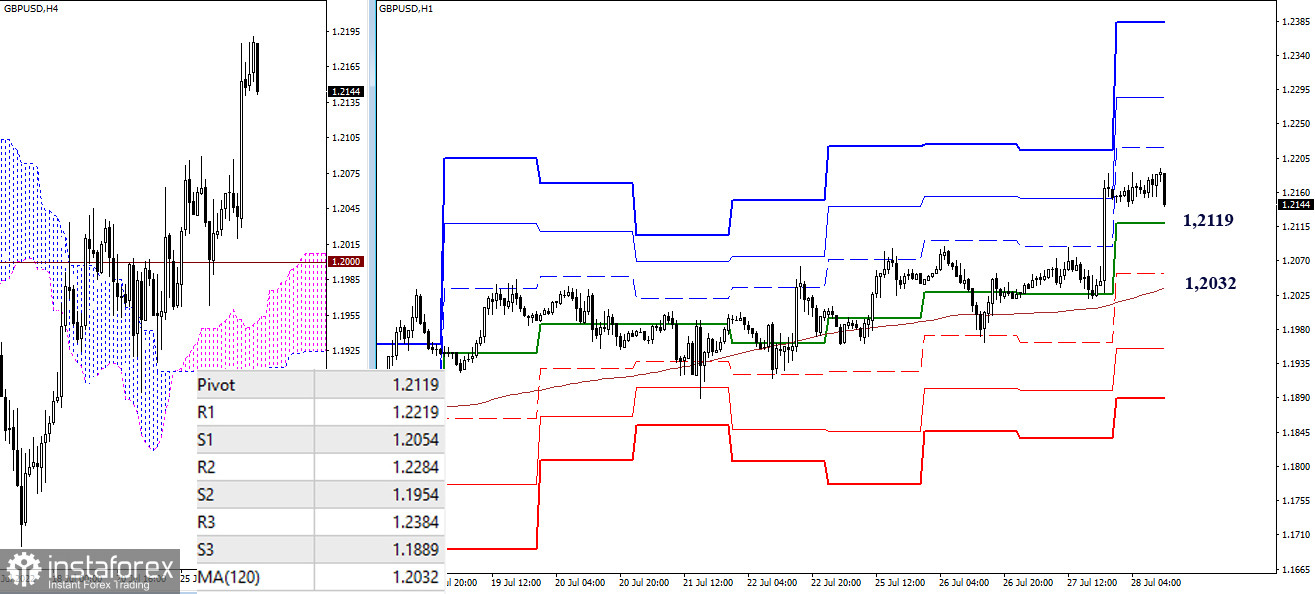 H4 – H1
Bulls continue to dominate the lower timeframes. Their intraday targets are located today at 1.2219 – 1.2284 – 1.2384. Key levels in the current situation will defend bullish interests. They are now at 1.2119 (central pivot point of the day) and 1.2032 (weekly long-term trend). Consolidation below will change the current balance of power in the lower timeframes in favor of the bears. The next targets for the decline today will be 1.1954 (S2) – 1.1889 (S3).
***
In the technical analysis of the situation, the following are used:
higher timeframes – Ichimoku Kinko Hyo (9.26.52) + Fibo Kijun levels
H1 - Pivot Points (classic) + Moving Average 120 (weekly long-term trend)