EUR/USD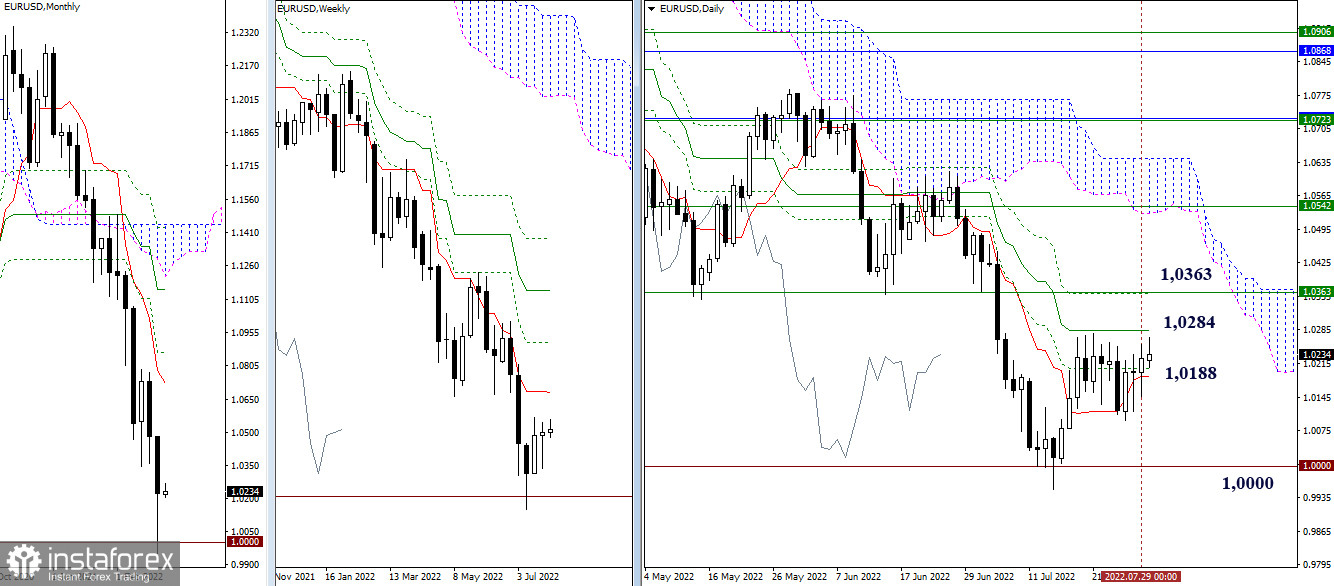 Higher timeframes
July managed to test the important psychological level of 1.0000. Nevertheless, the final monthly candle has a long lower shadow, and the pair has been in the upward correction zone for a long time. As a result, the next important task for bears is still the breakdown of the support of 1.000 and the development of a downward trend by updating the local low (0.9952). The bullish interests at the moment rest against the resistance of the daily medium-term trend (1.0284), and the next important task is to eliminate the daily Ichimoku death cross (1.0362) and move to the side of the bulls of the weekly short-term trend (1.0363).
H4 – H1
On the lower timeframes, the bulls retain the advantage, located above the key levels, which today can be noted at 1.0208 (central pivot point) and 1.0189 (weekly long-term trend). The resistance of the classic pivot points are the reference points for continuing the rise within the day today (1.0271 – 1.0316 – 1.0379 ). In case of players' activity on the downside and their passage of key levels (1.0208 – 1.0189), their interests will be directed within the day to testing the supports of classic pivot points (1.0163 – 1.0100 – 1.0055).
***
GBP/USD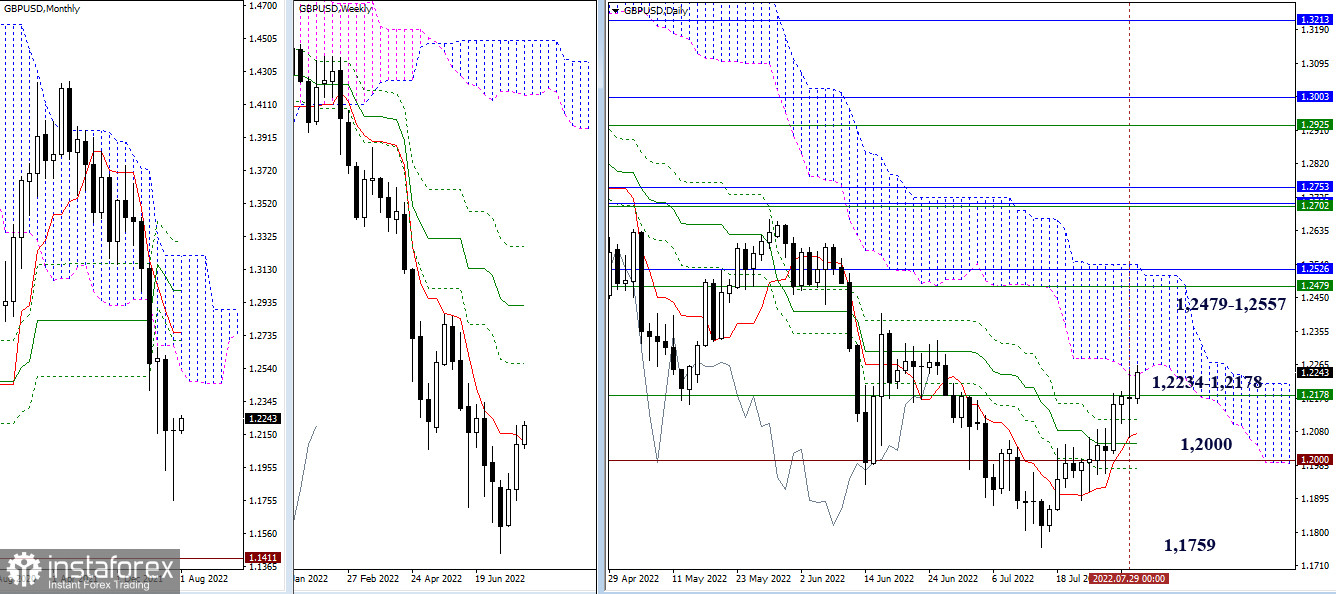 Higher timeframes
The pound closed July with some doubts, forming a long-legged Doji. The bulls started testing the resistances of the weekly short-term trend (1.2178) and the lower boundary of the daily Ichimoku cloud (1.2234). The further development of events will depend on the test result. If the bulls win, they will open the way to the upper border of the daily cloud, reinforced by the weekly Fibo Kijun (1.2479) and the lower border of the monthly cloud (1.2557). If bears now manage to return the situation to the support of the daily cross (1.2113 – 1.2075 – 1.2046 – 1.1978), reinforced by an important psychological level of 1.2000, then the opponent will have to start all over again with new more significant efforts. If the current daily cross is eliminated, then the interests of the bulls will rush to the local low (1.1759), and the task will be to restore the downward trend.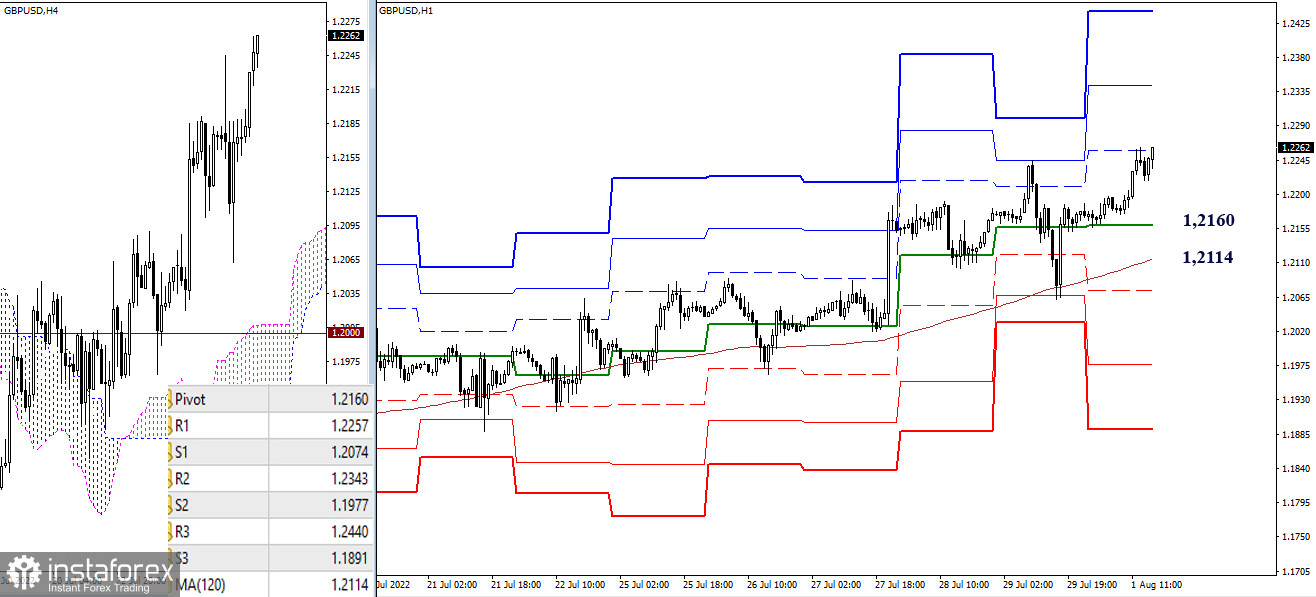 H4 – H1
On the lower timeframes, the advantage belongs to bulls who develop an upward trend. Now the resistance of the first classic pivot point (1.2257) is being tested, then the reference points for the rise are 1.2343 (R2) and 1.2440 (R3). The key levels of the lower timeframes today can be seen at 1.2160 (central pivot point of the day) and 1.2114 (weekly long-term trend). The loss of these levels will change the current balance of power. The reference points for the decline will be the support of the classic pivot points, now located at 1.2074 – 1.1977 – 1.1891.
***
In the technical analysis of the situation, the following are used:
higher timeframes – Ichimoku Kinko Hyo (9.26.52) + Fibo Kijun levels
H1 - Pivot Points (classic) + Moving Average 120 (weekly long-term trend)