EUR/USD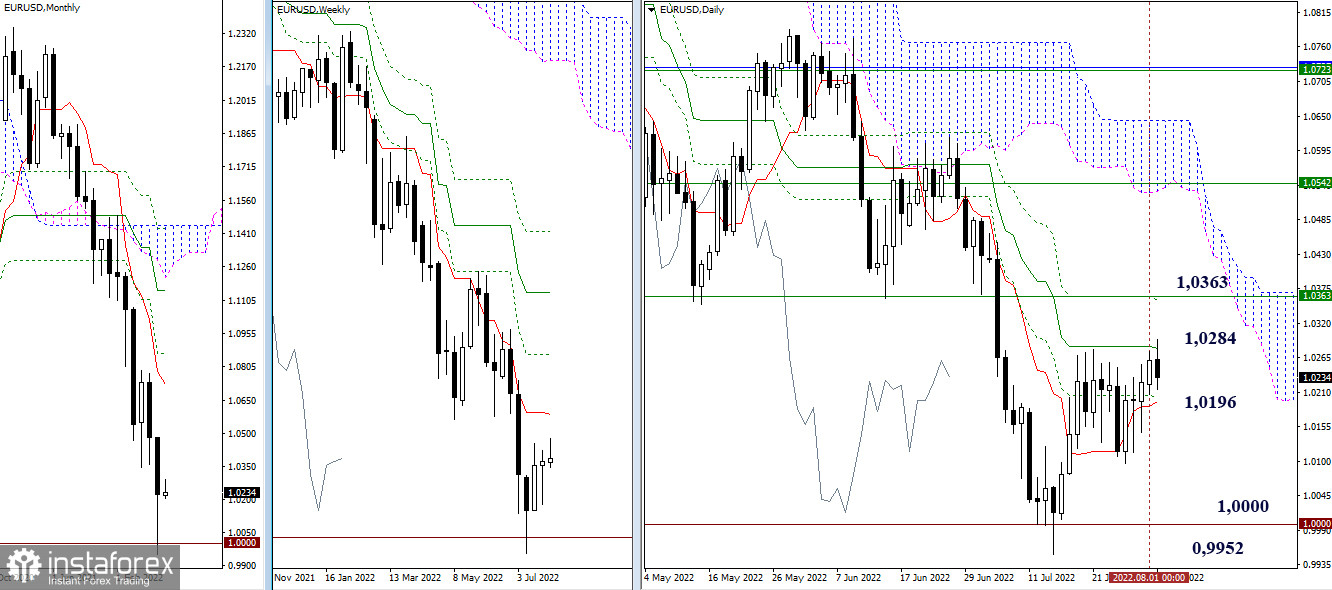 Higher timeframes
Over the past day, the situation has not changed significantly. The pair continues to fight for the daily medium-term trend (1.0284). A breakdown will open up opportunities to move towards the final level of the daily Ichimoku death cross (1.0362) and the weekly short-term trend (1.0363). A rebound and a return to the side of the bears on the daily short-term trend (1.0196) may serve as a basis for further strengthening of bearish sentiment. The nearest reference points in this direction are the support at 1.0000 and the local low at 0.9952.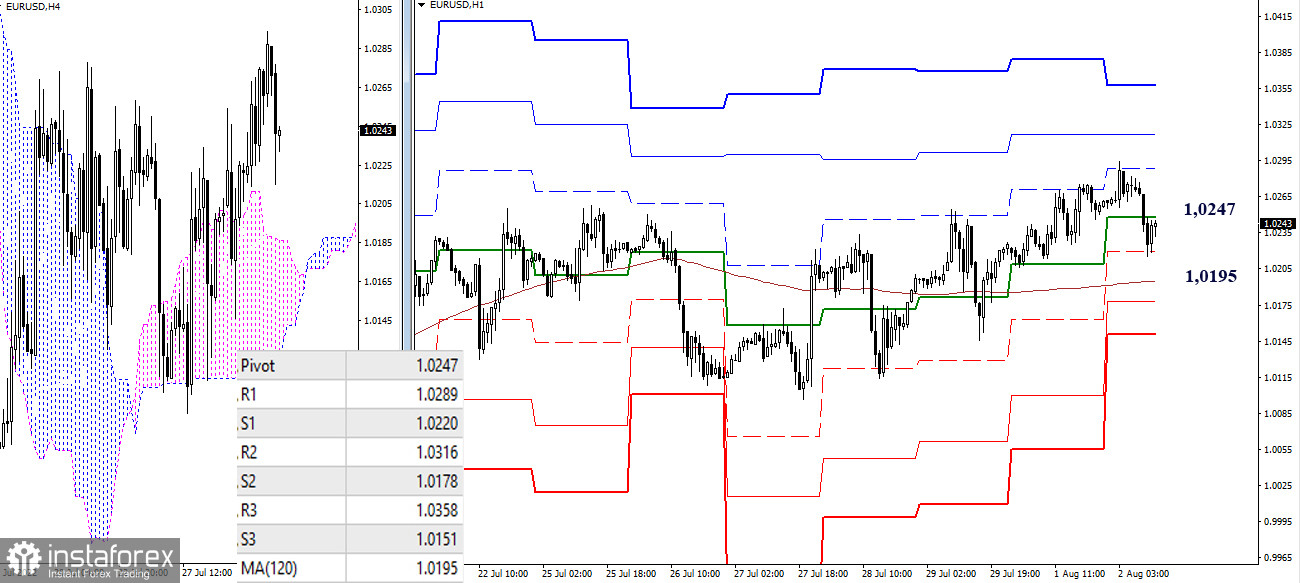 H4 – H1
In the lower timeframes, the advantage of the bulls remains. Nevertheless, the pair is in the zone of a downward correction. The most important level for a correction today is located at 1.0195 (weekly long-term trend). A breakdown of this level, consolidation below, and its reversal will change the current balance of power. Additional reference points for bears during the day are the support of classic pivot points, which today are at 1.0178 and 1.0151. For bulls, if they regain the central pivot point (1.0247), the road to the resistance of the classic pivot points (1.0289 – 1.0316 – 1.0358) will open.
***
GBP/USD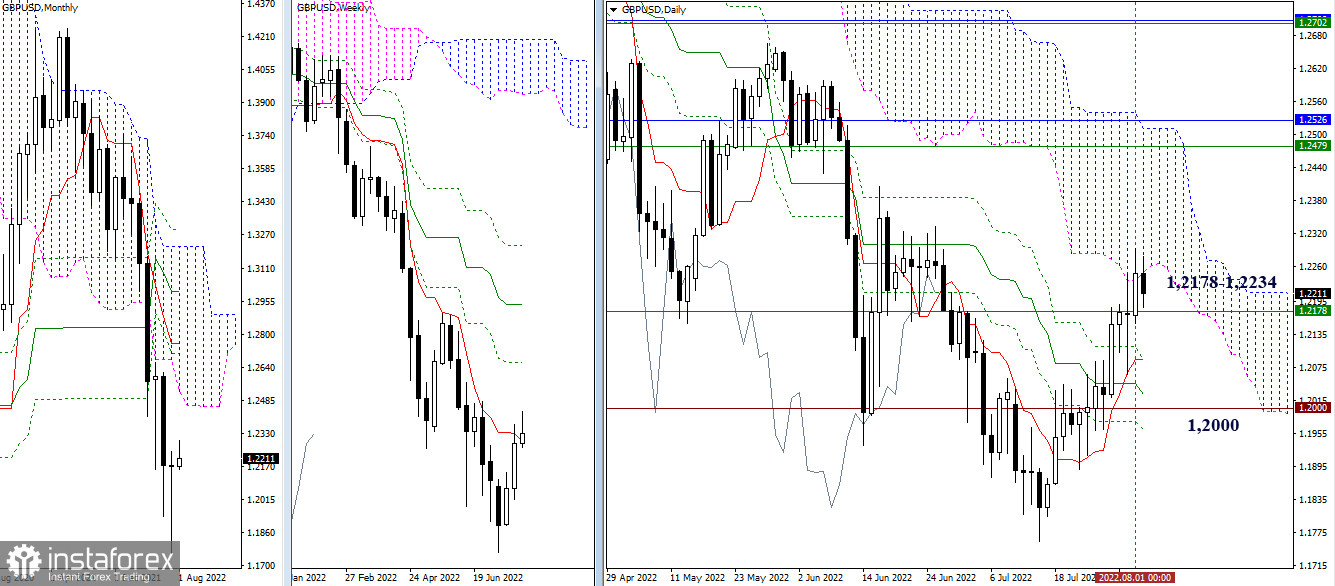 Higher timeframes
On the higher timeframes, the result of the meeting with the resistance of the weekly short-term trend (1.2178) and the lower boundary of the daily Ichimoku cloud (1.2234) continues to form. The next target for bulls is now in the area of 1.2479 – 1.2526 (accumulation of levels of higher timeframes). In the case of a decline, the support of the daily cross (1.2091 – 1.2026 – 1.1963 ) may have significance for the bears, reinforced by the psychological level of 1.2000.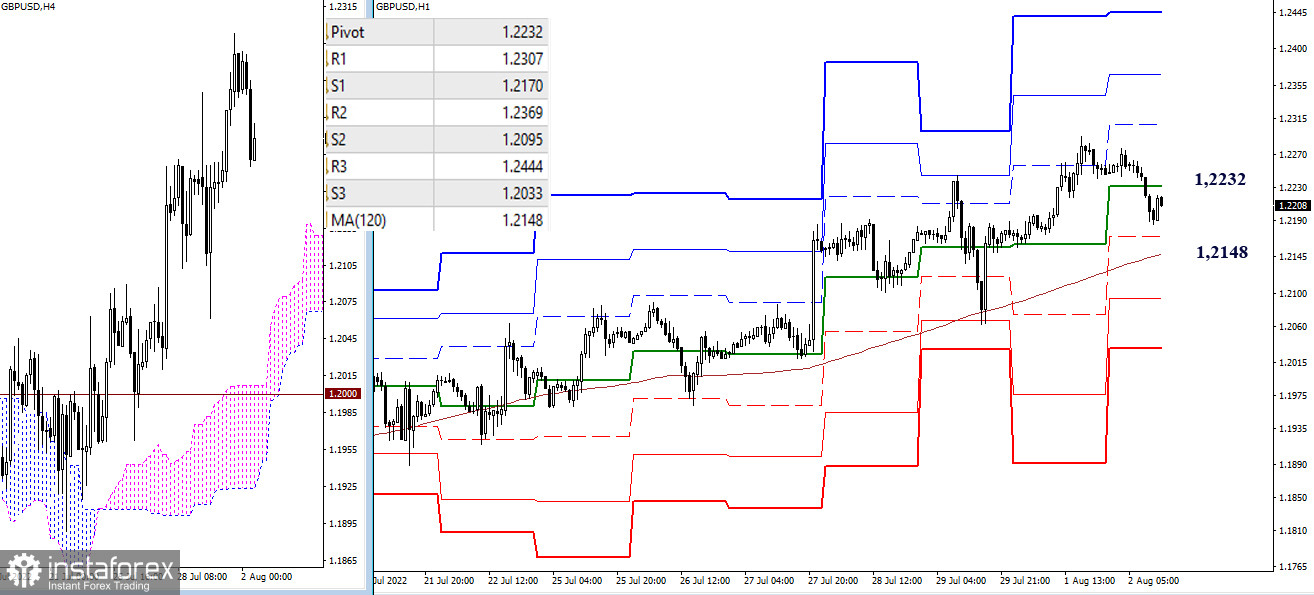 H4 – H1
At the moment, a corrective decline is developing. Intraday targets of bulls today can be indicated at 1.2232 (the central pivot point of the day) and 1.2307 – 1.2369 – 1.2444 (resistances of classic pivot points). For bears, the weekly long-term trend (1.2148) will be most important. In case of a breakdown, interests will be directed to support the classic pivot points (1.2095 – 1.2033).
***
In the technical analysis of the situation, the following are used:
higher timeframes – Ichimoku Kinko Hyo (9.26.52) + Fibo Kijun levels
H1 - Pivot Points (classic) + Moving Average 120 (weekly long-term trend)