The likelihood of a military conflict between China and Taiwan, as well as an escalation of tensions with the United States, continues to exert pressure on American stock indexes, which are currently trading in the red zone. Futures for the industrial Dow Jones fell by 224 points or 0.68 percent, the S&P 500 fell by more than 0.81 percent, and the high-tech NASDAQ plummeted by 1 percent. Investors are compelled to purchase government bonds due to rapidly deteriorating US ties with several nations and intensifying fears of a worldwide economic crisis, which dampens sentiment on stock markets.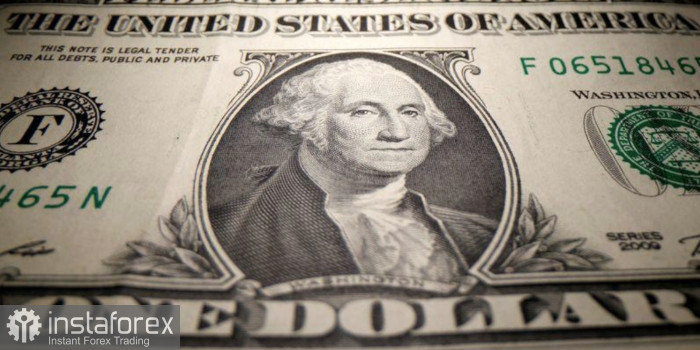 The Stoxx Europe 600 index declined by 0.6%, with energy being one of the only industries to resist the downward trend. Asian stock market indexes fell the most. As previously mentioned, the yield on 10-year US Treasury bonds continued to plummet and is approaching the level of 2.5%, last observed in April of this year.
Now a lot depends on whether the Speaker of the US House of Representatives, Nancy Pelosi, arrives in Taiwan or not. If true, she will be the most prominent American politician to visit Taiwan in twenty-five years. China considers the island part of its territory and has threatened a military response to any visit by Pelosi or US officials.
The presence of Nancy Pelosi may signal not only the beginning of a military war but may also significantly impact market expectations. Several analysts, including those from Bank of America, predict that the yield on 10-year US Treasuries could hit 2 percent in the near future. Pelosi's trip increases the pressure on investors who are already facing the possibility of a US recession, rising interest rates around the world, and inflation, which risks gaining a foothold as Russia's military operation in Ukraine has entered a protracted phase, which exacerbates food shortages.
China, which views Taiwan as a part of its territory, has threatened a military response to any visit by Pelosi that could spark a crisis between the world's two largest economies.
The Russian government has already responded to the current situation. Dmitry Peskov, the press secretary of the Russian president, remarked on Nancy Pelosi's potential trip to Taiwan and expressed sympathy with China. However, what is associated with a potential visit to Taiwan is entirely provocative. China's extreme sensitivity to the issue is very reasonable and completely justifiable. And instead of being accorded respect, the United States opts for confrontation; this is not a good sign."
The potential of a more severe recession in the United States dims the outlook for the stock market. If ties with China deteriorate now, observing a retest of the summer's lows will be conceivable.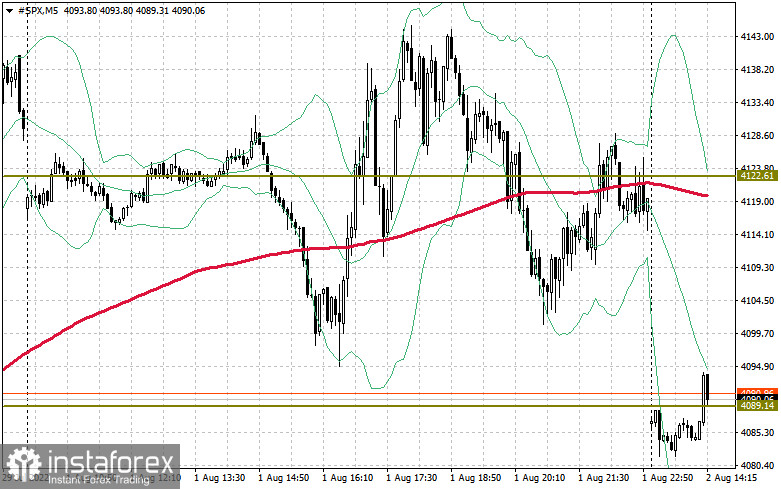 As for the S&P 500's technical picture,
Yesterday, bulls failed to acquire a foothold at monthly highs, and the geopolitical environment, as we can see, does not inspire optimism. To signal their intentions to buyers once more seriously, the range of $4,089 must be returned to control as quickly as possible, which will transfer attention to the $ 4,122 resistance. Only in this manner will we observe a reasonably active growth of the index in the vicinity of $4,157, where significant sellers will reenter the market. There will be at least those who wish to lock in profits on long positions. A more distant objective will be $4,197. If the pressure created by the deterioration of relations between the United States and China remains, or if China initiates hostilities in Taiwan, buyers will be forced to defend the nearest support at $ 4,064, which is unlikely to hold. A breakout will return the index to $4,038 and $4,008 if it occurs. After failing to reach this level, the index will fall to between $3,968 and $3,942. A little lower is a more steady level and $3,905, where buyers will resume their aggressive behavior.