EUR/USD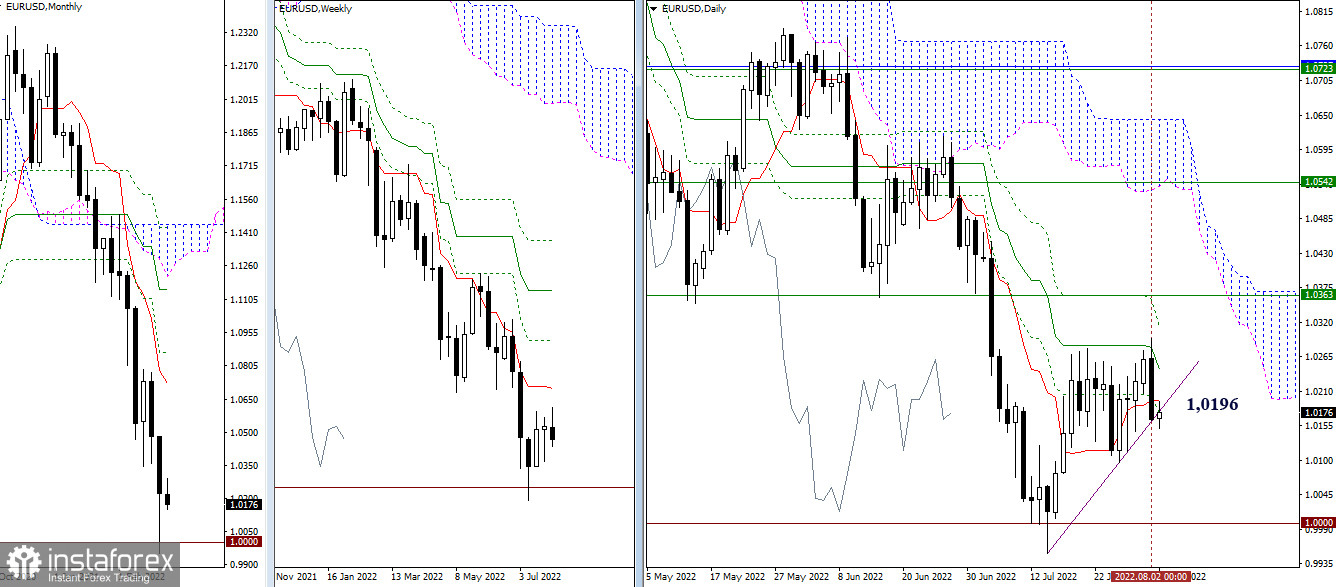 Higher timeframes
Yesterday, bears took the initiative. They went down to the trend line. A rebound from the medium-term trend (1.0284) on the daily timeframe has been formed. Confirmation of the rebound and continued decline will send the main bearish interest to the zone 1.0000 – 0.9952 (psychological support + local low). If the pair cannot continue its decline now, it will either consolidate with the center of attraction in the daily short-term trend (1.0196), or return to the medium-term trend (1.0284).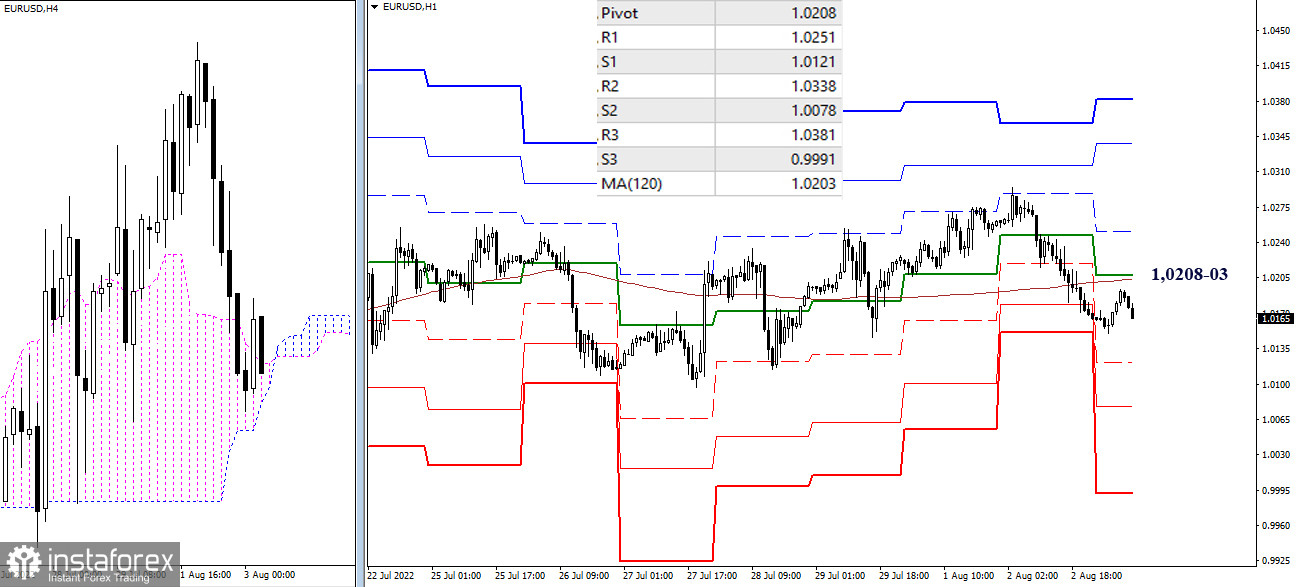 H4 – H1
The key levels of the lower timeframes have gone over to the bears' side. The targets for further decline within the day today are 1.0121 – 1.0078 – 0.9991 (classic pivot points). If the bulls manage to regain the most significant levels—the weekly long-term trend (1.0203) and the central pivot point (1.0208), then bulls will again dominate the lower timeframes, returning the relevance of the upward targets at 1.0251 – 1.0338 – 1.0381 (resistance of classical pivot points).
***
GBP/USD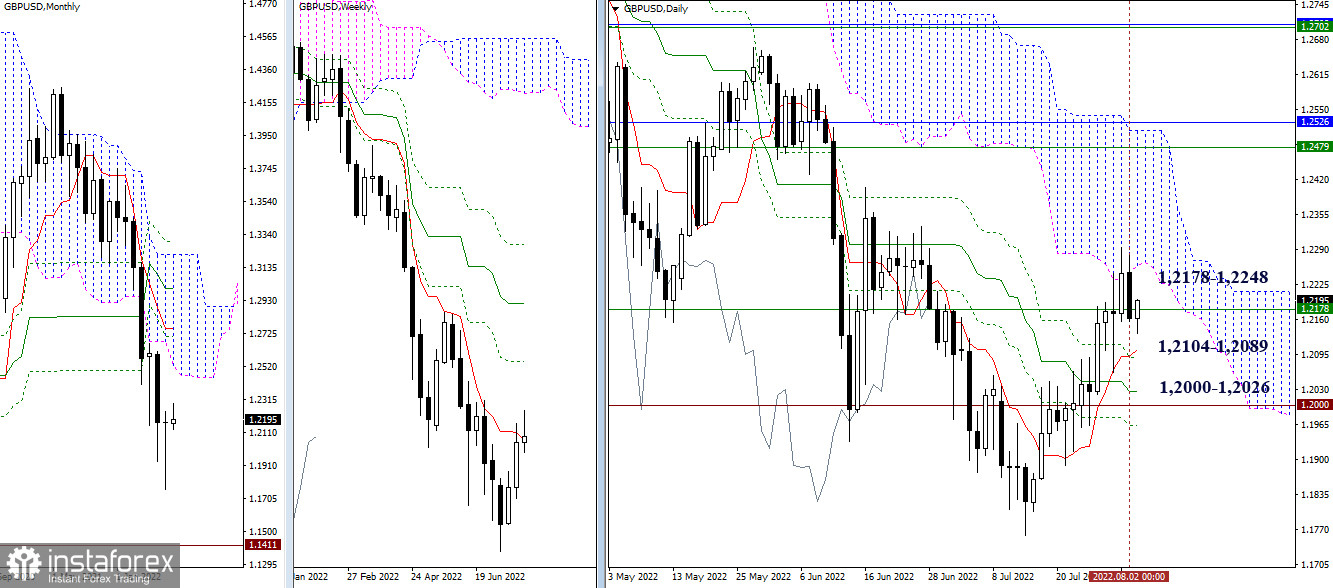 Higher timeframes
A rebound from the lower boundary of the daily cloud (1.2248) formed yesterday on the daily timeframe. At the same time, the pair returned to the zone of attraction of the weekly short-term trend (1.2178), which may now prevent the development of bearish sentiment. If the decline continues, the nearest support can be identified at the levels of 1.2104 – 1.2089 (daily levels), 1.2000 – 1.2026 (psychological level + daily medium-term trend).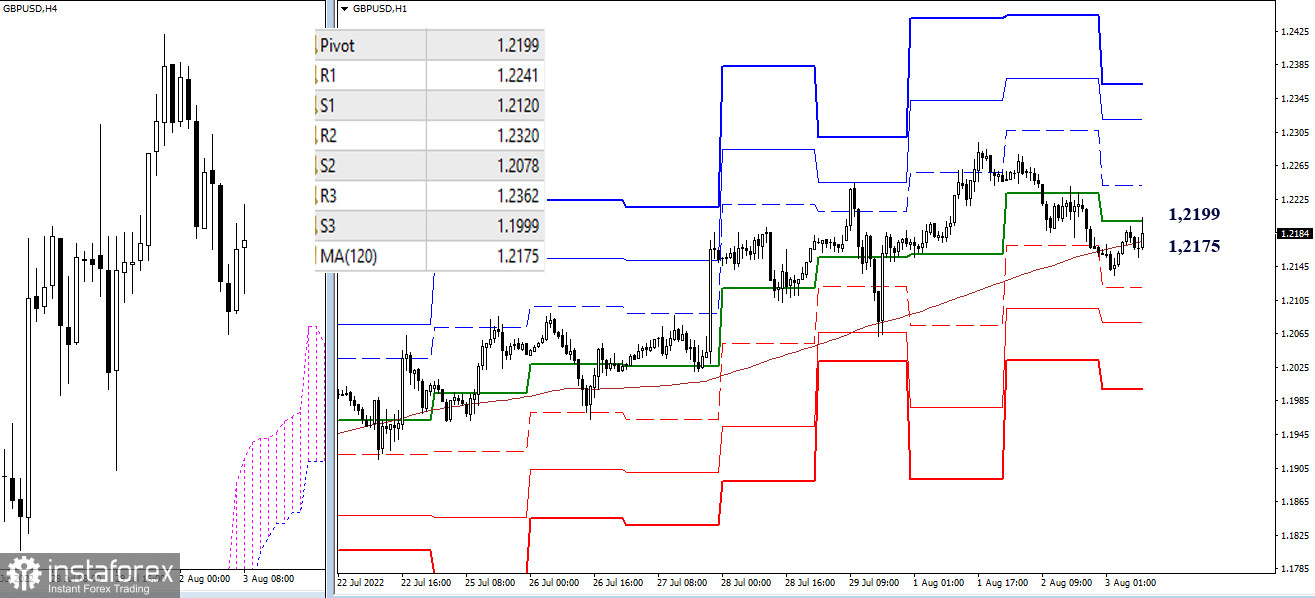 H4 – H1
There is a struggle for the key level of 1.2175 (weekly long-term trend) on the lower timeframes, which determines the dominance and current market preferences. Work below the level of 1.2175 reinforces bearish expectations. Targets for the decline today are 1.2120 – 1.2078 – 1.1999 (support of the classic pivot points). Working above the level (1.2175) forms bullish advantages. In this case, the resistance of the classical pivot points (1.2241 – 1.2320 – 1.2362) can be among the additional upward targets.
***
In the technical analysis of the situation, the following are used:
higher timeframes – Ichimoku Kinko Hyo (9.26.52) + Fibo Kijun levels
H1 - Pivot Points (classic) + Moving Average 120 (weekly long-term trend)