EUR/USD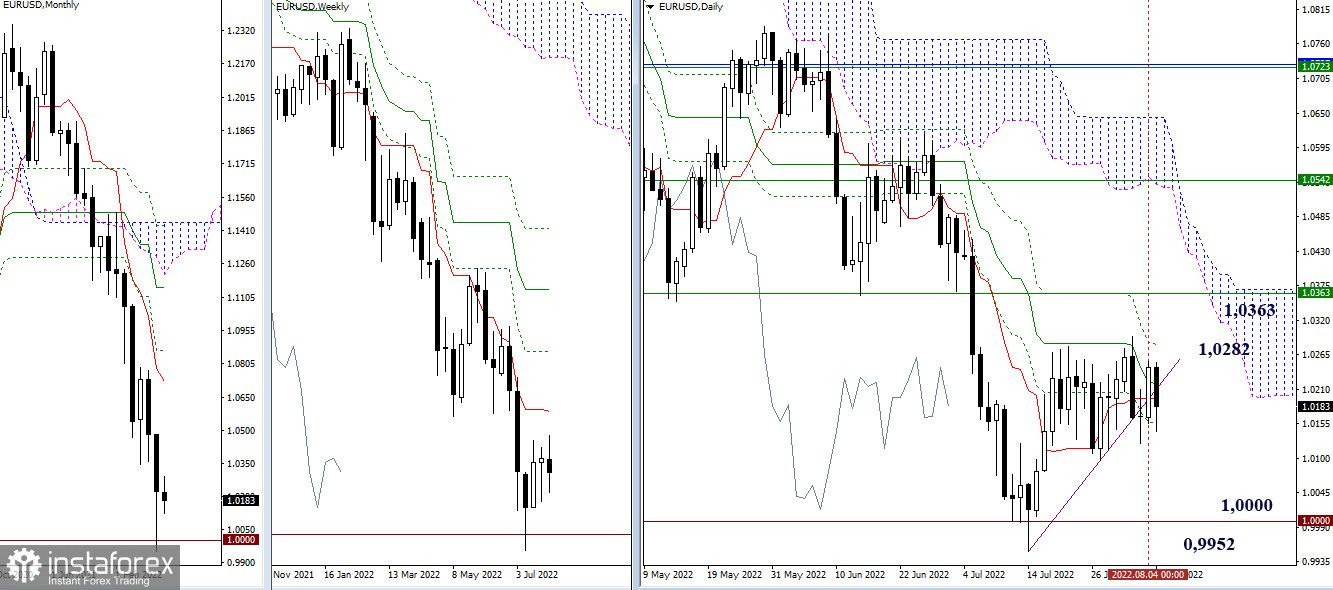 Higher timeframes
As a result of the week, the pair failed to leave the previously formed area of consolidation. Uncertainty persists. The bulls' main task for the current period is to eliminate the daily dead cross, the resistance of the final level of which is now located at the turn of 1.0282. Further, testing and forming the result from the interaction with the resistance of the weekly short-term trend (1.0363) will serve as interests. Bearish benchmarks at this stage of the development of events retain their location in the area of 1.0000 - 0.9952 (psychological level + lowest extremum).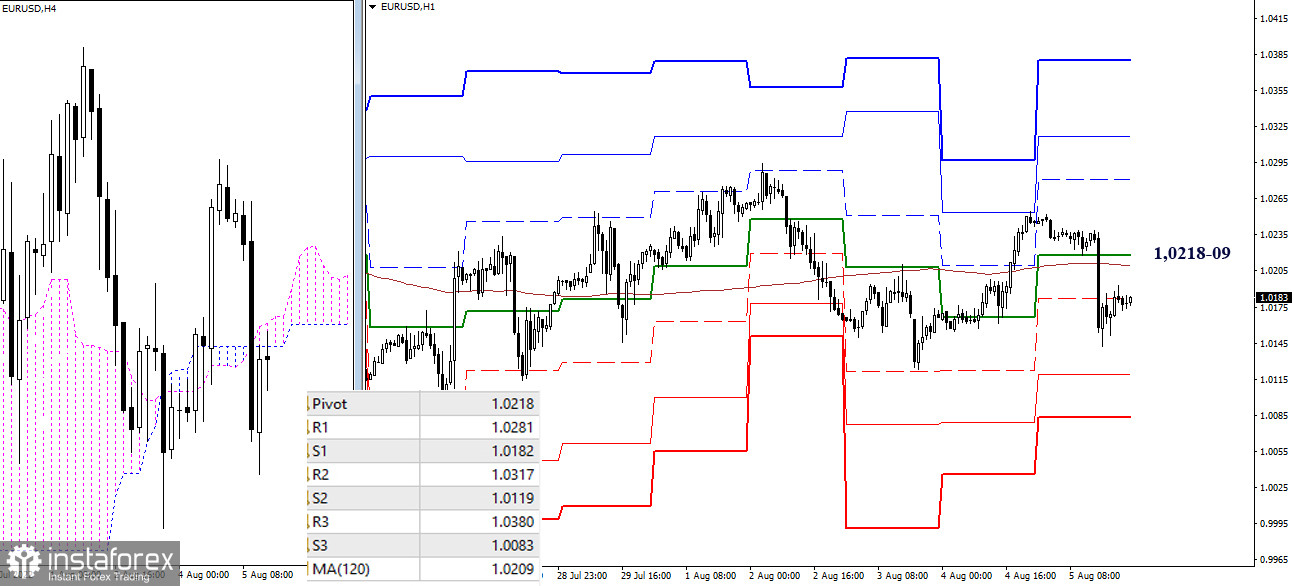 H4 - H1
The uncertainty of the higher halves entails a frequent change of mood in the lower time intervals. At the same time, the key levels occupy an almost horizontal arrangement and do not give a clear preference to either side. At the moment of analysis, they are located in the area of 1.0218-09 (weekly long-term trend + central Pivot level of the day). Work below the levels will create conditions for strengthening bearish sentiment. Consolidating above will help the players to increase their positions and gain new prospects.
***
GBP/USD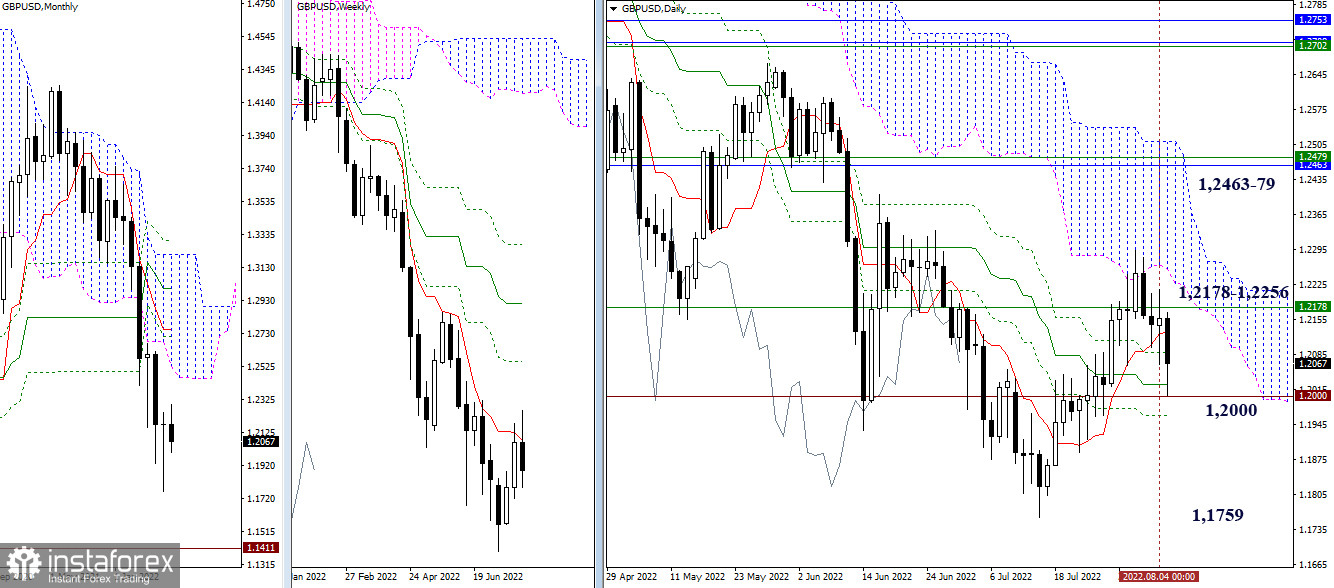 Higher timeframes
Last week could not cope with the task and did not subdue the resistance of the weekly short-term trend (1.2178). In addition, bulls failed to enter the daily cloud (1.2256). Therefore, these tasks have retained their relevance for the formation of bullish prospects. Further, it should be noted that the levels of the daily golden cross (1.2188 - 1.2089 - 1.2026 - 1.1963), reinforced by the psychological level of 1.2000, also remain at the current stage in the role of active supports and an attraction zone. If next week the pair overcomes the levels indicated above, then the area of 1.2463 - 1.2479 (weekly Fibo Kijun + the lower limit of the monthly cloud) will serve as reference points for players to go bullish, and for players to go bearish, the restoration of the downward trend of most higher halves (1.1759).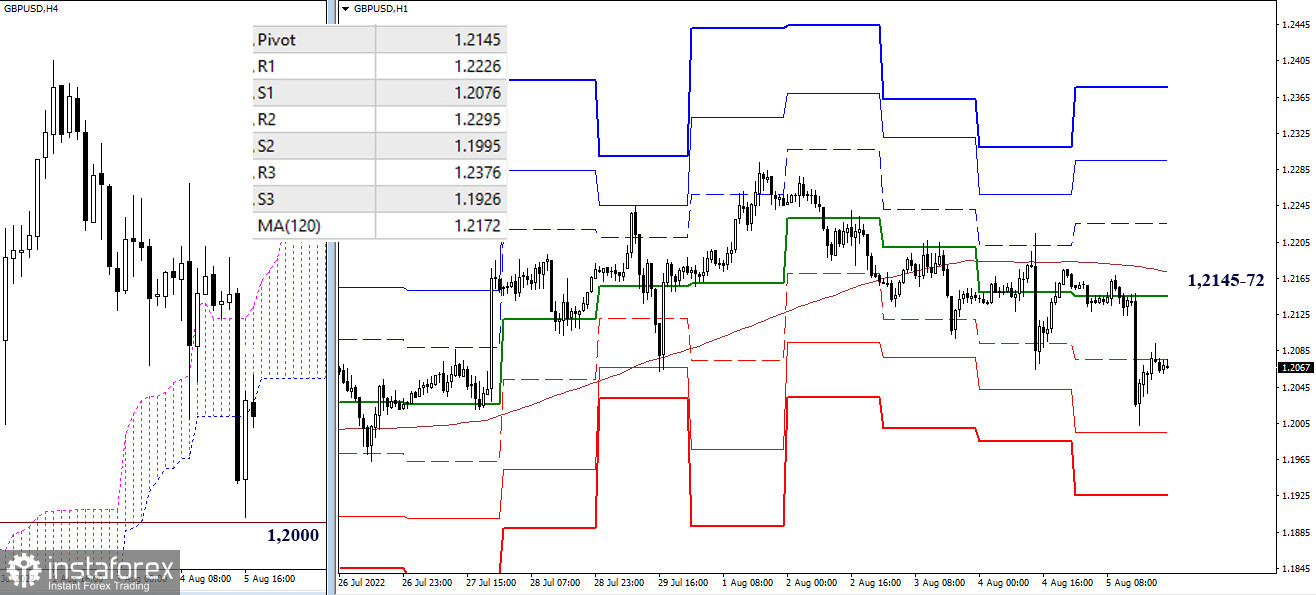 H4 - H1
At the moment, in the lower halves, the advantage belongs to the short positions. If they manage to overcome the support of 1.2000, then, in addition to the supports of the classic Pivot levels, it will be possible to consider the downward target for the breakdown of the H4 cloud as a guideline. If the pair manages to regain the key levels of the lower halves, which at the time of analysis can be noted at 1.2145-72 (central Pivot level + weekly long-term trend), then the main advantage will shift to the bulls' side, and as intraday benchmarks, you can will consider the resistance of classical Pivot levels.
***
In the technical analysis of the situation, the following are used:
Higher timeframes – Ichimoku Kinko Hyo (9.26.52) + Fibo Kijun levels
H1 - Pivot Points (classic) + Moving Average 120 (weekly long-term trend)