EUR/USD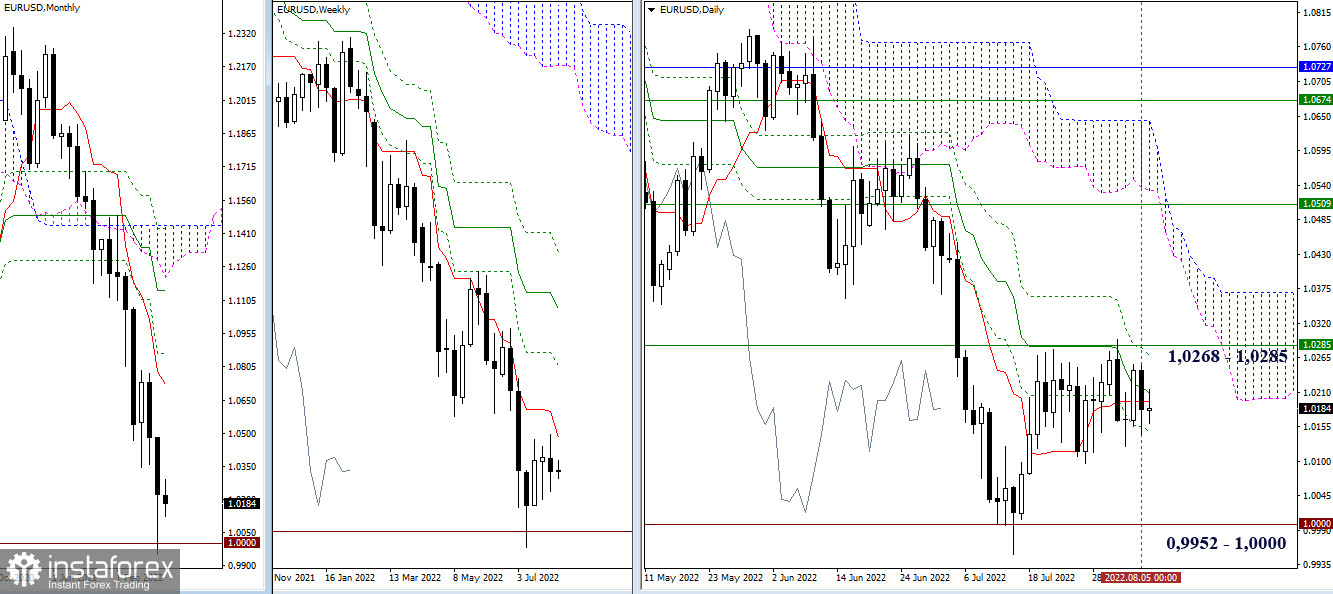 Higher timeframes
Bulls haven't taken decisive action yet at the start of a new week. The situation remains within the scope of the previously established consolidation. With the opening of trading, the weekly levels slightly changed their location. As a result, for bulls, the primary task now is to eliminate the daily Ichimoku death cross, the final level of which is located at 1.0268 today, and gain support for the weekly short-term trend (1.0285). In case of overcoming the levels (1.0268–85) it will be possible to consider new upward prospects. At this stage of the development of events, the bears' targets remain in the region of 1.0000 – 0.9952 (psychological level + minimum extremum).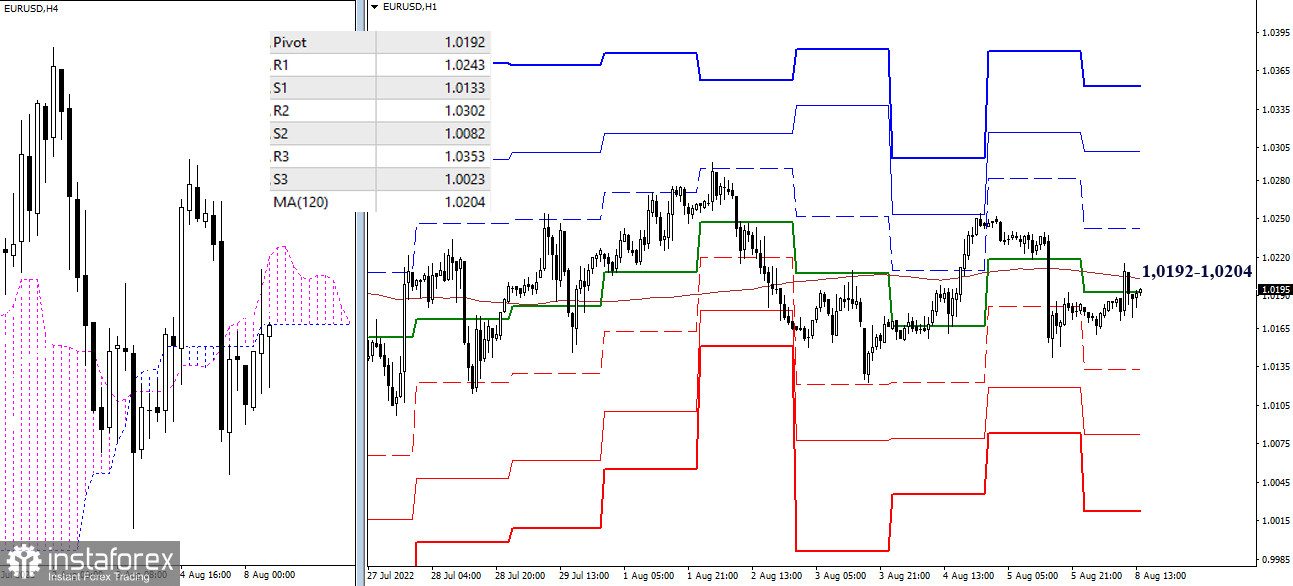 H4 – H1
On the lower timeframes, the key levels are now being tested, which have joined forces in the region of 1.0192 – 1.0204 (central pivot point + weekly long-term trend). The location of the pair relative to the levels will determine the presence of advantages. The position above is the preponderance of bullish sentiment. Intraday reference points will be the resistance of the classic pivot points, which are today located at 1.0243 – 1.0302 – 1.0353. Working below the key levels will keep the bears supported. The reference points for the development of bearish sentiment are at 1.0133 – 1.0082 – 1.0023 (support of the classic pivot points).
***
GBP/USD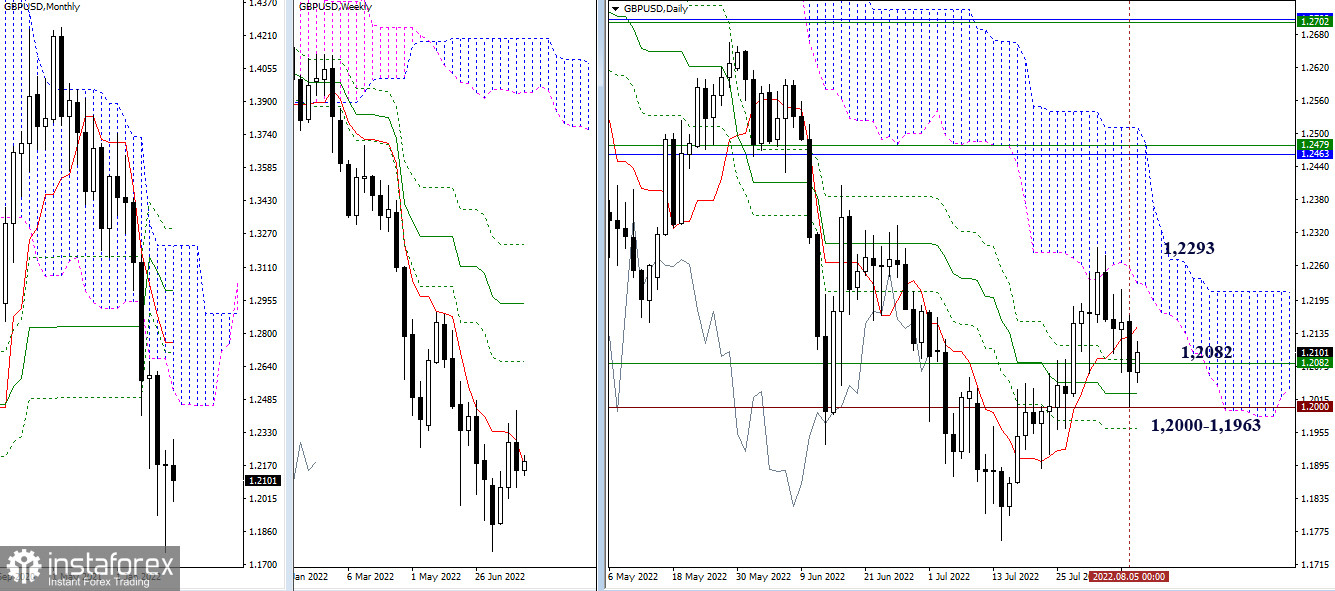 Higher timeframes
On Friday, the pair tested the support of the daily medium-term trend (1.2026) and the psychological level (1.2000). There was a slight rebound. Today, with the opening, the pair is in no hurry to take drastic actions. Perhaps this is due to the fact that the weekly short-term trend (1.2082) today descended to the area of the current location of the pair and, with its attraction, is holding back the development of the situation. Based on the situation, we can say that overcoming the influence of the weekly short-term trend and updating the high (1.2293) will be important for further developments in the bullish direction. For bears, it is important to overcome the support (1.2026 – 1.2000) and liquidate the daily golden cross (1.1963) in the near future.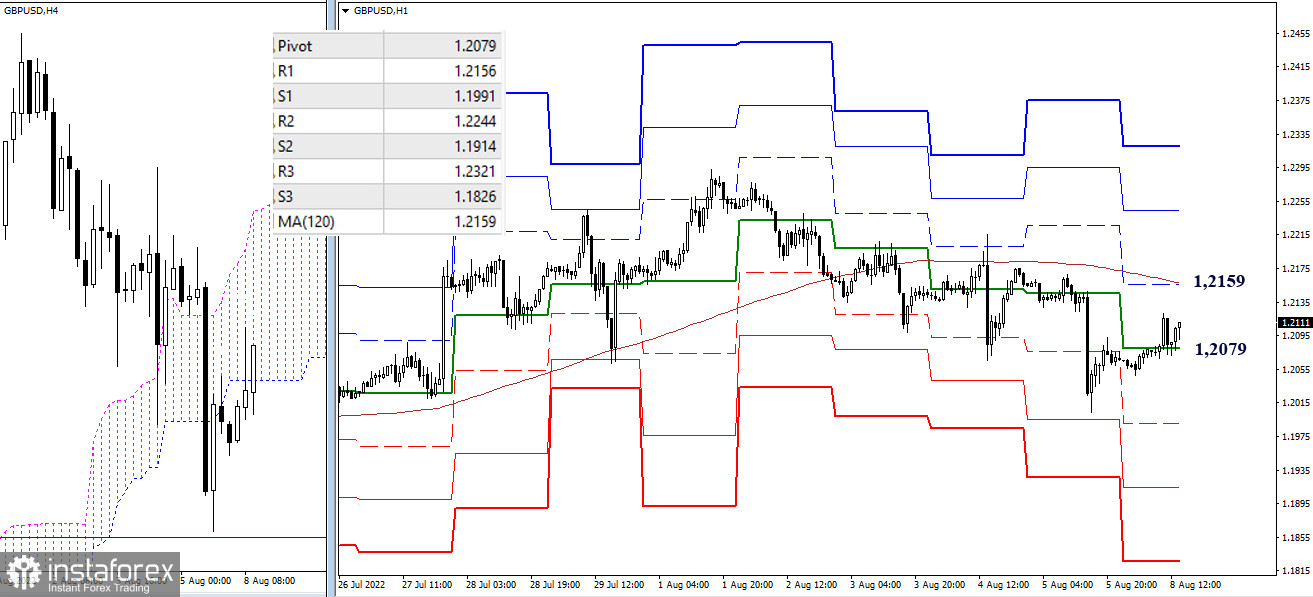 H4 – H1
In the lower timeframes, the pair is currently in the correction zone. At the same time, it managed to gain a foothold above the central pivot point of the day (1.2079). The next, most important, reference for the continuation of the rise is now the resistance of the weekly long-term trend (1.2159). Additional levels that can be worked out during the development of intraday movement today are 1.2244 – 1.2321 (resistance of classic pivot points) and 1.1991 – 1.1914 – 1.1826 (support of the classic pivot points).
***
In the technical analysis of the situation, the following are used:
higher timeframes – Ichimoku Kinko Hyo (9.26.52) + Fibo Kijun levels
H1 - Pivot Points (classic) + Moving Average 120 (weekly long-term trend)