EUR/USD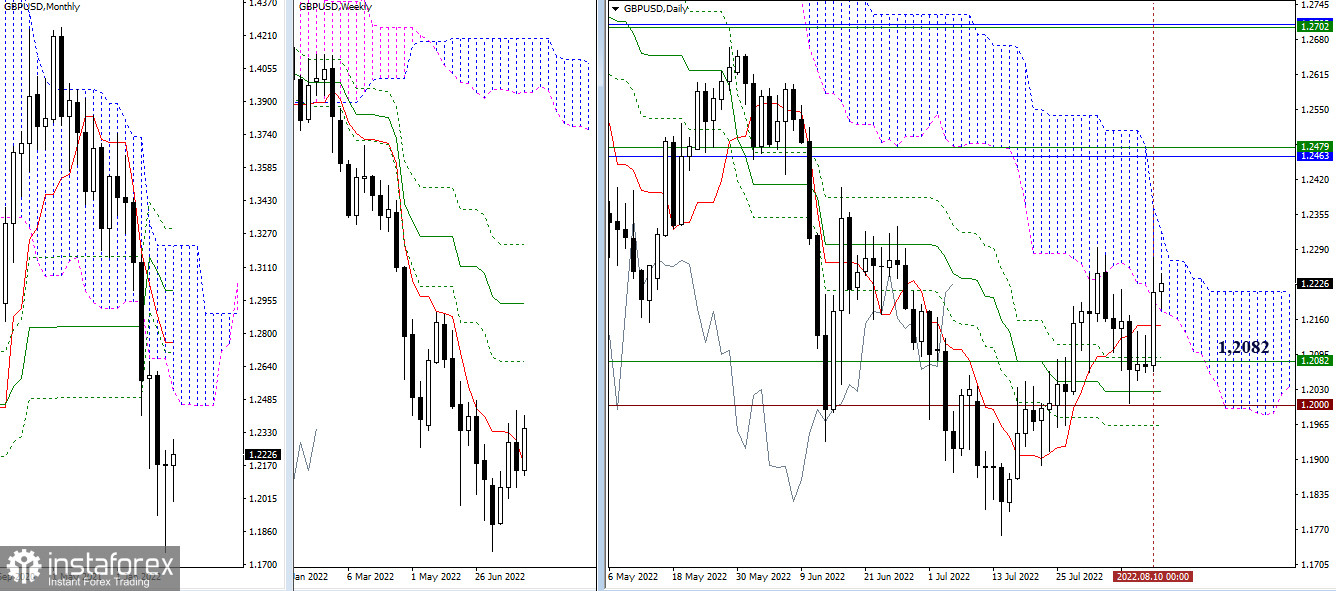 Higher timeframes
Bulls yesterday attempted to go beyond the nearest limit—the weekly short-term trend (1.0285). Their task now is to stay above the level and fix the achievement at the close of the week. In this case, the chances that the weekly upward correction will have development prospects will increase. On the daily timeframe, the nearest reference point for the continuation of the rise is now the Ichimoku cloud, the breakdown of which will form an additional upward reference point—the target for the breakout of the cloud. Among the supports today, we can note the levels of the daily golden cross (1.0246 – 1.0210 – 1.0160 – 1.0111).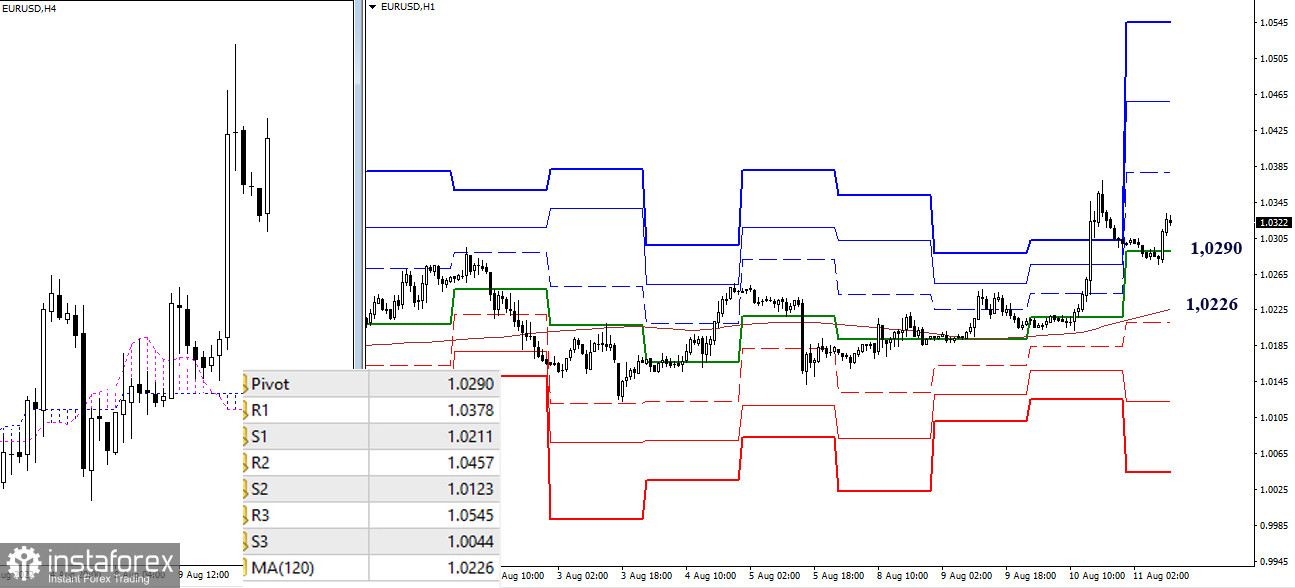 H4 – H1
The main advantage now belongs to the bulls, as the work is carried out above the key levels, but the pair is in the correction zone. The interests of bulls within the day today are the resistance of the classic pivot points (1.0378 – 1.0457 – 1.0545). The key levels now at 1.0290 (central pivot of the day) and 1.0226 (weekly long-term trend) separate the pair from a reprioritization in favor of a more bearish sentiment. Targets for decline today can be noted at 1.0211 – 1.0123 – 1.0044 (classic pivot points).
***
GBP/USD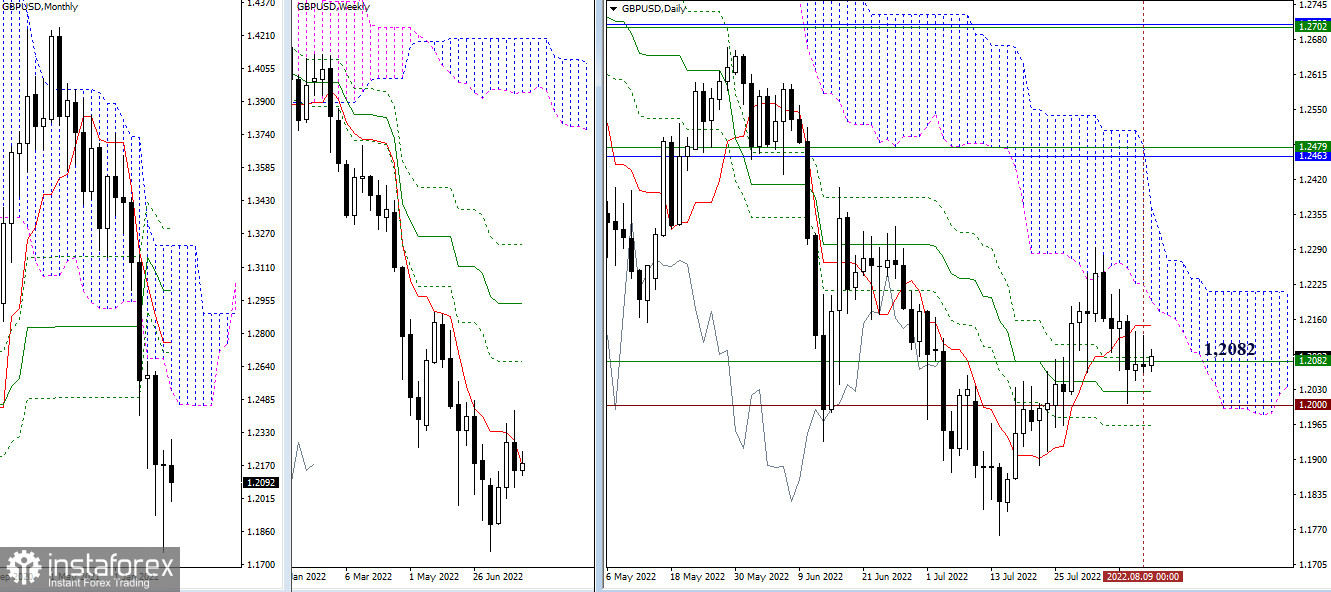 Higher timeframes
Bulls yesterday managed to push off the supports, around which the last few days have been consolidating (the main level 1.2082 is a weekly short-term trend), and enter the daily Ichimoku cloud. The breakdown of the cloud (1.2323) and consolidation in the bullish zone are the main tasks for bulls in the near term. When the mood changes, the relevance will return to supports. The support zone is now quite wide and includes 1.2174 (lower boundary of the daily cloud) – 1.2148 – 1.2089 – 1.2026 – 1.1963 (levels of the daily Ichimoku cross), as well as 1.2082 (weekly short-term trend) and 1.2000 (an important psychological level).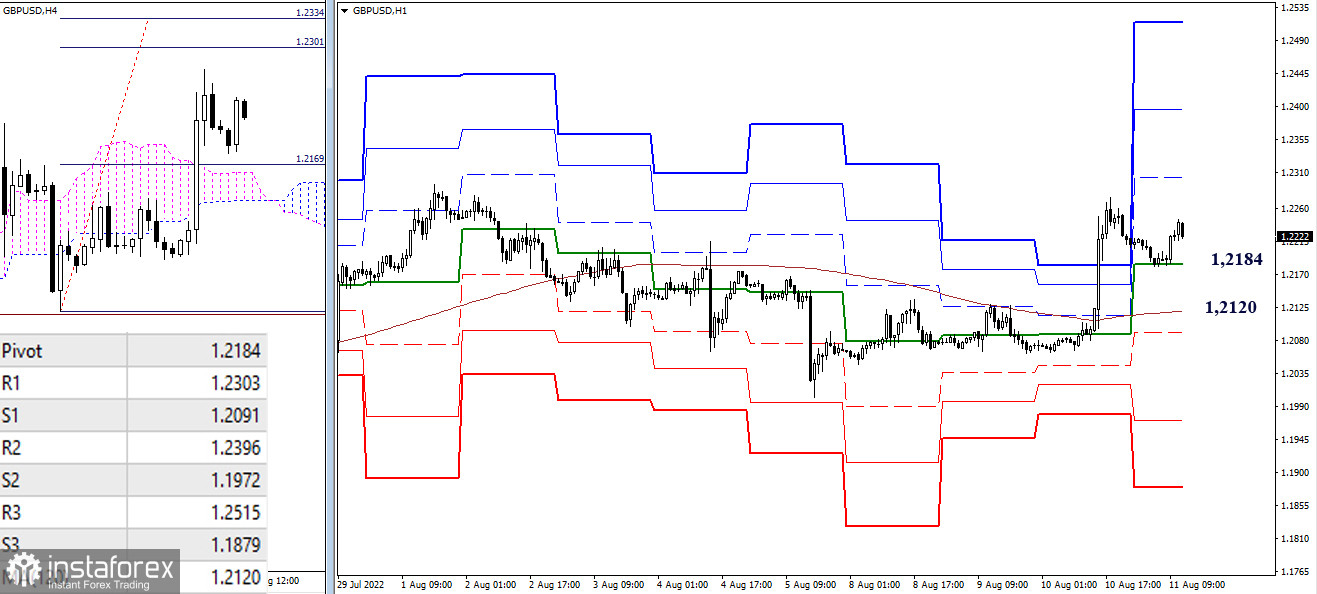 H4 – H1
In the lower timeframes, the main advantage now belongs to the bulls. Among the bullish reference points during the day today, we can note 1.2303 – 1.2396 – 1.2515 (classic pivot points resistance) and 1.2301–34 (target for the breakdown of the H4 cloud). The balance of power will change if bears consolidate below key levels 1.2184 (central pivot point of the day) – 1.2120 (weekly long-term trend). After that, the reference points will be the support of the classic pivot points (1.2091 – 1.1972 – 1.1879).
***
In the technical analysis of the situation, the following are used:
higher timeframes – Ichimoku Kinko Hyo (9.26.52) + Fibo Kijun levels
H1 - Pivot Points (classic) + Moving Average 120 (weekly long-term trend)