Nothing has changed on the chart, and BTC/USD is still hovering around $20,000.
Meanwhile, the crypto community says bitcoin has become boring due to its low volatility.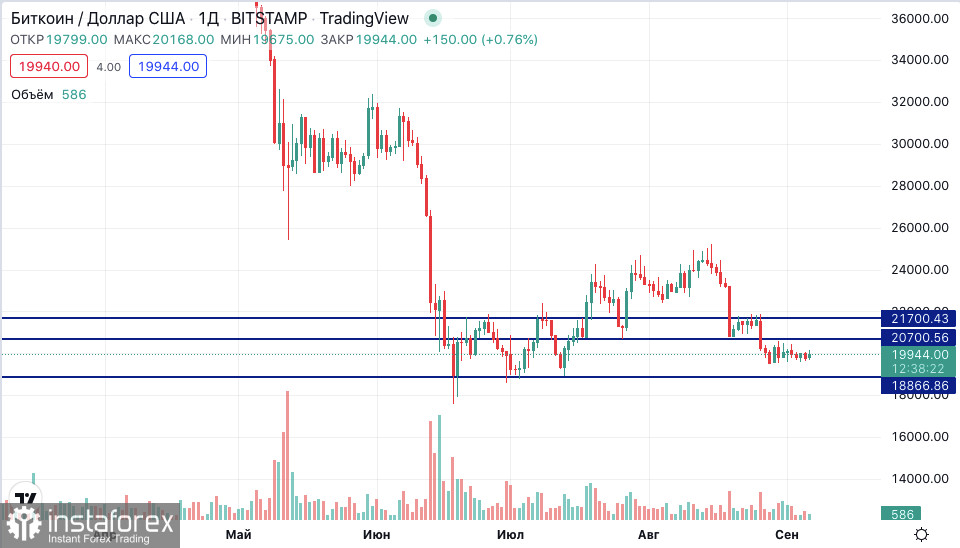 At the same time, they are awaiting the release of important data that could trigger price swings as well as trying to find an explanation of why ancient bitcoin whales are waking up.
Let's begin with key events
Why is September 13 an important date?
The Ethereum Merge is clearly a momentous event that could trigger crypto market jitters. Therefore, crypto investors should pay attention to it. In addition, there is another event able to cause turmoil in the crypto industry.
On September 13, the United States will see the release of fresh CPI data, which should throw light on the inflation situation in the country and determine the Fed's future monetary stance.
The previous two inflation reports resulted in a volatility surge. The first report logged a rise in figures, while the one in June showed a slowdown in consumer prices.
On August 10, volatility soared as well as trading volumes, and bitcoin hit the $25,000 high. Despite a short-term euphoria, the market failed to recover, and the price pulled back.
Why is the Ethereum Merge important?
The Ethereum Merge is due in less than 10 days. With the event looming, experts foresee market jitters.
In one of our recent articles, we discussed how the fundamental update might cause a liquidity crisis in the DeFi sector.
Some users might choose to maximize their profit by borrowing ETH from platforms like AAVE or Compound, while others pull their ETH from liquidity contracts, creating a potential liquidity crunch.
Mysterious movements of crypto whales. Could it be Michael Saylor?
The crypto community is now actively discussing CryptoVinco's Twitter post, saying that a bitcoin whale sent over 200,000 BTCs to Coinbase between July 18 and July 21.
CryptoVinco says he is 99% sure that the wallet belongs to Michael Saylor, the executive chairman of MicroStrategy.
Still, the crypto community doubts that the wallet belongs to Saylor. Analysts say that the wallet in question holds more BTC than MicroStrategy, which is currently around 129,699 BTC, according to CoinGecko.
On the other hand, Blockchain Explorer data shows that the whale wallet had made 851 transactions receiving and spending all 241,914 BTC. Right now, the wallet has a balance of less than $200.
Above all else, Michael Saylor has always said that his firm would keep its bitcoin holdings regardless of the price. For example, the company purchased additional 480 BTCs during the bear market.
Other transactions of bitcoin whales
At the same time, the news came that the bitcoin whale address, which was created in 2013 and has been inactive since May 2021, has recently moved 5,000 BTC to the Kraken exchange.
Such transfers raise concerns about increased bearish pressure. Still, this could also mean that the whale just moved assets to another address.
Meanwhile, CryptoQuant data reveals that long-term holders are moving their BTC to derivatives exchanges. In other words, these whales could use their assets either to go long or hedge spot positions through short ones.
According to Santiment, the number of new wallets holding between 100 to 10,0000 BTCs increased by 103 in the last 30 days, as of August 28.
In the meantime, a mysterious Bitcoin whale cashed out $95 million in profits from 5,000 BTCs bought at $686 per coin by hodling over the years.
Whalemap, an on-chain tracker, said:
''Someone cashed out 5,000 BTC yesterday, making a whopping $95,000,000 profit. Original price of acquisition was $698 for him, which is a 2,800% increase at current price.''
Who this was and why he held coins for so long is still unknown. There are still questions about the reactivation of such wallets and whether or not their owners had the conviction necessary to hold the coins for nine years.
The most obvious explanation is that someone discovered long-lost private keys and gained access to an immense fortune. It is also possible that the wallet was reactivated after the owner managed to unlock it. It is also could be that the owner may have strong HODL convictions.
In recent weeks, some identical Bitcoin wallets have woken up. The addresses that were created during the time of the coin's mysterious creator Satoshi Nakamoto are often of the greatest public interest.
Ki Young Ju, the CEO of CryptoQuant, says people who hold old tokens, especially in large amounts, should attract less attention to their recently increased fortunes.
They probably accumulated coins by means of mining and trading or coins coming from the Cryptsy Bitcoin exchange just before it was hacked.
Still, much of the bitcoin supply remained unchanged last year, which is rising concerns. The bitcoin supply that remained unmoved in a year has hit a new all-time high of 12,589 million BTCs, according to Glassnode. This is equivalent to 65.77% of the circulating supply.
An increase in dormant supply is typical for a bear bitcoin market.