Speculation about a possible 100 basis-point rate hike at the FOMC meeting to be held on September 20-21 should have exerted strong downward pressure on the EUR/USD pair. Given that inflation shows no signs of cooling, the Fed is likely to signal a shift to a more hawkish stance. It is obvious that the rate forecasts will be revised up. Against this background, the US dollar should have advanced. However, it seems that the euro does not want to give up so easily.
The main driver of the euro's 12% surge since the beginning of the year is divergence in economic growth and the central bank's monetary policy. The US Federal Reserve started raising rates earlier than the European Central Bank. While ECB President Christine Lagarde and her colleagues were in doubt, Fed Chair Jerome Powell was already taking appropriate steps. However, both central banks are now running neck and neck. They raised borrowing costs by 75 basis points at their last meetings and are ready to keep this up. It is unlikely that monetary policy is the same strong driving factor for bears as before.
Given that the US economy is far from a recession according to the latest statistics on employment and retail sales, experts have revised their outlook for the eurozone economy. Economists polled by Bloomberg now put the probability of two straight quarters of contraction at 80% in the next 12 months, up from 60% in a previous survey. In their opinion, Germany is already experiencing a recession. Inflation in Europe is now expected to peak at 9.6% in the final three months of the year.
Eurozone inflation outlook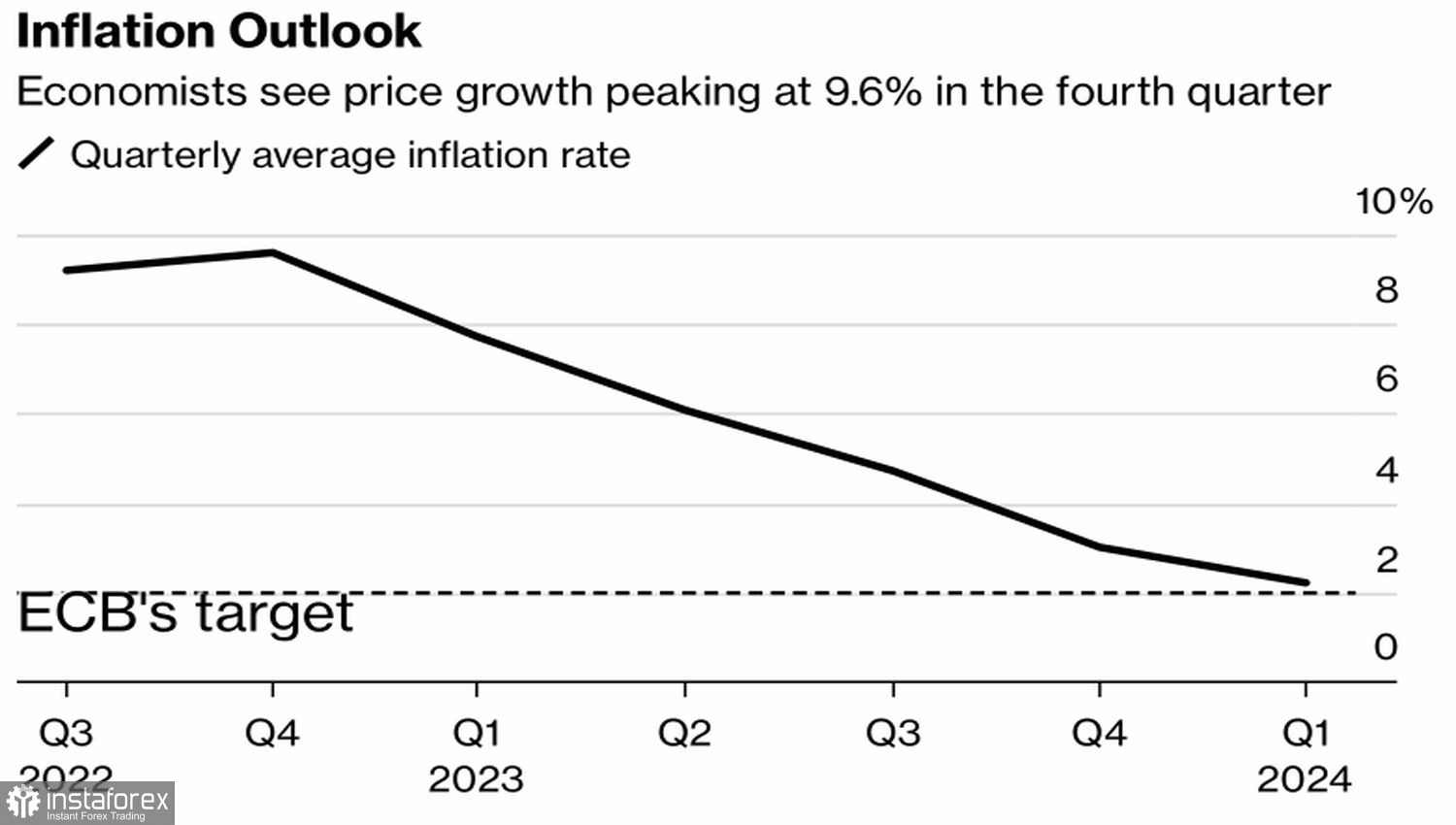 The point is that this forecast is based on high gas prices. They are supposed to hit consumers, which will reduce spending and lead to a slowdown in economic growth. Moreover, the economy may shrink considerably. However, gas prices are currently falling. The quotes have already hit a two-month low, and there are reasons for such dynamics.
When prices are high, demand reacts with a decline. This in turn results in lower futures prices. What is more, the EU is talking about an additional reduction in consumption. At the same time, in an attempt to secure alternatives to Russian gas, Brussels has decided to switch to LNG from the US and other countries. The new Dutch terminal has increased its import growth rate. Thus, supply is growing, which contributes to a fall in prices. Furthermore, a €140bn bailout package should be taken into account. In this case, the outlook for the euro area economy doesn't look so gloomy.
Dynamics of European gas prices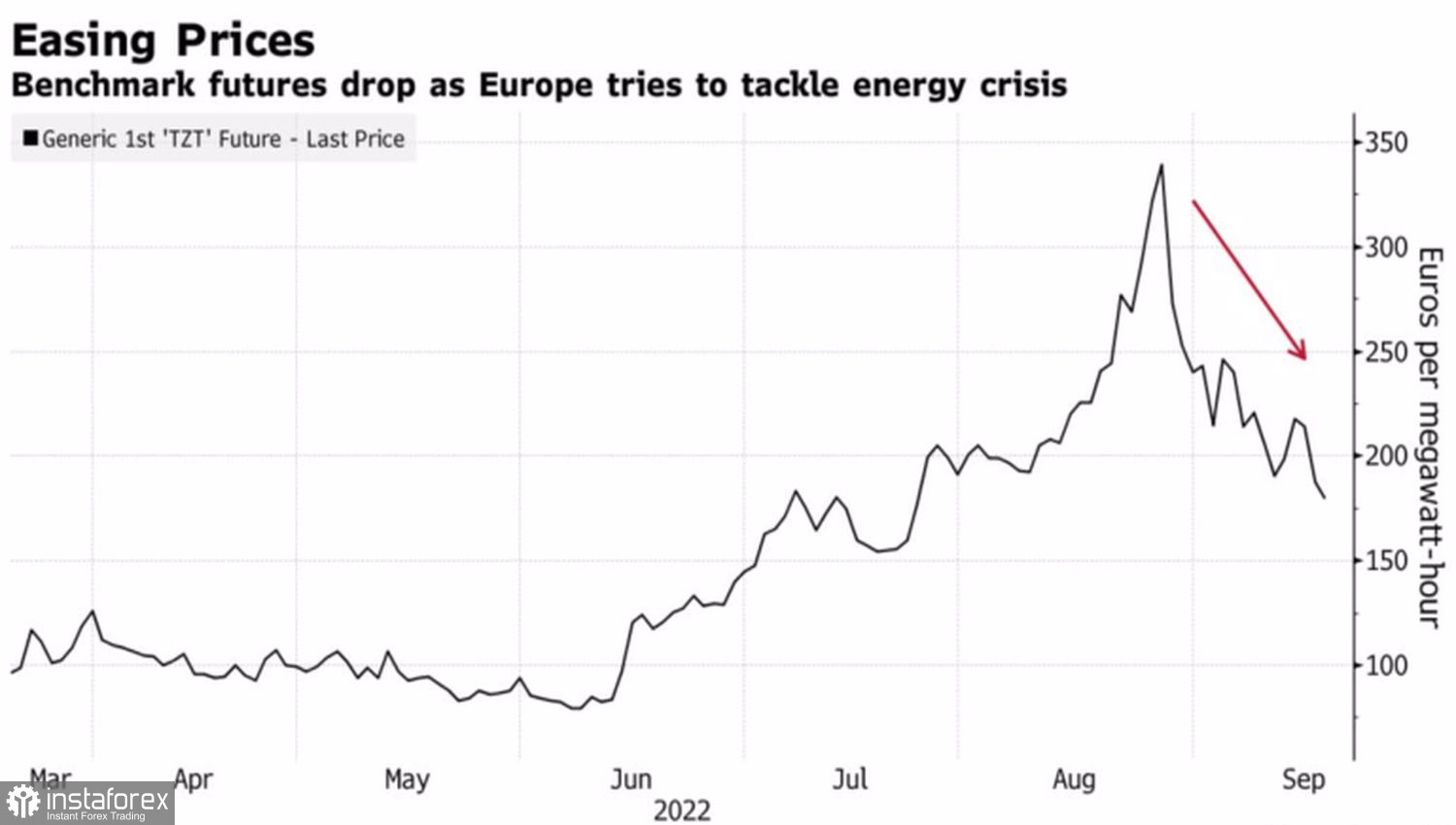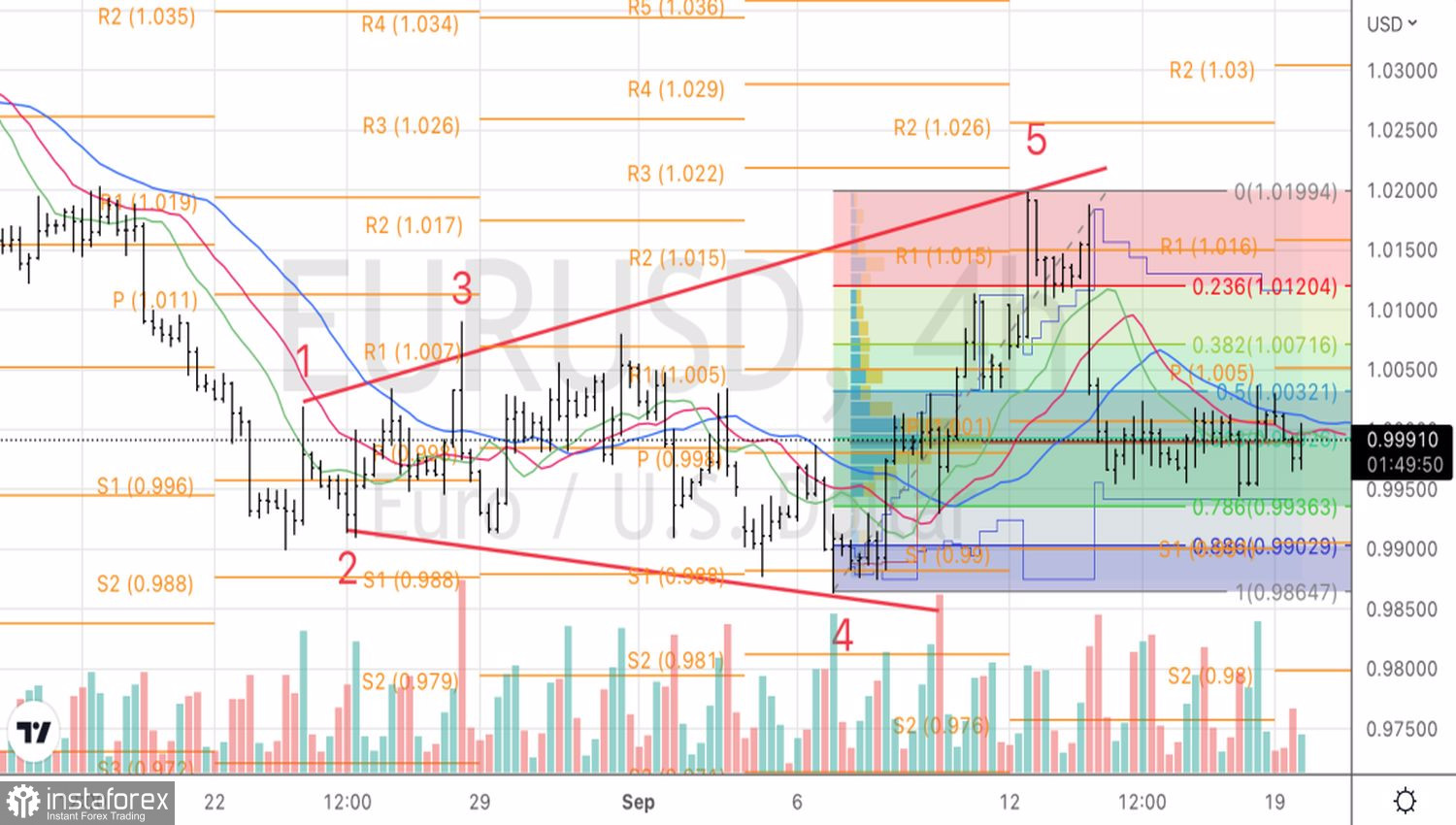 Until recently, EUR/USD bulls were held back by fears that the European Union would back away from its sanctions against Moscow at any moment. Europe can win the energy war, but that's a different story for the euro.
From a technical point of view, there is a broadening wedge pattern on the 4-hour chart. If the EUR/USD pair falls below the 88.6% Fibonacci level from wave 4-5, which corresponds to the 0.99 level, a sell signal will be generated. Alternatively, if the price rises above 1.012, it will be possible to open long positions. Aggressive entries can be considered amid a breakout of the boundaries of the short-term 0.994-1.003 sideways range.