Yesterday, the euro closed the day at the opening level. The closure occurred under the resistance of 0.9850 and formally this means consolidating under the level. But since there is practically no body of the candle, the consolidation itself is formless, weak. At the same time, convergence is also formed with the Marlin Oscillator.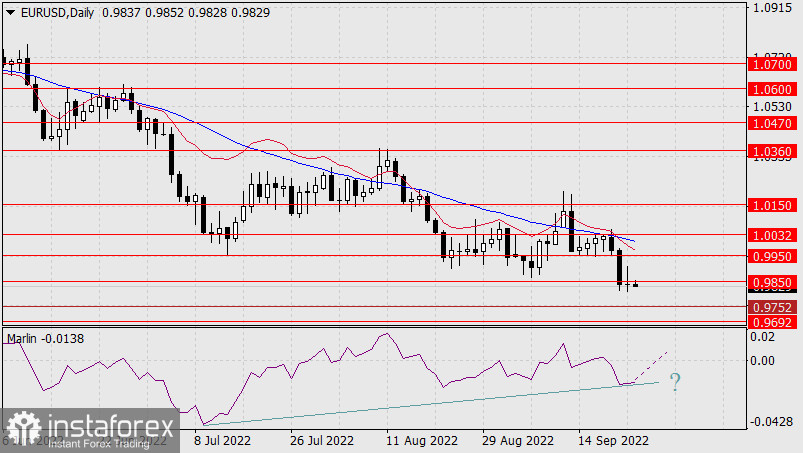 A slight increase in the price is visible this morning, with the intention to go above 0.9850. Consolidating above the level opens the way to 0.9950. It is possible to continue growth to the 1.0032 level. All this growth will occur in the general direction of the downward trend. Upon completion of the correction, a new wave of medium-term decline will begin to develop. In this case, the key level of 0.9752 that we noted will be overcome with more energy, the price will try to settle at 0.9692 and go below (0.9625).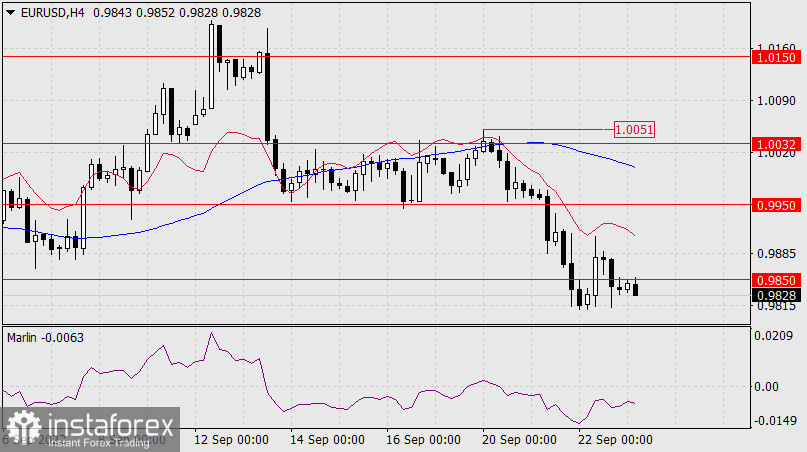 The strong growth of the Marlin Oscillator indicates the beginning of the correction on the four-hour chart. Consolidating above 0.9850, and with it the transition of Marlin to a positive area will create a technical basis for further growth to the target level of 0.9950. A little below the 1.0032 level is the MACD line. If the price rises, this line will turn up, press against the linear level, strengthen it and create tension by the end of the correction. It will also turn out that in the area of 1.0032, the MACD lines of both scales will coincide, which will also strengthen the resistance. A puncture of this level is possible to 1.0051, to the high of September 20, but this puncture will already be false. This is the main scenario. An alternative scenario allows the price to rise to the upper area of a prolonged and broad consolidation of August-September at 1.0150.