Amid soaring inflation, central banks are forced to tighten their monetary policy. They aim to reduce demand for goods and services, hoping to push down labor demand, salary growth and inflation as well. This would send the economy into a recession, but it is the only way to put an end to out-of-control price growth. Such aggressive monetary tightening will only send demand for risky assets plummeting, boost US dollar and push down EUR/USD.
Economic activity in the eurozone has fallen for a third month in a row. The PMI has reached the lowest level since 2013, with the lockdown period not taken into account.
Economic activity in the eurozone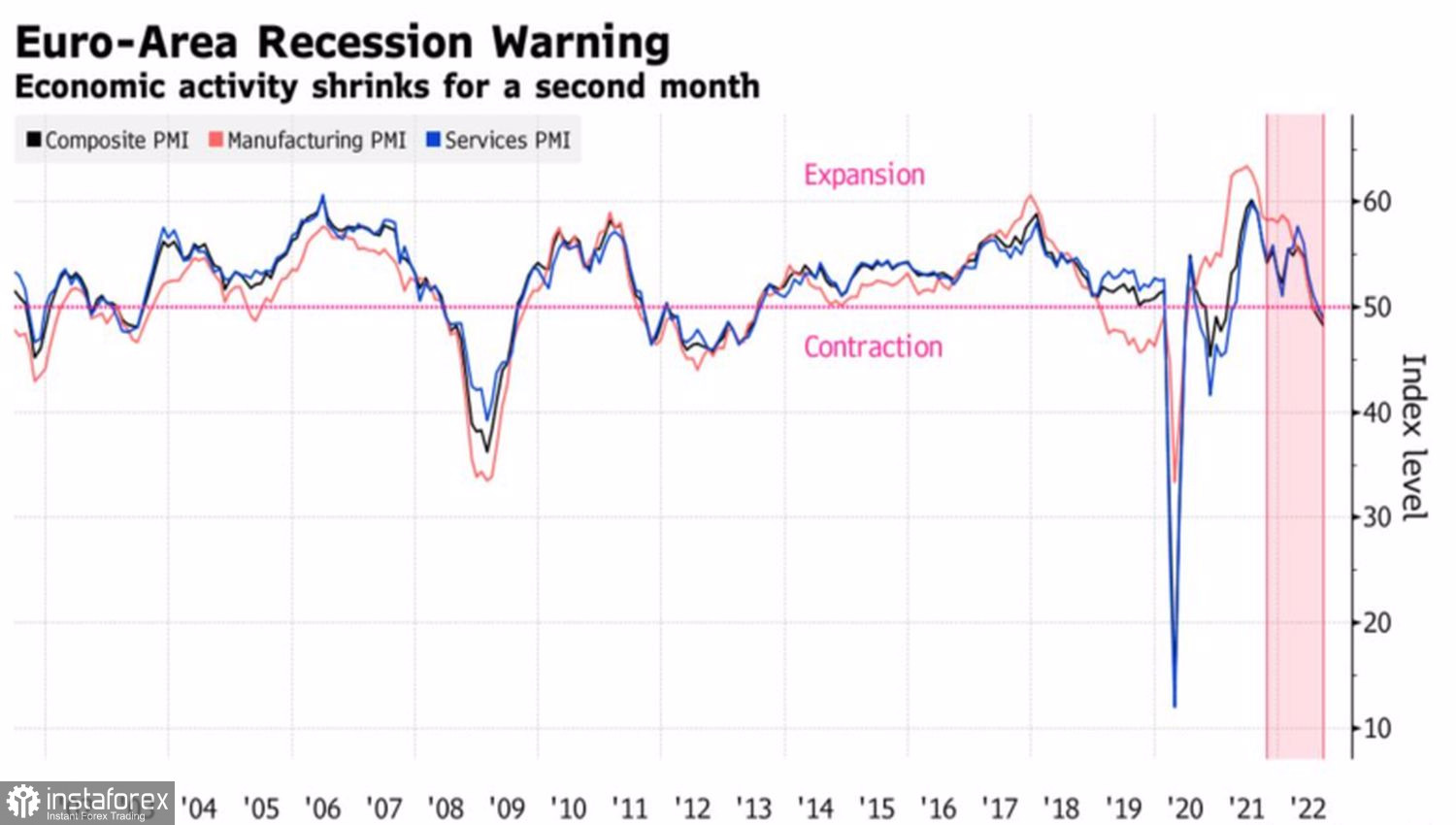 This is hardly the ECB's fault, even when taking two aggressive rate hikes into account, such as the increase in September. High inflation and soaring natural gas prices have been the main driver of the slump, as well as EUR/USD's dive towards 20-year lows. The weaker euro has led to higher import costs, negatively influencing the eurozone's current account and trading conditions. This in turn pushes down EUR/USD.
Performance of EUR/USD and the current account of the eurozone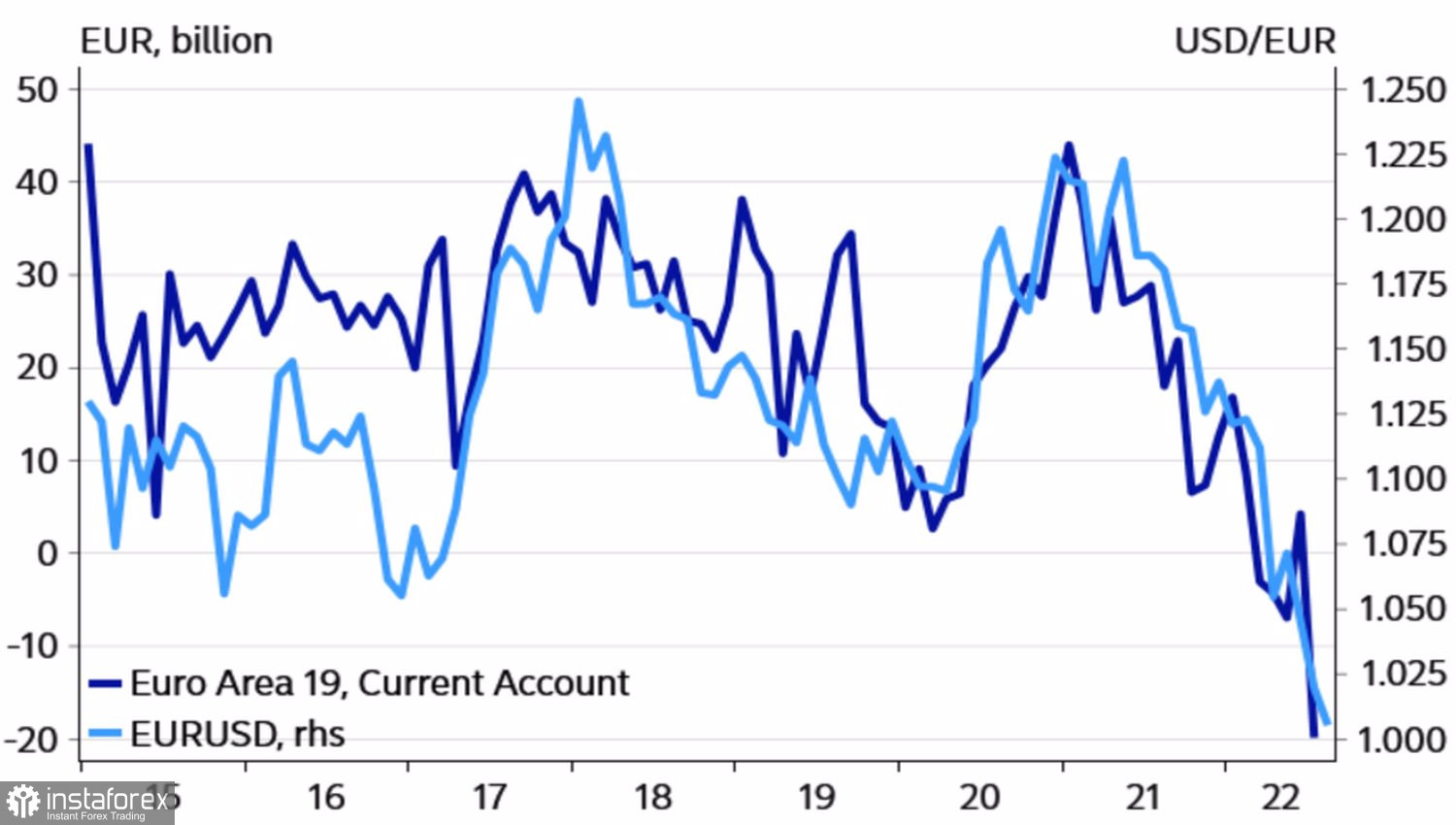 Despite the fact that the pace of ECB monetary tightening moves has matched the Fed's, it is not guaranteed to put an end to the EUR/USD downtrend. The Federal Reserve is expected to raise the Fed funds rate to 4.6% by 2023, while the ECB is unlikely to raise its deposit rate above 2%, Bloomberg reported. The EU regulator's aggressive monetary tightening will only intensify the recession which appears to be already in full swing in the eurozone countries.
In addition, high energy prices and the resulting need to ration natural gas consumption could lead to disputes between EU member states. This could potentially lead to another existential crisis for the euro and send EUR/USD towards 0.9.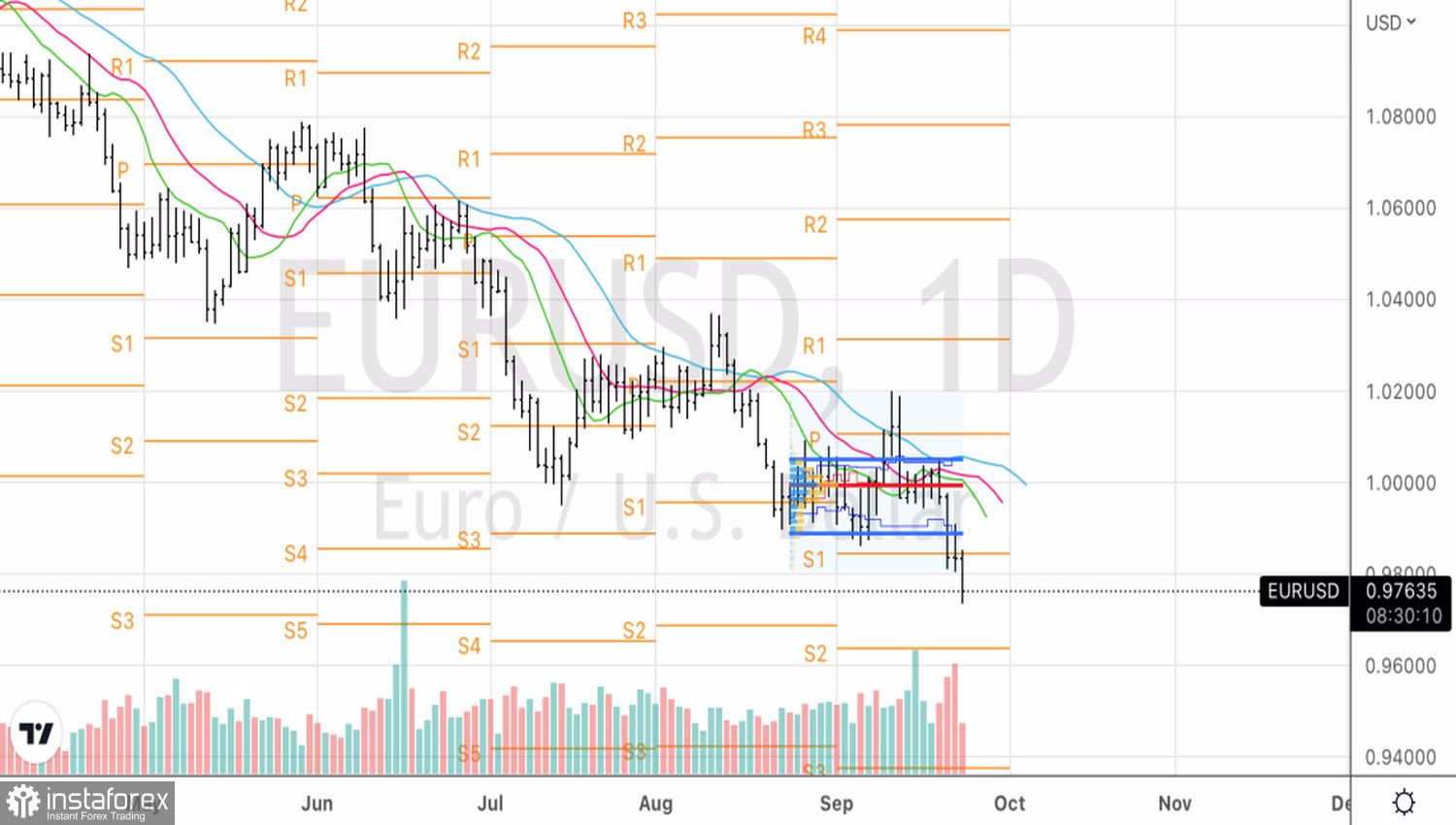 Additionally, the euro is under pressure from the pound sterling's slump, which was triggered by Liz Truss's economic plans. The PM has launched the UK's largest fiscal stimulus measures since 1972 - the top rate of income tax has been reduced from 45% to 40%, while the basic rate of income tax has been cut from 20 pence to 19 pence. The announced medium-term 2.5% trend rate target has been considered too ambitious by market players, who believe that the tax cuts would lead to renewed borrowing and financial instability. As a result, the pound sterling slid down, taking down the euro with it.
On the technical side, the downward trend of EUR/USD shows no signs of correction on the daily chart. Short positions that were previously opened at 0.9915 and 0.99 can be kept open, more can be opened from time to time during rebounds. 0.97 and 0.95 remain the pair's targets.