More recently, market participants discussed the probability and timing of achieving euro parity with the dollar, and the same conversations are already underway around the pound. It is rapidly weakening, including mainly paired with the dollar.
After a strong fall last Friday, the pound also fell sharply during the Asian trading session today, and the GBP/USD pair fell to 1.0353, a new local and record low for more than 37 years.
As British Chancellor of the Exchequer Kwasi Kwarteng said last Friday, "We (the government) need a new approach for a new era, focused on growth. Our goal in the medium term is to achieve a trend growth rate of 2.5%." To this end, among other measures to stabilize the economic situation, taxes and duties will be significantly reduced, and one of the sources of budget replenishment in the UK government was the reduction in unemployment benefits (note that this measure in itself is a factor reducing inflation).
Also, on Friday, disappointing UK macro data were released. Private sector business activity continued to decline, with the preliminary composite PMI slipping to 48.4 in September from 49.6 in August, below the expected 49.0. In addition, a recent survey by the Confederation of British Industry showed that retail sales fell to -20 in September from +37 in August, another negative factor for the pound.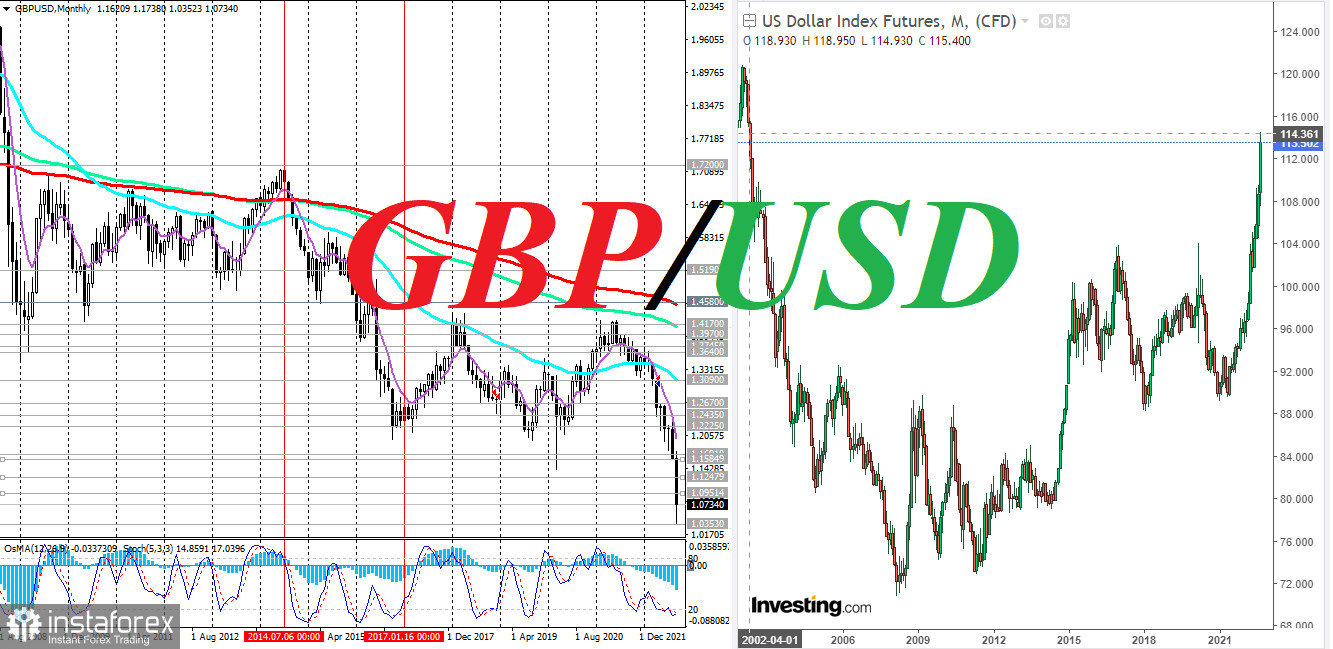 Meanwhile, the strengthening of the dollar continues to gain momentum. Its DXY index broke another "round" resistance level of 114.00 on Monday, reaching a new local high since April 2002 at around 114.41. The dollar's upside momentum continues, pushing the DXY to new highs on its way to over 20-year highs near 120.00, 121.00.
No important publications (macro statistics) are planned today. But, perhaps, it is worth paying attention to the speeches of the representatives of the Fed (at 14:00 GMT) and the Bank of England (at 16:00 GMT). If they make unexpected announcements, then the volatility in the GBP/USD pair will increase again.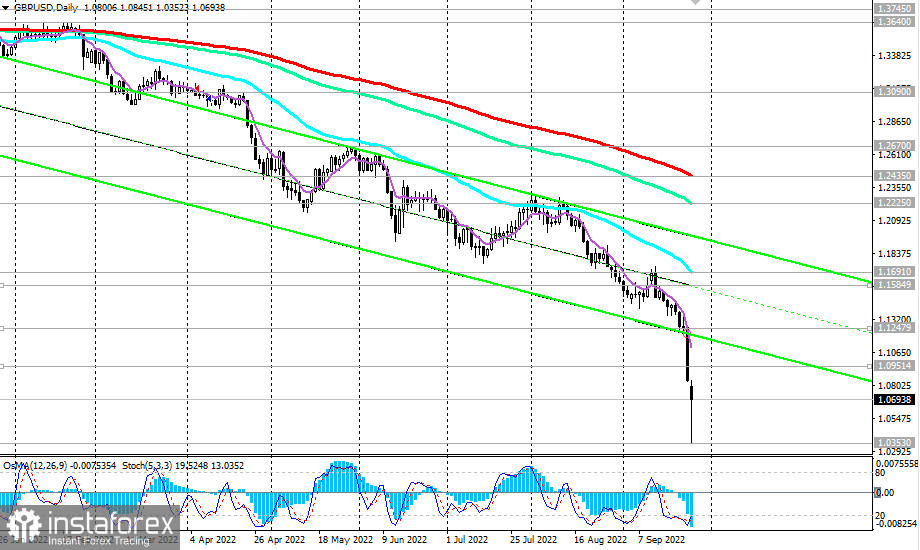 The GBP/USD pair is attempting a correction after the strongest drop (by 900 points) during today's Asian session and Friday's trade. As of writing, it is trading near the 1.0700 mark.
Strong bearish momentum continues to weigh on the pair. So far, it makes no sense to talk about its purchases, at least not before a confident breakdown into the zone above the resistance level of 1.1248.