Once the pound hit its all-time low, the Bank of England attempted to calm markets down, but its statement only added fuel to the fire and spooked investors even more. All those vague words about monitoring the situation and readiness to act decisively only raised more questions and concerns. Apparently, for this very reason, the Bank of England spread rumors about the possibility of an unscheduled increase in interest rates in the coming days. The very fact that the regulator has not commented on the issue could indicate that the Bank of England itself is responsible for fuelling speculation. These assumptions triggered a rebound in the price. Still, it is important to remember that the pound showed a record fall right before retracing up. In percentage terms, the plunged turned out to be even deeper than the one triggered by the Brexit referendum. In any case, concerns are growing and investors are almost in a state of panic. Moreover, markets now expect decisive measures from the Bank of England. Otherwise, the pound may extend the bear run and even hit parity with the US dollar.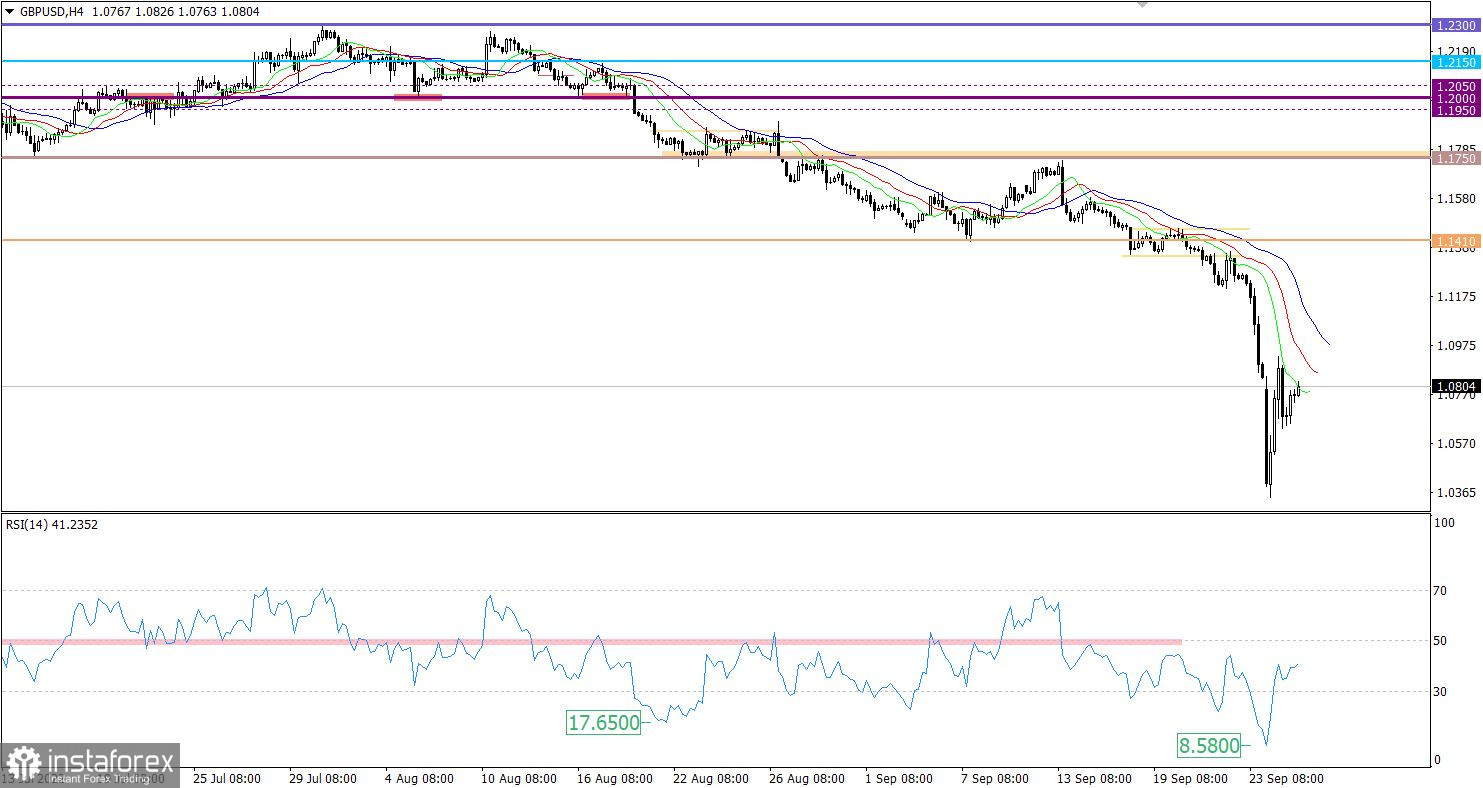 GBP/USD set several records at once. It hit an all-time low of 1.0345 following a breakout through its 1985 low. The pound lost as much as 1,000 pips between Friday and Monday. Meanwhile, the overheating of short positions triggered a rebound, and the price went up by about 550 pips.
The RSI reached 8.58 on the 4-hour chart. The indicator never fell that deep before, even during the spring collapse of 2020 or when the results of the Brexit referendum were released. The pound is extremely oversold. Therefore, the rebound is justified.
The Alligator illustrates a global downtrend on the 4-hour and daily charts, as its MAs are not crossed. On the 1-hour chart, the Alligator's MAs have multiple crossovers, in line with the current rebound.
Outlook
Due to the current speculative hype in the market, new price swings are likely. The quote should settle above yesterday's high of 1.0928 to extend the current rise. Should the price consolidate below 1.0630, a downtrend could resume.
In terms of complex indicator analysis, there is a buy signal for short-term and intraday trading due to a rebound. In the medium term, indicators signal the downtrend.