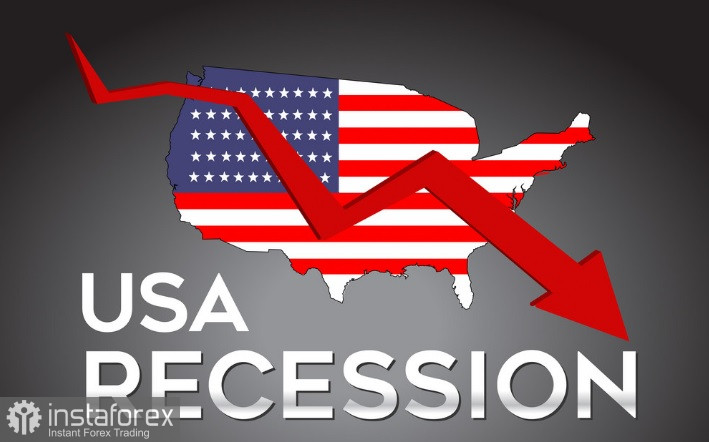 The U.S. Federal Reserve is facing one of its most difficult times, which began with a forced lockdown that brought the economy to a global shutdown.
Further, the situation led to an extreme and, according to some, misallocation of government incentives, which led to such results as rising inflation, followed by a critical mistake by the Federal Reserve, which led the economy into a potentially insoluble crisis.
For many years, the Federal Reserve System has maintained a view that inflation is transitory. For these reasons, the interest rates were not raise for a long time, even in the presence of high inflation, which continued to rise.
This inaction put the Fed in a position where it was too late to act. And now, the effectiveness of stopping inflation by raising rates has become of little use.
Paul Volcker was Chairman of the Federal Reserve from 1979 to 1987. During his tenure as chairman, he was tasked with effectively bringing down the highest inflation rate in history, seen throughout the 1970s and 1980s.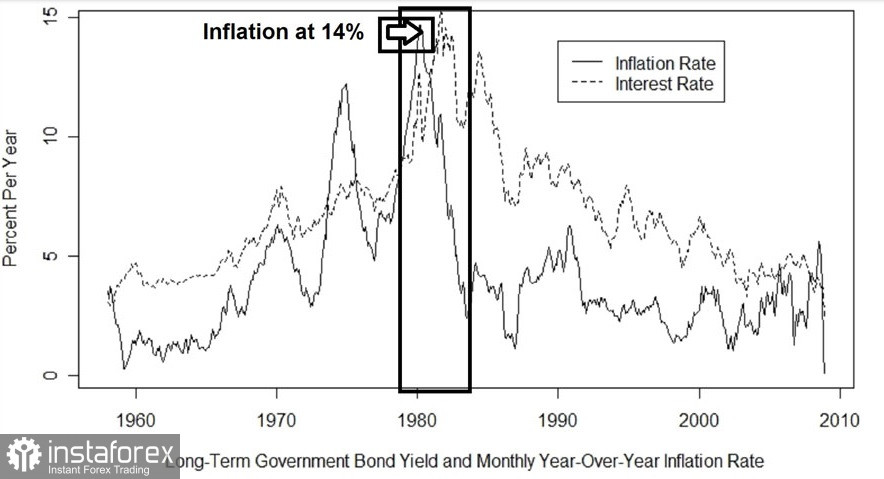 The above chart of interest rates versus inflation is a graph of the rate of inflation drawn with a solid black line from 1960 to 2010. Overlaid with a dotted line representing interest rates relative to the federal funds rate for the same period from 1980 to 1983, the area shows that in 1981 the interest rate was at its highest level in history—above 14%. At the same time, it shows that in 1981, Chairman Volcker raised the main interest rates to 18.9% in order to effectively bring inflation down to an acceptable level.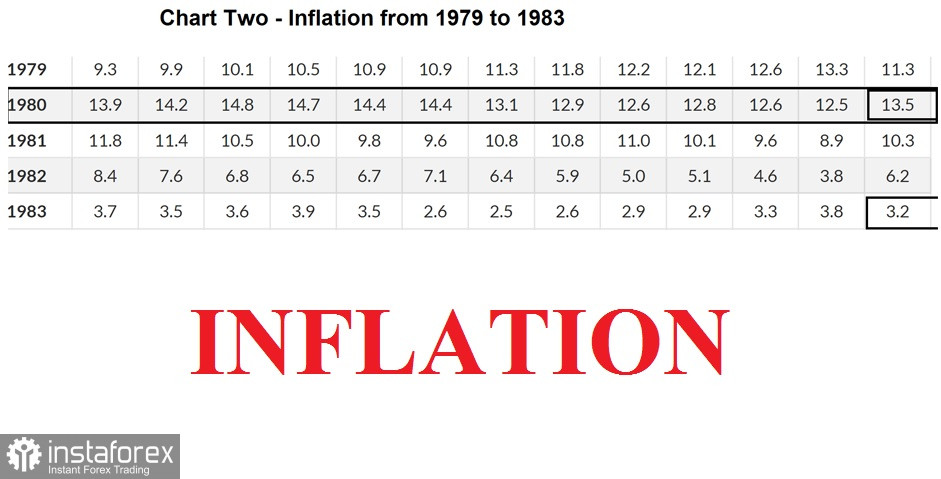 The following chart shows that the average inflation rate in 1980 was 13.5%. It also shows that during a multi-year process from 1980 to 1983, Chairman Volcker was able to effectively control inflation, bringing it to an average of 3.2% in 1983.
In contrast to the actions of the current Federal Reserve from 2019 to 2022, it is clear that the Fed not only waited too long to start raising rates, but was also inefficient in its actions.
The forced quarantine in 2020 resulted in an average inflation pressure of 1.2%. By 2021, inflation started from 1.4% in January, and rose to 2.6% in March. If the Federal Reserve had acted when interest rates were around 2.5% in March 2021, they would have had the effect of lowering them.
Inflation was 4.2% in April 2021, and the Federal Reserve remained inactive, insisting inflation was temporary and there was no need to act. By May 2021, inflation rose to 5%, then to 5.4% in June, and the Fed was still doing nothing. Inflation rose to 6.2% in October, 6.8% in November and 7% in December, and the Federal Reserve still did nothing and artificially kept interest rates low from 0 to a%.
By the time the Federal Reserve initiated its first interest rate hike in March 2022, inflation was already at 8%. As history has shown us, the Federal Reserve should have started raising rates in March or April 2021. This is what shows that the Fed was misleading everyone that inflation is temporary.
Now the Federal Reserve is trying to bring down inflation by raising interest rates.
What will happen in the coming years will rather be a consequence of the absence of an increase in interest rates. The Federal Reserve's mistake will surely lead the US economy to a deep and prolonged recession and high inflation, which will be remembered as the worst monetary policy of the 21st century.