Bitcoin's current performance suggests it is unlikely to recoup its losses in the remaining day and a half and finish September in positive territory.
On Wednesday, the leading cryptocurrency recovered slightly. However, all its past attempts to break out from the $18,700-19,600 range have turned out to be false breakouts.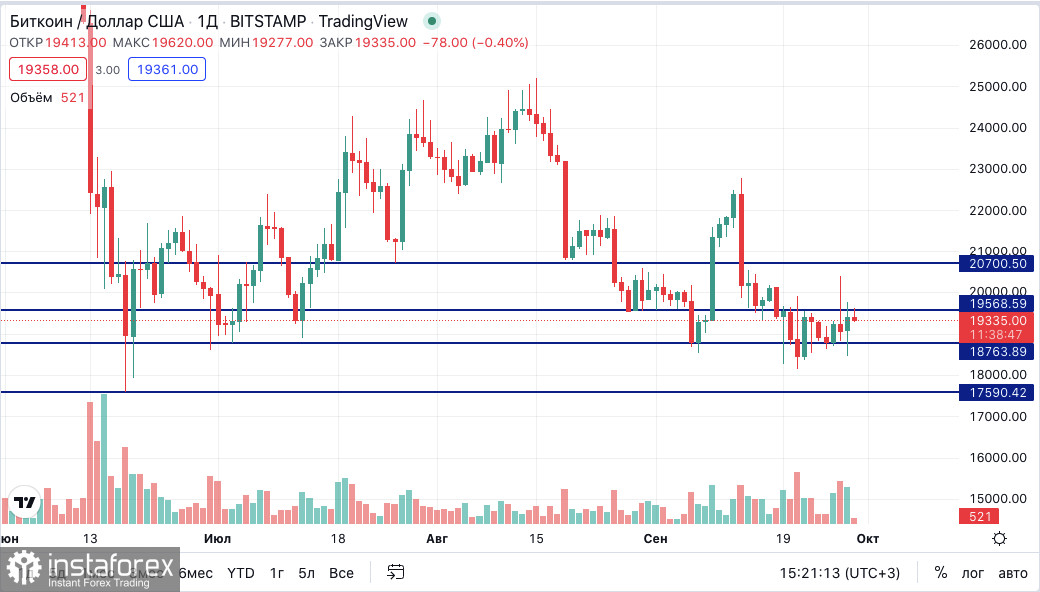 While BTC continues to consolidate, BTC trading volume has increased, even though any signs of recovery in the crypto market were very vague.
What can higher trading volume signal?
Analytics platforms, such as CryptoQuant and CoinGecko, have reported that BTC/USD trading volume has reached the highest level in 3 months. According to CryptoQuant, the upsurge might be connected to an increase in BTC trading at the Binance exchange.
According to CoinGecko, over the past three days, total BTC trading volume increased by 42.5% to $142.5 billion.
However, Bitcoin charts indicate that the market remains prone to volatility, particularly when it comes to BTC/USD. Binance's latest measures could however help Bitcoin and the crypto market at large to recover from its previous massive sell-offs.
Bitcoin whales become aggressive
On July 7, Binance removed trading fees for a number of BTC trading pairs, including the pair involving Binance's native stablecoin, BUSD.
As a result, the number of daily BTC/BUSD transactions immediately surged. Currently, the pair is trading at $19,369. Bitcoin's value moved up as BTC was purchased by whales using BUSD.
A similar situation has happened during BTC/BUSD futures trading. Currently, the total number of BTC/BUSD transactions has hit 8.9 million. But could the whale's aggressive purchases ensure success for BTC in the future? In fact, it is quite possible.
The unexpected upsurge of Bitcoin transactions and trading volume is remarkable because this simple fluctuation could motivate traders to initiate profitable positions. Currently, it is quite possible to open successful long positions on BTC.
However, the chances of a breakthrough are still too low. Currently, Stoch RSI and CCI indicators are rising, which could serve as sell signals for intraday sellers seeking a quick profit.
CFTC and the regulation of the crypto sector
This week, the US Commodity Futures Trading Commission (CFTC) raised the issue of crypto regulation. CFTC chairman Rostin Behnam stated that proper regulation of the crypto market would allow it to grow.
"Bitcoin might double in price if there's a CFTC-regulated market," Behnam said.
Behnam believes that regulatory clarity would help to attract institutional investors, an opinion shared by Mike Novogratz, CEO of Galaxy Digital. The CFTC chairman said:
"These incumbent institutions in the crypto space see a massive opportunity for institutional inflows that will only occur if there's a regulatory structure around these markets. Non-bank [crypto] institutions thrive on regulation, they thrive on regulatory certainty, they thrive on a level playing field. And they may say otherwise, they might bicker about the type of regulation – but what they love most is regulation because they are the smartest, the fastest and the most well-resourced. With those attributes, they can beat everyone else in the market".
Rostin Behnam also commented on the role played by US Securities and Exchange Commission (SEC) versus the CFTC in this field:
"This is a little bit of an old age issue between the CFTC and the SEC. We have a great relationship historically. We continue to communicate and work together. We have a lot of common registrants, but within this space, in my view, it makes sense for commodities to be regulated by the Commodity Futures Trading Commission, and securities to be regulated by the SEC, and within the sphere of digital assets and the coins, which make up thousands and thousands, there are naturally going to be some commodities and some securities."
"And in my view, it makes sense to sort of parse through the two, and figure out where we can place each, and it's going to be difficult because from a legislative standpoint, again, given what I said earlier, given the novelty of some of these coins and the technology, we're going to have to figure out what will constitute a security under the traditional securities law and what would constitute more of a commodity so that we can regulate appropriately given the two different legal structures."
When speaking about which crypto assets should be considered commodities (regulated by the CFTC) and which should be labelled securities (regulated by the SEC), the CFTC chairman said the following:
"Well, I could say for sure Bitcoin, which is the largest of the coins and has always been the largest regardless of the total market cap... is a commodity. So, Ether as well — I've argued this before, my predecessors have as well — is a commodity. So, there may be, in fact, hundreds, if not thousands of security coins, but there are plenty of commodity coins. And I think it makes sense as we've done historically to make sure that each agency has jurisdiction over commodities and securities respectively."