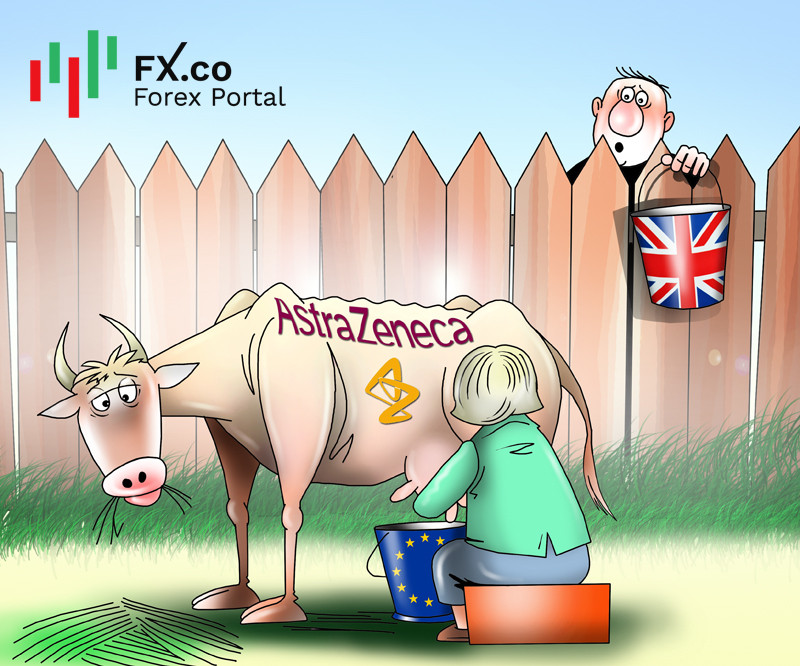 Due to a slow pace in the mass vaccination in the EU countries, the EU authorities could ban exports of the AstraZeneca vaccine. The third pandemic wave has aggravated the problem of the vaccine shortage.
At the virtual summit on March 25, the 27 EU leaders expressed frustration as a sluggish vaccination campaign in Europe had been lagging behind the one in the UK and the US. Elements of the AstraZeneca vaccine are produced at facilities in some EU countries. So, the EU authorities decided to bring exports of the Anglo-Swedish manufacturer to a halt until it provides EU consumers with appropriate doses under the contract.
European Commission President Ursula von der Leyen urged AstraZeneca to honor the contract. The policymaker insists that the company must fulfil its commitments to EU buyers before it embarks on exports of its vaccine.
By late June, AstraZeneca will be able to deliver just 100 million of doses out of 300 million doses set out in the contract with the EU. The EU authorities blame the pharmaceutical company for delays in the mass vaccination. Meanwhile, both the US and the UK are outpacing the EU in terms of the extent of vaccinated people.
Due to the slow vaccine rollout in the EU, the European Commission unveiled plans to tighten control over exports of the AstraZeneca vaccine. The EU authorities are ready to freeze exports to the countries with a wider scope of the mass vaccination. Interestingly, EU leaders disagree in viewpoints on the export ban. French President Emmanuel Macron advocates for strict measures. On the contrary, Dutch Prime Minister Mark Rutte called on his counterparts not to push ahead with tighter control.
EU policymakers think that the mass vaccination in Europe was disrupted by tensions with the UK as London imported 21 million doses produced in Europe. In turn, British officials believe that London was more efficient in arranging supply chains that created good conditions for the mass vaccination.
In response, Ursula von der Leyen presented details on vaccines produced at EU enterprises. According to the official report, EU facilities delivered 77 million doses to more than 40 countries worldwide in December 2020. The European Commission President denied that the export blockade can be labeled as "vaccine fascism". According to the EU vaccination policy, 70% of European adults are expected to receive both jabs of the coronavirus vaccine. Notably, despite the third pandemic wave, the COVID-19 mortality rate is going down in the EU, Ursula von der Leyen pointed out.