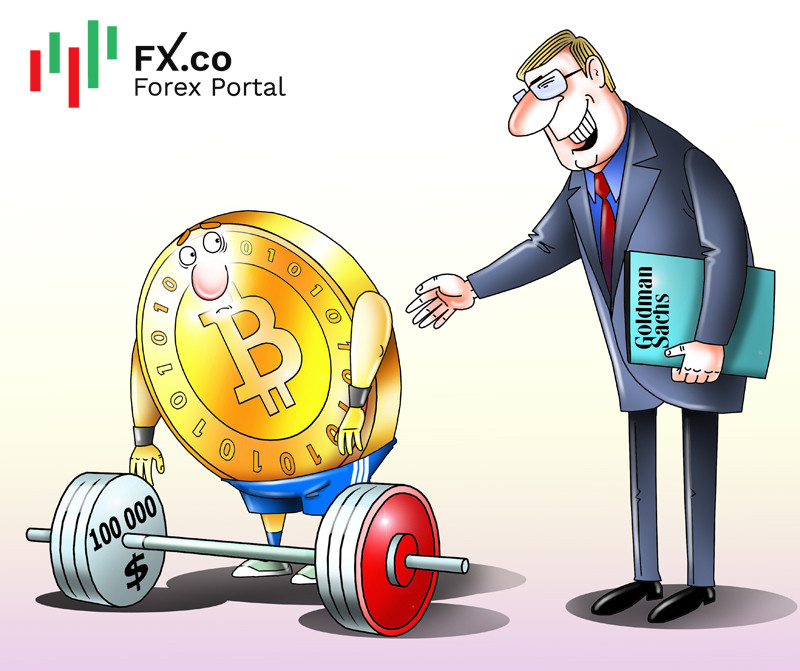 Analysts at Goldman Sachs are certain that bitcoin is likely to surge to $100,000 in 2022. "Bitcoin will take market share away from gold in 2022 as digital assets become more widely adopted", Goldman Sachs analyst Zach Pandl said in a research note.
Currently, the market capitalization of BTC amounts to $700 billion. Therefore, the cryptocurrency has a 20% share of the store of value. According to Bloomberg, the market cap of gold is $2.6 trillion. Analysts predict that if in the next 5 years, the share of bitcoin as well as gold exceeds 50%, BTC will surely skyrocket to $100,000.
Goldman Sachs economists believe that bitcoin will rise mainly amid its growing popularity among institutional investors. The only silver lining is the high energy consumption.
In early November 2021, bitcoin hit a new all-time high, rising to $69,000. However, the number one cryptocurrency entered a downward spiral shortly after. It is still unable to escape it. In early January 2022, BTC fell below $41,000, sliding to the lows of September 2021. Over the past three months, bitcoin has lost 40%, Reuters pointed out.
JP Capital strategists assume that the geopolitical factor, in particular the unrest in Kazakhstan, led to the decline in bitcoin. This country is one of the major centers of cryptocurrency mining. A bunch of Chinese miners moved to Kazakhstan after China's crackdown on the crypto industry.
Currently, bitcoin and other virtual currencies are considered risky assets. So, investors are extremely cautious when working with them.