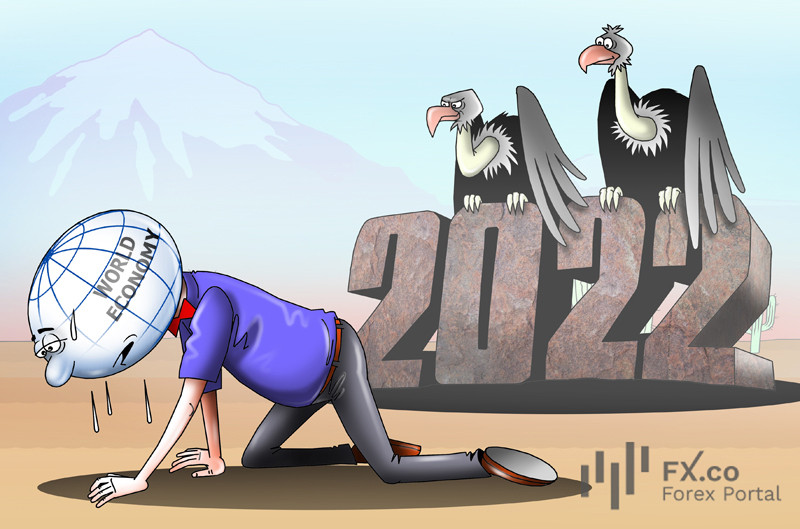 According to the International Monetary Fund's gloomy forecast, global economic growth could slow down to 3.6% through 2022/23. The IMF downgraded its forecast due to escalating geopolitical jitters.
The IMF's experts suppose that economic output in some European countries will turn negative. Apart from lingering consumer inflation which is out of the question, analysts warn about a further acceleration of energy and food producer prices. Experts say that major central banks will have to go ahead with aggressive monetary tightening.
In the World Economic Outlook, the IMF downgraded most of the ingredients of the global GDP. Experts reckon that global GDP rates will slacken to 3.6% in 2022/23 on the back of sky-high energy and food prices as well as the fallout from the Russia – Ukraine conflict. Beyond 2023, the global GDP could contract to 3.3% until 2027.
The IMF presented its previous more optimistic World Economic Outlook in January. Experts also downgraded their forecast for the EU economic growth for 2022. The overall EU economic output is expected to decrease by 1.1% throughout 2022 for obvious reasons: the protracted armed conflict between Russia and Ukraine and anti-Russian sanctions.
The red-hot IMF's World Economic Outlook for 2022/23 is revised 0.8% down from January's estimate for the global GDP and 0.2% down for the EU GDP. Economic conditions are getting worse in most developed countries. The Eurozone countries will suffer a considerable economic downturn in 2022 as their overall GDP could fall by 2.8%. The UK will go through the most painful challenge with its GDP tumbling by 3.7%. The US economy will be the least affected. Its economic growth could slow down to 3.7% instead of 4% in the previous forecast.
Besides, the IMF revised upwards its inflation forecast for this year. Inflation is likely to surge to 5.7% in developed economies and up to 8.7% in emerging markets. Specialists pointed out that headline inflation in the US and some European countries has already settled at the fastest rates in the last 4 decades. Under such economic conditions, the IMF recommends that central banks pursue hawkish monetary policies. Earlier, the lending institution refrained from such advice. The fund considers this measure appropriate nowadays.