US stock index futures started the day with a deep dive on Thursday trading, as technology companies' statements were very disappointing. Notably, IT giant Meta Platforms showed the worst performance. Futures on the Nasdaq 100 fell by 2.1% and futures on the S&P 500 declined by 1.1%. Dow Jones Industrial Average futures were down by 97 points or 0.3%.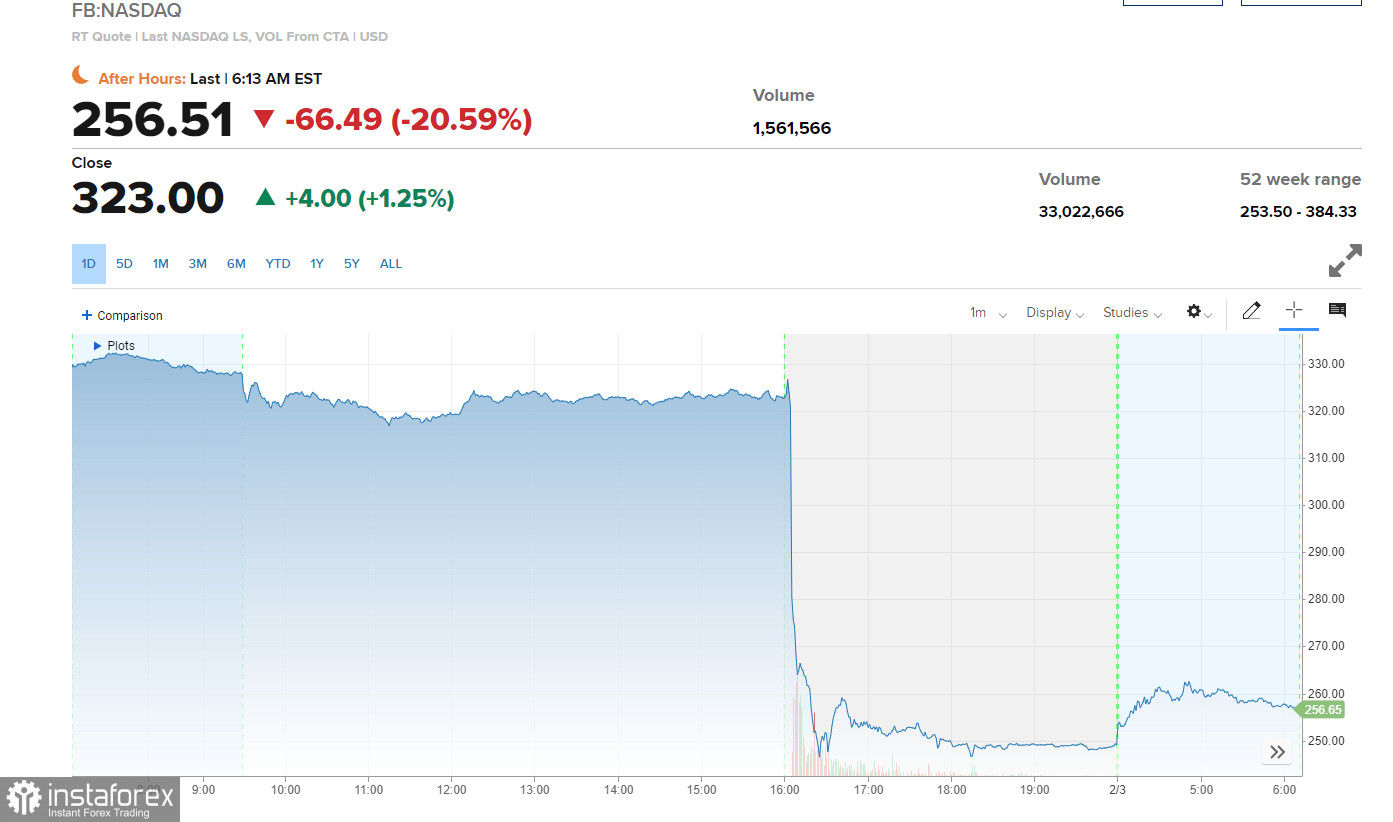 Shares of Meta Platforms, the former Facebook, sank by more than 20% in the premarket trading after the company's quarterly earnings fell short of expectations. Meta also issued a weaker-than-expected revenue forecast for the current quarter. Investors were shocked by the stock's $3.67 profitability and January-March revenue forecast of $27 billion-$29 billion, well below market expectations of $3.84 and $30 billion, respectively. However, one of the most important factors was the all-time low number of active users. It seems that Facebook is turning into Odnoklassniki (a Russian social network). The technology giant clearly cannot keep up with new trends and emerging services and platforms. The expectations of the company's revenue growth for this quarter, which disappointed investors as much as user activity, was a considerable factor. However, as many experts note, the reaction of traders and investors to this data is greatly exaggerated. A market collapse of more than 20% is a very serious sign of the formation of a bearish trend shortly. It will be very problematic to buy back such a fall overnight.
Following Facebook stock, other social networks, including Snap and Twitter, also fell. Shares of Snap dropped by 14.7% in the premarket, and Twitter shares nosedived by nearly 7%.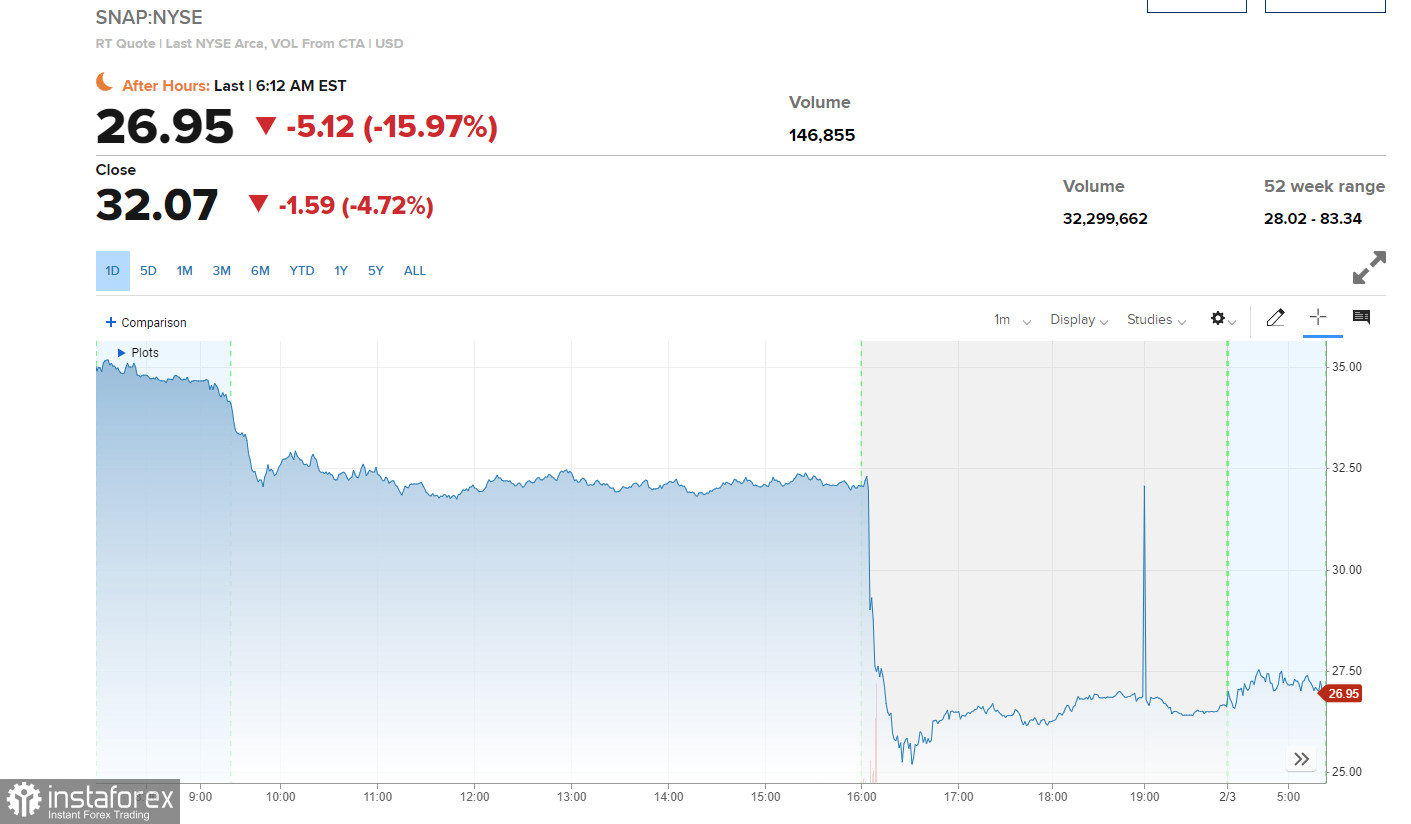 Spotify Technology shares plummeted by 7.8% immediately after the company's latest quarterly data showed a slowdown in premium subscriber growth. Shares of Alphabet, Google's parent company, which rose by 7.5% on Wednesday after record earnings, fell by 1.4% on Thursday in the premarket.
The Dow Jones gained more than 200 points yesterday, while the S&P 500 and Nasdaq Composite jumped by 0.9% and 0.5%, respectively. Google's Q4 earnings report supported these gains. Read more: Google is up 10% and PayPal is down 17%
As for today's economic data, investors will be watching the latest weekly report on US jobless claims. Economists are expecting claims to fall to 245,000 from 260,000. However, these numbers will be released right after yesterday's pessimistic report on US Non-Farm Employment. On Wednesday, ADP reported that US Nonfarm fell by 301,000 in January, while economists forecasted an increase of 200,000. However, the January report is known for its volatility and may have been largely skewed by the surge in the pandemic last December. January's numbers are expected to make up for all these losses.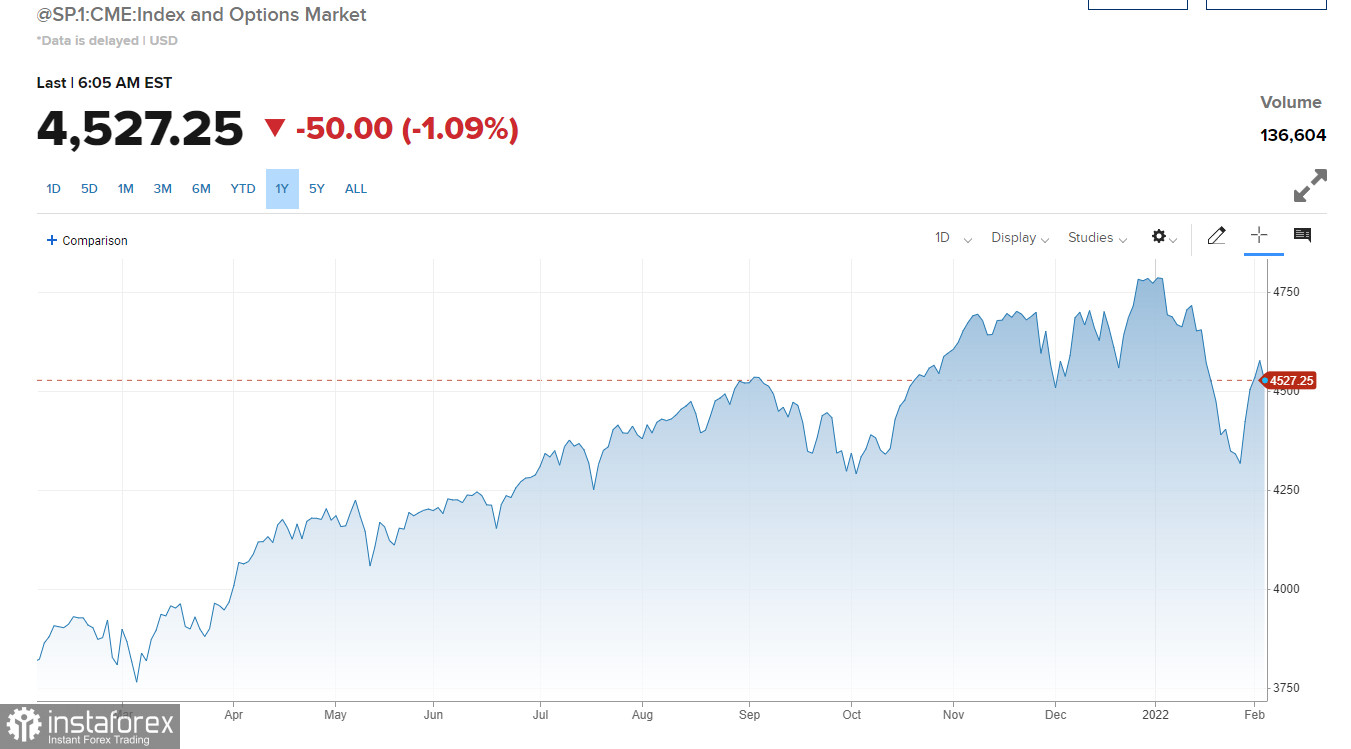 As for the technical picture of the S&P500
The bulls failed to push the price above $4,598, which was expected. Today investors may lock in profits after the three-day rally, which is likely to put even more pressure on the index. Most likely, we will watch another decline to $4,536, which will increase demand and lead buyers to reach $4,598. A breakthrough of this level may push the index to $4,665 and $4,722. If the price falls below $4,536, the pressure could come back very quickly. Much depends on the geopolitical situation in the world and sanctions, which are going to be imposed on Russia soon. In that case, we are likely to see a drop to $4,449 and $4,378.
Read more:
Trading recommendation for newbies. Outlook for EUR/USD on February 3.
Analysis and trading tips for GBP/USD on February 3