Crypto Industry News:
In recent months, Russian lawmakers have prepared measures to fully institutionalize cryptocurrencies as duly taxed investment assets and as a tool for foreign trade in Russia. Now they want to make it clear that the upcoming regulatory change will not include any windows to the adoption of digital financial products as a payment method.
Anatoly Aksakov, chairman of the Financial Markets Committee of the lower house of the Russian parliament - the State Duma - presented a bill prohibiting the use of "digital funds" to pay for all kinds of goods or services:
"The ruble is the official currency (currency) of the Russian Federation. The above article prohibits the introduction of other monetary units or surrogates into the territory of the Russian Federation," the memo reads.
The bill refers to already existing legislation that does not expressly prohibit the use of cryptocurrencies as a payment method, although in fact such operations are still not considered legal in the country. The new law would make this ban official and oblige cryptocurrency market managers to suspend all transactions that involve the use of cryptocurrency as a monetary surrogate.
The Act also introduced the term "electronic platform", which is loosely defined as a financial platform, investment platform or information system in which digital financial assets are issued. Electronic platforms would be recognized as entities of the national payment system and required to report to the central bank register. Every major crypto-related operation - issuing, circulating, exchanging and trading them - would get its own registry.
Technical Market Outlook:
The range bounded trading conditions are still being developed on the BTC/USD pair, full of fake-outs and blow-outs and false movements. The market participants has still not decided whether the down trend should be continued or terminated and keep trading in a narrow range between the levels of $32,892 - $28,741. The first indication of the deeper correction would be a clear breakout above the range high located at the level of $32,892, however all the current attempts to rally are being faded and the Pin Bar candlesticks inside the range zone are present already.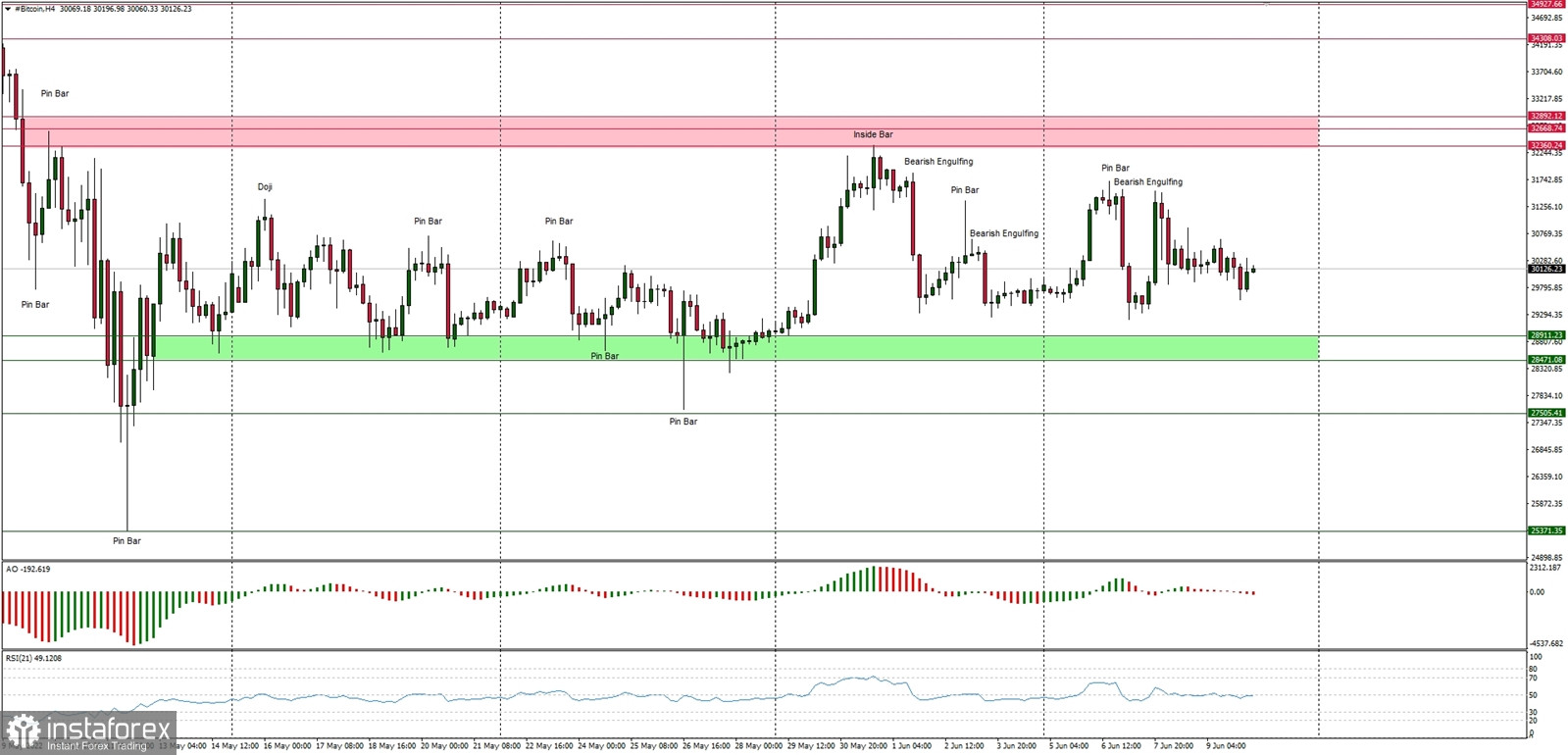 Weekly Pivot Points:
WR3 - $34,666
WR2 - $33,580
WR1 - $31,452
Weekly Pivot - $30,233
WS1 - $28,222
WS2 - $27,019
WS3 - $24,877
Trading Outlook:
The down trend on the H4, Daily and Weekly time frames continues. So far every bounce and attempt to rally is being used to sell Bitcoin for a better price by the market participants, so the bearish pressure is still high. The key long term technical support is seen at the round psychological level of $20,000.