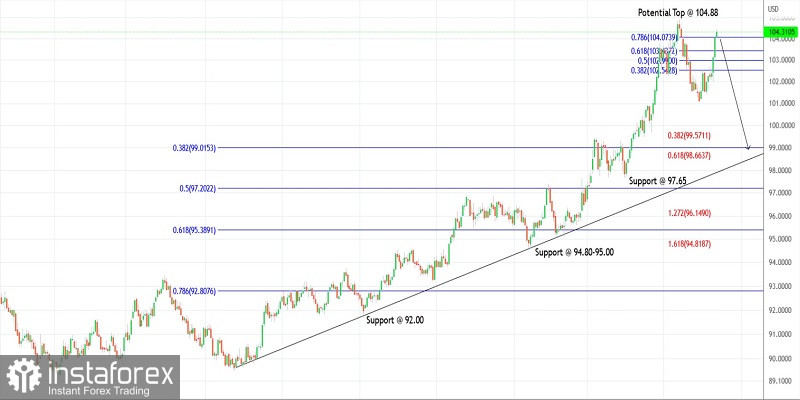 Technical outlook:
The US dollar index rose to 104.40 in the Asian session on Monday. The index might face strong resistance around the current levels. Bears remain inclined to come back in control and drag the price below 101.00. The index should hold below 104.88 to keep the bearish structure intact.
The US dollar index retraced its recent lower degree downswing between 104.88 and 101.08, through the Fibonacci 0.786 levels, just above the 104.10 mark. Furthermore, the rally between 101.08 and 104.43 seems to be corrective. The high probability remains for a bearish bounce from here. The price may decline to 99.00 and to 95.00.
The US dollar index may perform an upswing between 89.50 and 104.88 as presented on the daily chart. A minimum target level could be seen at 99.00, which is also the Fibonacci 0.382 retracement of the above rally. Traders might be inclined to open new short positions from current levels with a risk above 104.88.
Trading plan:
Potential drop through 99.00 levels against 105.00
Good luck!