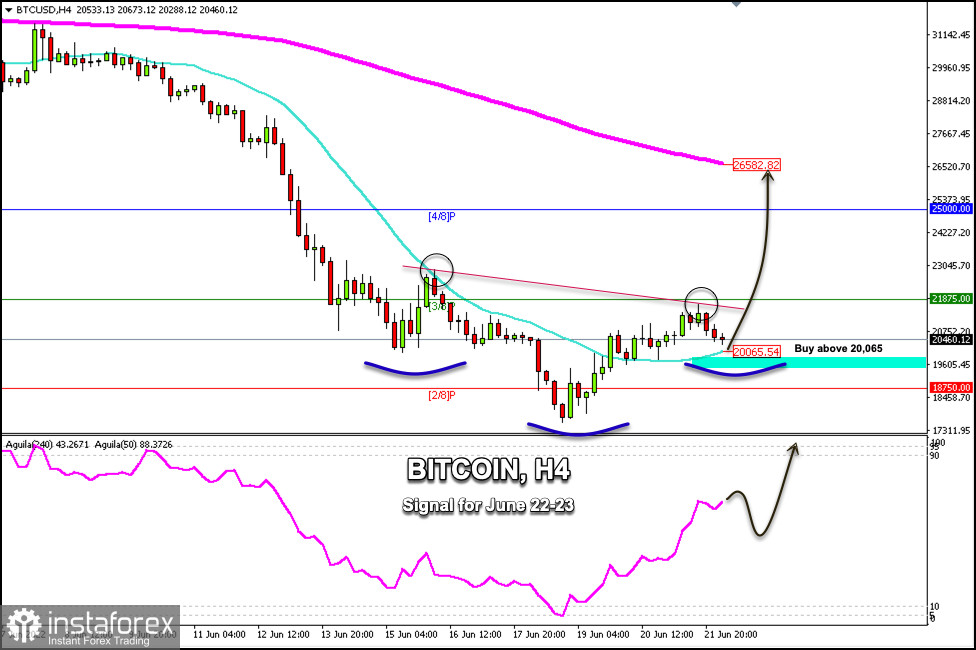 The price of Bitcoin (BTC/USD) after having reached the zone 3/8 Murray around 21,680, fell back yesterday during the American session.
The bulls are hanging on and struggling to balance the price above the psychological level of $20,000.
However, there is strong bearish pressure below 3/8 Murray located at 21,875. Only a daily close above this level could give the cryptocurrency market another chance to rally to 25,000 and even the 200 EMA at 26,582.
Bitcoin is currently above the 21 SMA which could give it a positive outlook. If the token manages to stay above the psychological level of $20,000 it could reach the 200 EMA located at 26,582 in the next few days.
Conversely, with a close below the 21 SMA (20,065), we could expect a technical correction to occur and BTC could drop towards 2/8 Murray at 18,750.
According to the 4-hour chart, Bitcoin has a positive outlook because the eagle indicator is giving a bullish signal. It is likely that there will be a new upward movement in the next few days and Bitcoin can reach the key level of $26,500.
According to the daily chart, Bitcoin is oversold, there is likely to be a technical correction in the coming days toward the 26,000 area and the price could even reach the level of 30,000. The key point would be to wait for a recovery in the equity market and a recovery in the Wall Street indices which could benefit BTC.
Our trading plan for the next few hours is to wait for a technical bounce around the 21 SMA to buy with targets at 21,875 and 25,000 (4/8 Murray). The eagle indicator is showing a positive signal which could confirm our bullish strategy.