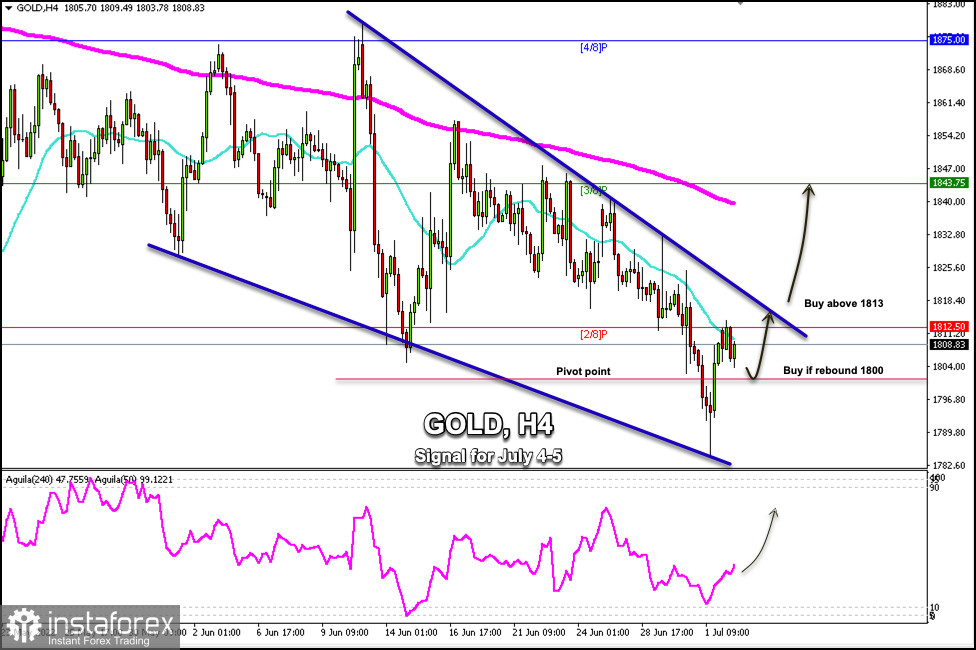 Gold (XAU/USD) closed in negative territory in the first four days of last week and hit its lowest level since the end of January on Friday. It reached the 1,784.40 level, before making a strong technical bounce to recover above the 1,800 later on.
Gold is not showing any clear signs of a solid rebound and could continue to oscillate between 1,843 and 1,800 in the short term.
The dominant trend remains bearish. The metal managed to rebound from 1,784 on Friday and return above 1,800. In the event of a return below the psychological level of 1,800, bearish pressures would intensify, exposing the next support at 1,784 (1/8 Murray) and 0/8 Murray at 1,750.
Traders' attention is focused on the minutes of the June FOMC meeting, scheduled for Wednesday. This data could influence the direction of the price of the yellow metal. With a break above 1,840, the metal could resume the bullish bias.
Meanwhile, expectations of a 0.75% interest rate hike by the Fed and fears of a recession are setting the tone in global markets and influencing the price of gold.
The upside at 1,815 is the weekly pivot followed by 1,840 with the 200 EMA. Close to this last level is 3/8 Murray. If broken, it would leave XAU/USD with a chance to hit 1,875.
Conversely, below the daily pivot at 1,800, gold could resume the bearish bias and the price could reach 1,784 – 1,781 around this area which is 1/8 Murray.
The eagle indicator is giving a positive signal. The metal is likely to continue its bullish trajectory in the coming days. For this, we should expect a sharp break above the descending wedge pattern and a daily close above 1,815.
Our trading plan is to buy gold in the event of a technical bounce at 1,800 or a sharp break of the downtrend channel above 1,815, targeting 1,840,1,843, and finally 1,875.