Markets continue to be volatile as investors remain focused on sky-high inflation. Since world central banks talk about more aggressive policies in order to curb this data, many fear that economies will enter recession, which will then develop into stagflation.
In this regard, a lot will depend on this week's release of protocol from the ECB and the Fed. In them, market participants will try to find signals indicating the pace at which rates will rise. So far, it is assumed that the ECB will raise rates by only 0.25%, while the Fed will push them up by 0.50%.
There are, however, more radical opinions on the market. Some believe that the Fed will raise rates by 0.75% and the ECB by 0.50%. This could really happen, but it will largely depend on the dynamics of inflation in the US and the eurozone.
The RBA will also have a monetary policy meeting on Tuesday, where members could increase the rate by 0.50% to 1.35%. If this happens, AUD will grow.
For today, many markets will be closed because of the holiday in the US. This means that there will be few investors, limiting price movements.
Also this week is the release of data on industrial production in the US. Forecasts say it will be up 0.5% against the previous value of 0.3%. If this happens, sentiment will turn positive, which will lower dollar demand.
In terms of the labor market, the US will publish its June report on employment, as well as data on production. If the figures turn out to be worse than expected, risk appetite will surge, while dollar will continue to decline.
All this indicates that it is too early to expect a serious reversal in the stock markets, while dynamics will most likely be the same in the forex and commodity markets.
Forecasts for today: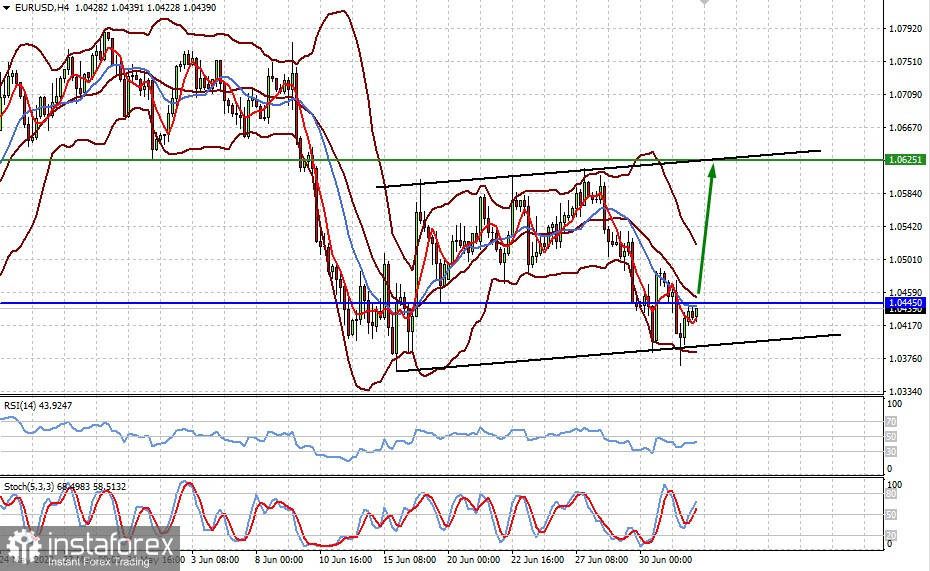 EUR/USD
Although the pair is trading below 1.0445, there is a high chance that it will rise to 1.0625.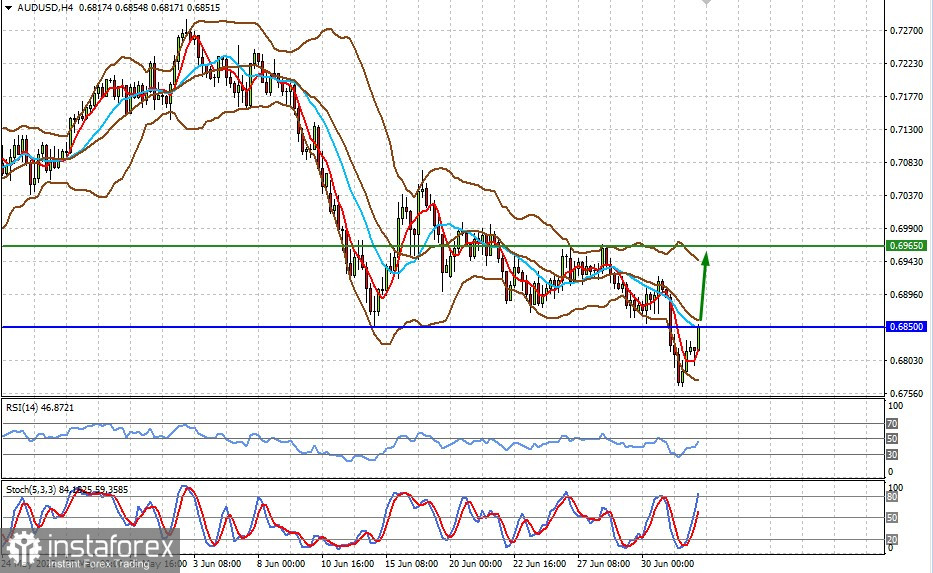 AUD/USD
The pair is showing a reversal ahead of the RBA's decision on rates. This will likely stimulate an increase to 0.6965, immediately after hitting 0.6850.