Futures on US stock indices rose slightly on Wednesday as investors focused on the key report on US inflation, which is expected to show a new high. On Tuesday, futures on US stock indices closed in the red for a second consecutive trading day. Futures associated with the Dow Jones Industrial Average increased by 61 points, or 0.2%. S&P 500 futures rose 0.2%and Nasdaq 100 futures rose 0.3%.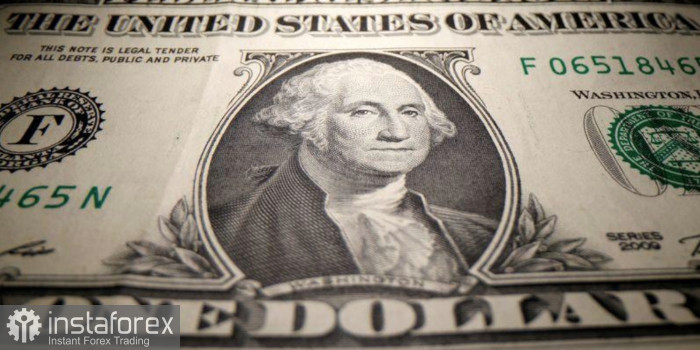 Investors are primarily concerned about inflation. Today, a June consumer price index report will be released. The overall indicator, which includes food and energy, is anticipated to increase to 8.8% from 8.6% in May. The consumer price index may increase by 1.1% in June compared to May. This increase will be the largest since 1981. Under the current circumstances, it is also unnecessary to assert that June will mark the peak, after which a decline will commence. Despite the Federal Reserve's aggressive interest rate hikes, it is evident that price pressure continues to increase. A strong labor market forces employers to increase salaries to attract and retain qualified workers, which further accelerates inflation – not to mention the energy market, COVID, problems with supply disruptions, and smaller factors such as producers shifting costs to consumers.
According to market expectations, the US central bank may raise interest rates by 75 basis points at a meeting later this month. The Federal Reserve increased interest rates by three-quarters of a percentage point to a range of 1.5-1.75% last month, the most aggressive increase since 1994. The economy is gradually showing weakness due to the Fed's aggressive efforts to reduce inflation. The most recent report on retail sales in the United States demonstrates this.
Today, the International Monetary Fund released its forecasts, in which it revised the growth of the US economy downward for this year and next, as well as increased its unemployment rate projections. The fund's economists cautioned that a widespread increase in inflation poses systemic risks for both the domestic and international economies. This year, the US gross domestic product will increase by only 2.3%. This is less than the 2.9% predicted by the fund one month ago. As for the unemployment rate, it is anticipated to increase to 3.7% from the previous estimate of 3.2%. This number is anticipated to surpass 5 percent in 2024 and remain at that level in 2025.
Regarding the reporting season, the major banks will soon release their results: JPMorgan and Morgan Stanley are scheduled to release theirs on Thursday before the opening bell.
Premarket
Delta Air Lines shares dropped 2.9% in premarket trading following the release of mixed quarterly results. The airline earned $ 1.44 per share during the second quarter, which is less than the $ 1.73 per share anticipated by the market. Due to increased demand for travel, revenues surpassed projections.
After filing a lawsuit against Tesla CEO Elon Musk to compel him to comply with the company's $44 billion acquisition terms, the Twitter stock climbed 2% in premarket trading. Musk announced his withdrawal from the agreement earlier this week, alleging that Twitter violated the terms of their contract.
Novavax's premarket value increased by 2.4% after it was announced that the COVID-19 vaccine developed by the company could receive FDA approval today.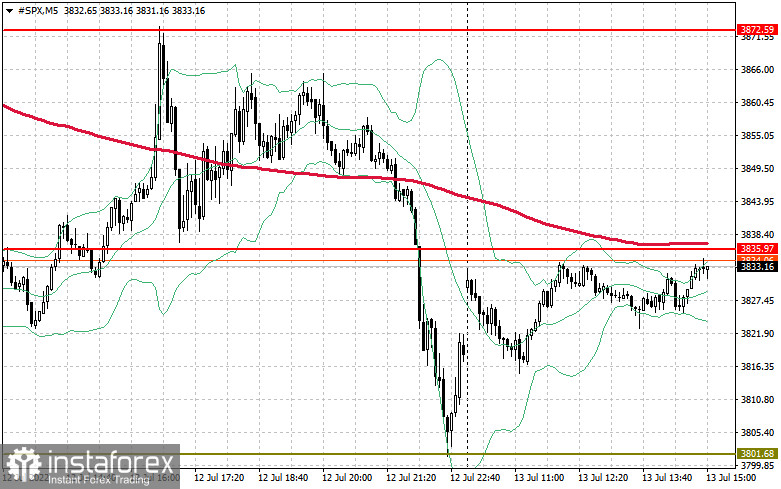 As for the S&P 500's technical picture,
The index remains under pressure. Only the return of the $ 3,835 level, which could not be surpassed in the morning, will allow us to break through to $ 3,872, which will open up the possibility of an active upward movement of the trading instrument to the region between $ 3,905 and $ 3,940, where large sellers will return to the market. There will be at least some who wish to lock in profits on long positions. A more distant objective will be $ 3,975. In the event of pessimism and a significant increase in inflation, the trading instrument will decline sharply. This will result in a fresh rejection of risks and recalculating the closest support at $ 3,801. This area's decline will reduce the index to between $ 3,773 and $ 3,744. Just below this level is a level of greater stability, $ 3,704, where buyers will resume their aggressive behavior.